Written by Garry Springgay | 21 December 2015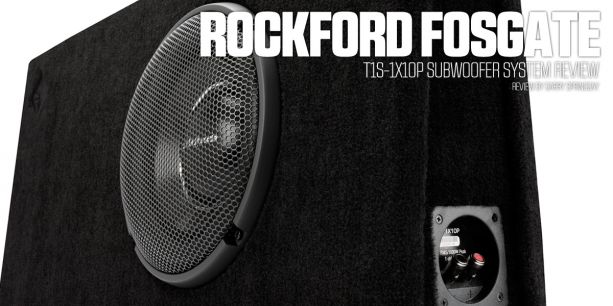 Everyone wants big bass sound, but what if you only have a small amount of space for a woofer? Well, maybe what you need is one of the new Rockford Fosgate T1S Power Series subwoofer systems. Built around the T1 Slim subwoofer, this complete woofer system has higher than typical power handling capabilities yet requires very little space for mounting. The systems are available in a 10- and 12-inch sealed type, or a 10-inch vented system for those who prefer some additional output, which is the one we'll be taking a closer look at here, so read on.
FEATURES
Thanks to the utilization of the T1S1-10 slim subwoofer, the T1S-1X10P system is rated to handle 500 watts of continuous power. The woofer itself is one of the best slim designs I've seen recently, and it manages to provide the output and sonic quality of a full-size woofer while requiring only a bit more than three inches of mounting depth. The performance from the slim woofer is possible because of several unique and clever innovations used in the design.
First, a proprietary motor structure incorporates Rockford's Encapsulated Voice Coil Coupling (EVCC) technology, as well as a Split Yoke Motor Structure (SYMS). This means that instead of only connecting to the voice coil former on the top side like most other woofers, the EVCC design connects the moving mass to both ends of the coil assembly and also provides a more secure mounting platform for the woofer's dual spiders. Rather than use a traditional rear-mounted magnet assembly, the T1 slim woofer moves the magnetic motor assembly inside of the basket structure to the inside of the voice coil. This design necessitated the development of a new SYMS to allow the EVCC's connecting ribs to pass through from the inner collar to the outer ring, where they meet the spiders. Another advantage of this unique design is it allows the woofer to maximize excursion capability, which in turn increases the power handling and overall output of the T1S1-10 woofer.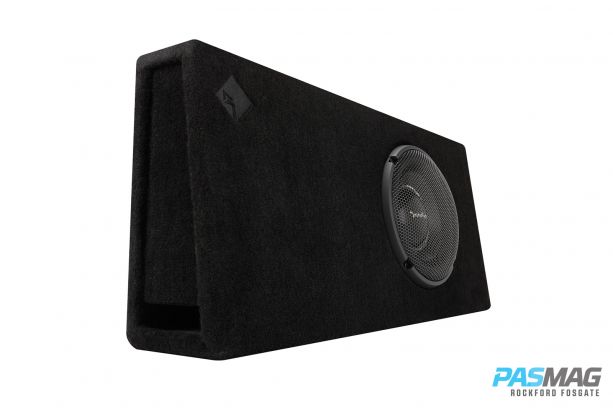 Other design elements of the T1S1-10 woofer include a carbon fiber/Rohacell/glass fiber blended cone topped with an aluminum dustcap. The surround is injection molded foam with Rockford's VAST surround technique to maximize cone area. The basket is a rugged cast aluminum affair with the brand's Flex-Fit frame pattern. The tinsel leads are stitched to the spider and receive the electrical signal via a pair of spring-loaded terminals, which are very nicely integrated into the basket. The woofer uses a single 2.5-inch, one-ohm voice coil with windings on the inner and outer surface of an anodized aluminum surround.
The enclosure for the slim woofer is constructed of 0.625-inch thick MDF and includes a slot-type port and internal bracing to reduce cabinet vibration. It's upholstered in black automotive carpet, with embroidered logos. A sturdy grille, trim ring and mounting brackets are included.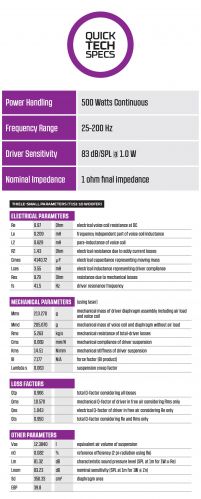 LISTENING
Since this is my first opportunity to try out the innovative Rockford slim woofer, I'm looking forward to the listening session. I power the T1S-1X10P woofer system with a well-matched Rockford T500X-1br amplifier and set the crossover to about 90 Hz. I believe a well-designed loudspeaker should be able to play any type of music well and simply reproduce the sound the recording engineer intended. To that end, I always use a wide range of musical styles and genres when evaluating all loudspeakers and subwoofers.
I begin with some music that I think might be the preferred type of music for the intended customer: tunes with high bass content and sustained bass notes. On these intentionally bass-heavy tracks, the Rockford Fosgate system has good output while playing nice and deep. It also handles the power from the 500-watt amp very well. The bass is strong, smooth and powerful, and the woofer doesn't add any of its own sounds or artifacts into the music. Then I switch to more revealing jazz and classical music from some of the best audiophile labels. With the accuracy and detail found in exceptional recordings from Telarc, Sheffield Lab, DMP and others, the T1 woofer sounds simply excellent, and I'm impressed with the woofer's tonality and definition. Chord changes and other low frequency nuances are distinct and pure. I also note that there was a distinct lack of high frequency output, which also served to make the woofer sound more accurate and pure.
ON THE BENCH
With several hours of listening completed, I let the system normalize overnight and move it into the lab for some basic measurements. A measurement of the system impedance reveals the system has a tuned frequency of right around 37 Hz and a minimum impedance of about one ohm at 10 Hz. The frequency response measurement shows a nice rounded curve with good output from about 25 Hz through 100 Hz.
I then removed the woofer from the enclosure to check its parameters separately. I'm happy to report that my measurements are virtually identical to Rockford's published specifications.
CONCLUSION
After all the listening and measuring was completed, I came away pretty impressed with the Rockford Fosgate T1S-1X10P system. It is small enough to fit behind the seat of most trucks or under the package tray in most trunks. Yet, while taking up a minimum of space, it provides full-size woofer performance and sonics. Keep in mind that Rockford offers these in both sealed and vented applications to satisfy almost any musical taste, and the whole package can be had for under $550. When you consider that you are getting a woofer that sells by itself for $499.99, it makes the system a no-brainer. If you are tight on space and need a quick, easy and reasonably priced bass solution for your ride, cruise over to your local Rockford Fosgate dealer and audition one of these for yourself.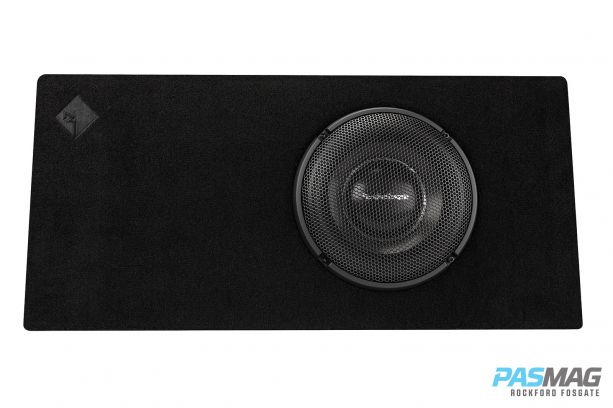 For more information, go to www.rockfordfosgate.com or follow them on Twitter, Facebook and YouTube.