Written by Garry Springgay | 12 January 2016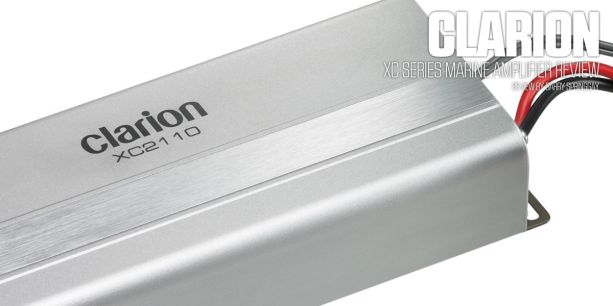 In this review we are going to have a look at a very popular series of compact amplifiers from Clarion. The XC series of amplifiers have been designed from the outset to maximize power delivery and efficiency, while maintaining as small a footprint as possible. In addition, these amplifiers are specifically built to be used in very tough environments such as boats, motorcycles, ATVs, UTVs and other motorsports applications. The series consists of three models: a mono subwoofer amp (XC2110), a four-channel version and a five-channel model, which we reviewed in these pages a few months ago. Since we looked at the XC2510 five-channel in detail last spring, this time we'll measure up the XC2410 four-channel.
FEATURES
All of the XC series of amplifiers from Clarion feature hard-anodized extruded aluminum heatsinks with UV protection so they won't fade or change color from sunlight. Through optimization of the Class-D design, the Clarion amplifiers have excellent power efficiency (watts consumed versus watts produced), which means that they generate less heat per watt than other amplifiers of similar construction. Adding to the efficiency of the overall package is a heatsink design that provides great heat transfer, which in turn allows the engineers to reduce the size significantly for the power being developed. In fact, these are some of the smallest high-power amplifiers on the market!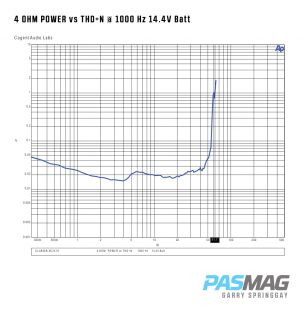 The XC amplifiers mount using steel tabs at each end of the chassis. Wiring and connections are simple, with the power and speaker harnesses coming out one end and the input harnesses (RCA and high-level) coming out the other. Speaker wiring uses the same standard color codes as a head unit, and the amplifier's 40-amp fuse is in an inline holder in the 10-gauge power wire. Controls are also pretty basic, with a gain pot and crossover frequency control for each pair of channels.
The four- and five-channel models use high-pass crossovers that are adjustable from 15 to 250 Hz for their full-range channels. The subwoofer channel on the XC2510, as well as the crossover filter used in the XC2110, are 35 to 250 Hz low-pass filters. All filters on all models use second order or -12 dB/Oct slopes.
To ensure reliability in extreme operating environments, the Clarion XC amplifiers are built to meet tough ultraviolet and salt/fog protection standards. To this end, they use a Humiseal conformal coating on the PCBs and have sealed covers to keep moisture out. Even the connectors and terminals are designed to be corrosion resistant.
All models in the XC series use MOSFET PWM (Pulse Width Modulated) power supplies, and are designed to drive two-ohm loads. They also feature special soft turn-on/off circuitry to eliminate popping or any other noises that are common in other amplifiers.

LISTENING
For my listening session, I decide to do two sessions. In the first I use the four-channel XC2410 in three-channel mode by bridging the rear channels to a four-ohm, 10-inch woofer in a vented enclosure. The audio signal for the subwoofer is provided by the head unit's low-pass subwoofer output. This arrangement allows me to use the amplifier's built-in high-pass filter as a subsonic filter to prevent excessive power from being applied to the woofer below the tuned frequency of the enclosure. The front channels are connected to a set of reference component speakers, and the crossover is set to 50 Hz.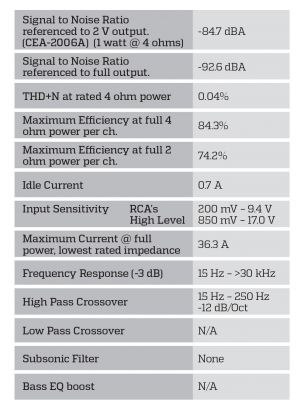 As I have listened to several XC amplifiers in the past, I know this is going to be fun. The XC2410 proves it has plenty of power and easily drives my system to higher levels than I would have expected from such a small amp. As I experienced with the five-channel version, overall sound quality is very good. Subtle details in complex orchestral passages are easily apparent, and the amplifier sounds very open and natural. Bass output is authoritative and clean and, at the same time, the amp provides a discernible sense of space and natural reverberation in the playback of several favorite selections. With the sensitivity set at about mid-point, quiet passages are completely noise-free, with the Clarion unit turning on and off without any clicks or popping. During my listening, I'm thoroughly impressed by the capability of the XC2410, but when I really want it loud, the amplifier does eventually and noticeably run out of steam.
This is where the second session comes in. For this go-round, I run the XC2410 in two-channel bridged mode to my components, and add the XC2110 to run the subwoofer, which gets swapped out for a two-ohm version of the same 10-inch woofer. Now with 600 watts on tap, the sound quality remains the same, but the added power allows for higher average volume levels, and I can play the music as loud as I want with no signs of stress from either amp.
PERFORMANCE/BENCH MEASUREMENTS
Moving the amp from my listening room to the test bench, it's time to get the real performance numbers out of the XC2410. I run the amp through my usual battery of tests and I'm happy, but not surprised, to report that it easily exceeds all of its published performance specifications. It exceeds the published power numbers by a considerable amount, while other critical specs like signal to noise and frequency response also measure very well.
CONCLUSION
If you need good quality audio power that fits in a very small space, or if you need amplification that will withstand the rigors of marine or off-road use, the Clarion XC amplifiers should be high on your list of potential candidates. These amps are well built, engineered to sound good and deliver lots of clean power with minimal current draw and heat. When it comes right down to it, what more can you ask for in a small footprint amp? Check the entire series of XC amps out for yourself at a Clarion dealer near you, and visit them online.
For more test reports, download the PASMAG+ tablet app for free from the App Store.
LINKS:
Clarion.com/ca @ClarionUSA ClarionUSAOnline ClarionCanada