Written by Garry Springgay | 23 November 2016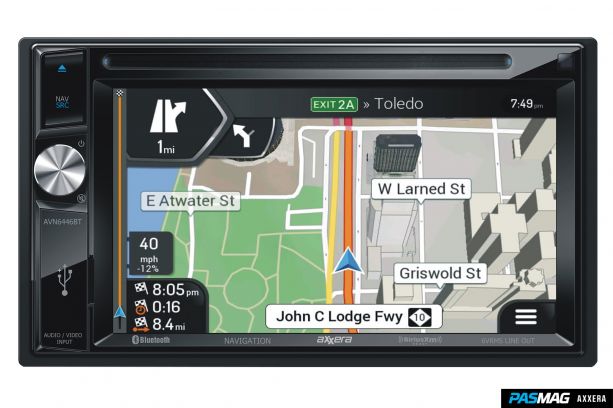 You've been saving for that epic road trip for months and getting your car ready for the adventure of a lifetime. As usual, money is tight and you need to stretch the bucks as much as possible. Having good music along for the trip is essential, and it would be nice to have navigation to easily guide you through strange new places. Lucky for you, Axxera has just what you need to make your trip fun and stress-free. The new Axxera AVN6446BT is a feature-packed double-DIN multimedia receiver that's great for any budget.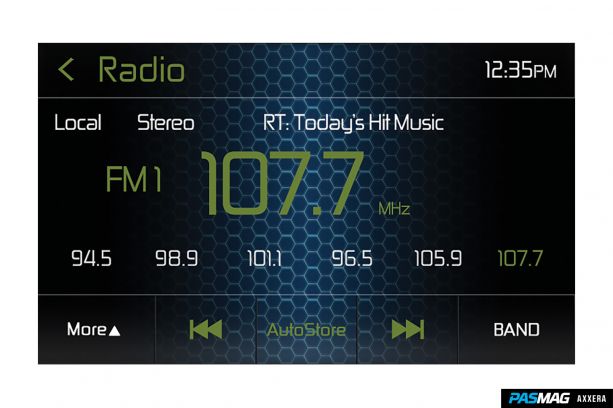 FEATURES
Built around a quality 6.2-inch TFT LED-backlit touchscreen, the AVN6446BT is designed to play a wide range of media, including DVD, CD, MP3, WMA, FLAC and iPod. Additionally, it supports connectivity for iPhone, Android, and BlackBerry. Connecting your iPhone (via USB) allows for control of Pandora from the touchscreen, and all smartphone users can also connect via Bluetooth to stream and control a wide variety of internet radio apps (Pandora, SXM, iHeartRadio, aHa Radio, Spotify, Slacker, TuneIn, etc.). Of course, hands-free calling and Bluetooth streaming are also included.
The navigation system is an iGo Primo Next Gen, and is updatable to refresh your maps as the years go by. The iGo system provides voice guidance with turn-by-turn instructions and spoken street names. Included maps cover all of the U.S., Puerto Rico, and the Virgin Islands. Maps of Canada can be easily purchased and downloaded as well.
Other features, like a rear-view camera input, front USB input, and front and rear A/V inputs are available to allow you to configure things just the way you like them.
The audio section is just as well equipped, with a built-in 13-watt-per-channel RMS (40 W x 4 Peak Power) amplifier, and six-volt pre-amp outputs for front, rear, and sub external amplifiers. There is an adjustable crossover for the subwoofer output with 80 to 120 Hz or 160 Hz selectable frequencies. A 10-band graphic equalizer provides fine tuning with up to +/- 12 dB of adjustment.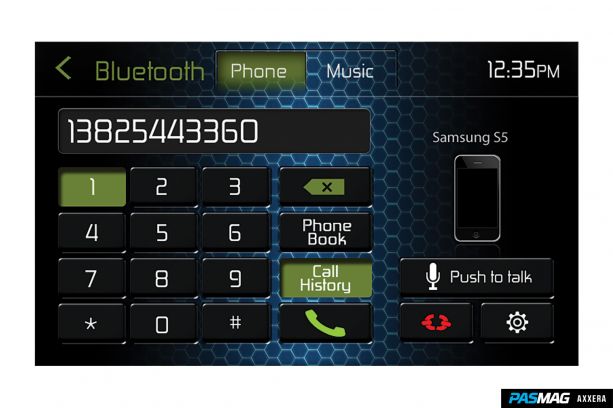 CONTROLS AND ERGONOMICS
The AVN6446BT has easy to use controls and fairly well thought out ergonomics. A rotary volume control provides easy volume adjustments without taking your eyes off the road, and DVDs and CDs are loaded through a slot in the top of the faceplate, which does not move or change angles. Touchscreen icons are pretty self-explanatory and large enough to be selected easily. Learning to navigate the menus without using the manual is a bit of an experiment, but if you RTFM things are very easy. The iGo navigation can be set for 2D or 3D map views, and provides very handy information like the current speed limit, freeway services, exit signs, and lane information.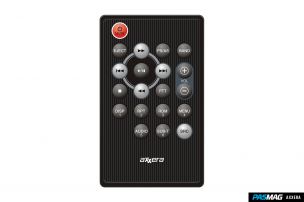 The Axxera unit takes a few seconds longer to boot up when you start the car, but not so long as to cause any real grief. The touchscreen works well, but requires a bit more pressure that I'm used to. Once you get used to it though, it seems to work just fine. Button illumination color is selectable and completely customizable if one of the preset selections isn't perfect. The screen wallpaper designs and colors are also customizable to suit almost any taste. You can also upload your own wallpaper for a total custom background.
LISTENING
During the listening session, the AVN6446BT proved to be a capable and nice sounding performer. The unit produced very good sound quality, and in CD or DVD mode will hold its own against other players costing several times more. The bass is deep and musical, and the top end provided all the detail and clarity in the recordings. Stereo separation and stereo imaging are very good.
My iPod also sounded excellent, and the control of my musical selections happened fairly quickly and smoothly. I also used my Android phone to listen to streamed music via Bluetooth and try out Pandora. Both were totally acceptable. The tuner pulled in all the usual stations, and the sound quality of the RDS capable FM tuner was also just fine.
There is plenty of output voltage for driving external amplifiers, and this high voltage allows you to lower the gains on the amps for improved signal-to-noise and dynamic range. Lower amp gains also inhibit unwanted radiated noise, so there's another benefit to the AVN6446BT's pre-outs.
ON THE BENCH
Back on the test bench, the AVN6446BT met or exceeded all of its technical specifications. Frequency response is very flat, and the pre-amp outputs actually developed over six volts, with great low output impedance of just 102 ohms. This type of pre-amp signal performance will make the AVN6446BT a great choice for driving amplifiers in difficult environments. The internal amplifier exceeds its CEA-2006 rated power as well, developing just over 15 watts per channel.
MEASURED SPECIFICATIONS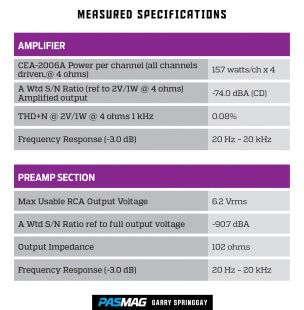 CONCLUSION
If you are looking for a full featured multimedia navigation receiver, and you are on a tight budget, the Axxera AVN6446BT should be high on your list of candidates to fill the position in your dash with its price point sitting around $360. It's got 90 percent of the features and performance of units costing more than twice as much. #pasmag
Website | Twitter | Facebook | YouTube
Contributor: Garry Springgay