Written by Garry Springgay | 05 July 2017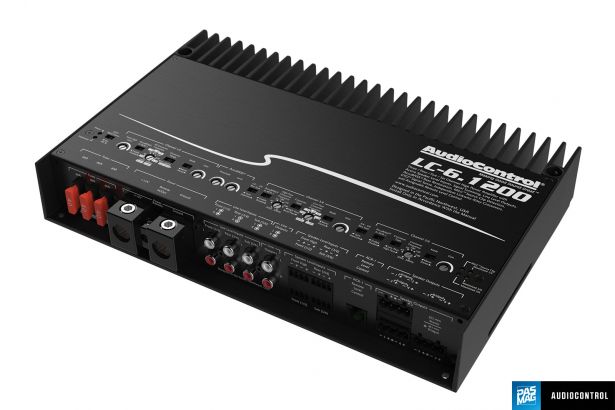 For the last four decades, the folks up in Mountlake Terrace, Washington have been known for "Making Good Sound Great". Of course I'm referring to the AudioControl brand and the sound obsessed crew that works there. They have recently introduced a number of new amplifiers, and they were kind enough to send me one to play with. The new LC-4.800 and LC-6.1200 multichannel amps are designed to be totally compatible with OEM source units, as well as provide some unique features that can't really be had anywhere else. If that sounds interesting, read on as I run down all the features and then put the $699.99 (U.S.) LC-6.1200 through its paces here in the lab. Rated at 125 watts x 6 channels into four ohms, or 200 watts x 6 into two ohms, this is a lot of power in a compact and very installation flexible package.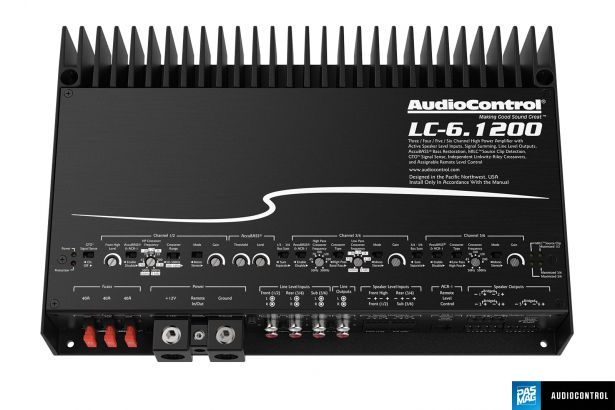 FEATURES
The layout of the AudioControl amp is pretty straightforward, with all the connections along one long edge, and the heatsink across the back on the opposite side. A one-piece aluminum top cover provides a very clean look, and two screws facilitate easy removal for access to a myriad of controls and settings. Thankfully, all of the controls and adjustments are top mounted, so setup doesn't require a lip stand on the floor mat. The power connections are seriously robust, and will accept 1/0 gauge cable. Speaker output connections are done via removable four-pin Dinkle quick disconnects. Of course there are three sets of RCA inputs (and appropriate signal steering switches if you have only two or four outputs) and a pair of RCA outputs as well. The independently configurable crossovers are a three way (high pass, band pass, low pass) arrangement, with the typical Linkwitz-Riley alignment used in most AudioControl products. The frequency adjustment range allows a wide range of adjustment, from 30 to 300 Hz and 500 to 5kHz via a range switch.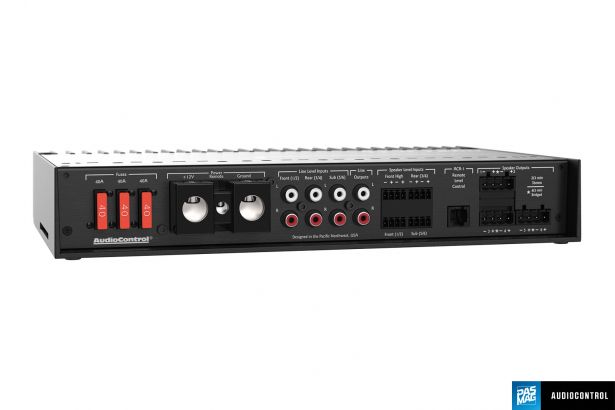 Now here is where things begin to get a little different. In addition to the usual complement of RCA inputs, the LC-6.1200 is also equipped with eight (four pairs) high level inputs. This allows you to drive the amplifier with whatever type of OEM signal source you may have, regardless of the OEM active crossovers. In addition, channel summing is built in so there is no need for an external summing device, and in most cases, the factory fader control can be retained. But the differences between this amp and most others don't end there. AudioControl has seen fit to equip this amp with their patented AccuBASS circuitry, to compensate for bass roll off in the OEM gear, or from old recordings. The AccuBASS processing can be applied to any pair of channels or the whole amp if you prefer.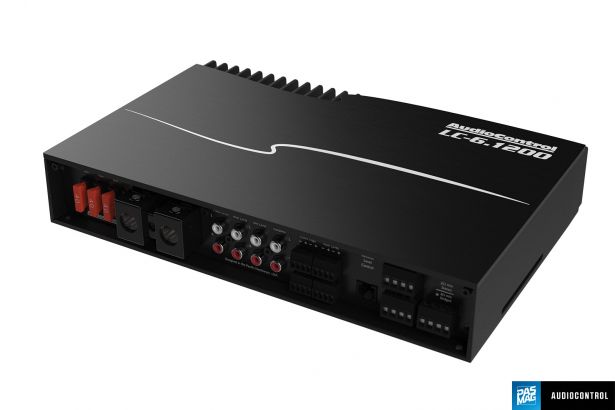 When it comes time to adjust the input sensitivity controls, you can rely on the patent pending "Maximized Input Level Control" (MILC) feature to ensure you have things set at optimal levels to improve the sound quality and minimize distortion. In addition to the three LED's which indicate maximized signal out, there is a fourth LED to alert you to any clipping in the input signal. If you can't set gains with this much help, you should have your tweeker taken away. Thanks to AudioControl's GTO Signal Sensing turn-on circuit, if your car does not have a traditional remote-on wire, the amp will turn itself on and off with the radio.
And the features don't end there! An optional ACR-1 wired remote level control can be configured as a master volume control, or as an independent level control for the low level outputs.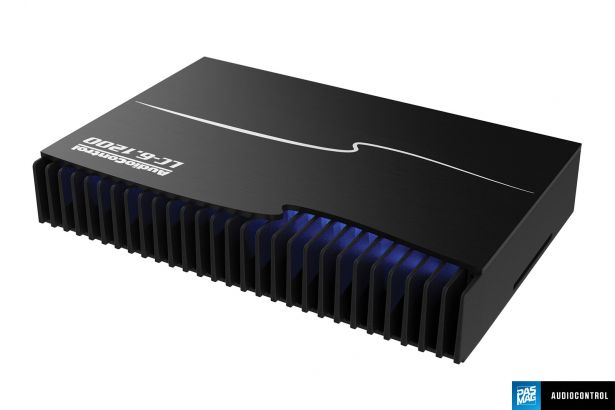 LISTENING
Sitting down to listen to these products is always my favorite part of the review process. For the LC-6.1200, I ran the amplifier in three channel mode, and carefully adjusted the gains to not overdrive my full range speakers. Bass came from a pair of two ohm twelve inch woofers wired in series. The subs crossover was set to about 80Hz, and the main speakers at 30Hz. After a couple of hours of listening, I noted that the amplifier had a natural open sound, with very little coloration or noise. The sonics were generally excellent, and I noted the bass was tight and well controlled even at enthusiastic levels. Tracks with a lot of horns and acoustic strings were remarkably uncolored, and sounded very natural. This is one of those amplifiers that lets you discern an Ovation guitar from a Takamine or an Avalon, and I could have listened to it all day.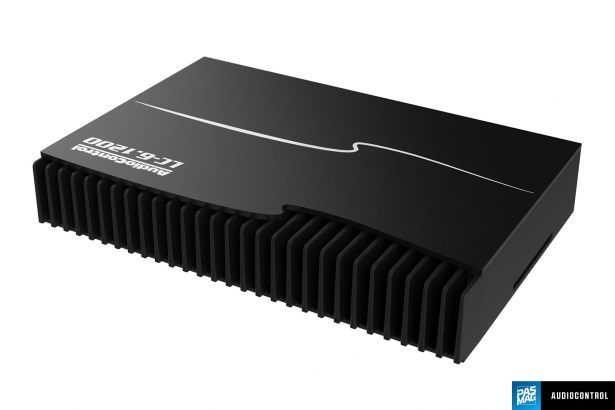 PERFORMANCE/BENCH MEASUREMENTS
At some point however, I had to get back to the task at hand, and that's all about informing you, loyal reader, about how the LC-6.1200 performed on the deadly accurate and unforgiving Cogent Audio Labs test bench. In terms of power delivery, the AudioControl amp easily exceeded its published figures. The same went for signal to noise, and frequency response. Throughout my testing it measured favorably in all respects. The amp turned on and off without pops or thumps, and performed better than advertised.
CONCLUSION
Anyone looking to add a quality amplifier to their OEM system, or just have a single amp chassis as the cornerstone in a great aftermarket system would do well to put the AudioControl LC-6.1200 high on their shopping list. The amplifier has amazing installation flexibility, is highly tunable, easy to set up and makes your music sound rich and alive. What more do you want? Go audition one for yourself at your local AudioControl dealer and then thank me later. www.audiocontrol.com
Twitter | Instagram | Facebook | YouTube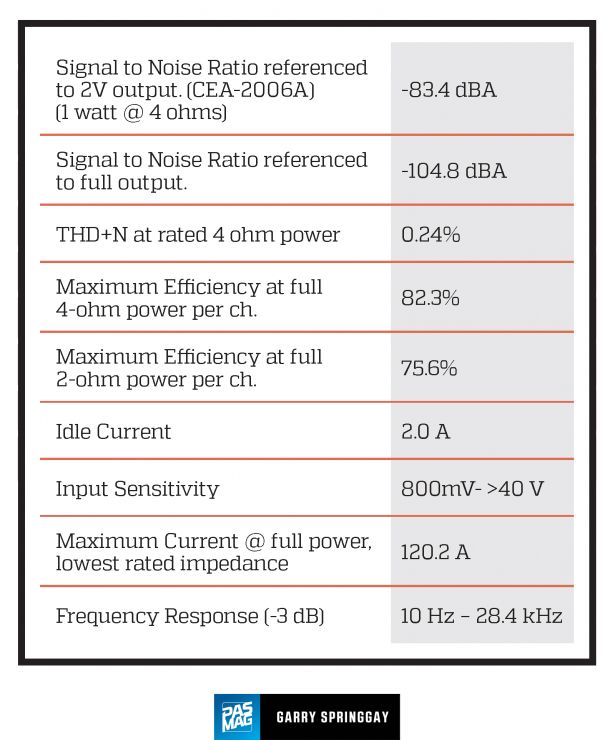 MEASURED PERFORMANCE SPECIFICATIONS
4 OHM POWER vs THD+N 100Hz 14.4V Batt
2 OHM POWER vs THD+N 100Hz 14.4V Batt
MAX FLAT - FREQUENCY RESPONSE
CH 1&2 CROSSOVER RANGE - REQUENCY RESPONSE
CH 3&4 CROSSOVER RANGE - REQUENCY RESPONSE
CH 5&6 CROSSOVER RANGE - REQUENCY RESPONSE