Written by Garry Springgay | 16 August 2017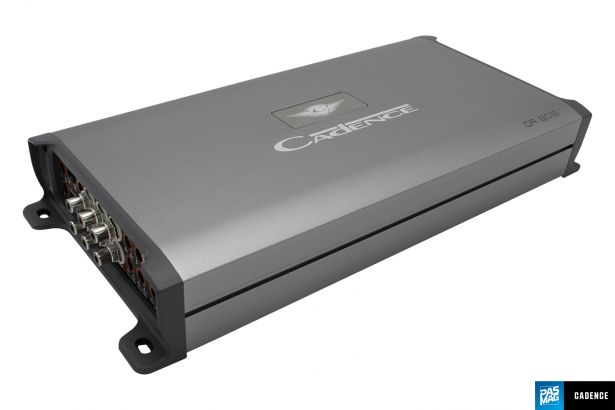 Whether you are a sound quality aficionado or an SPL basshead, the goal for the Cadence product team is to provide you with products that exceed your expectations. Their creed is to "take extraordinary measures to create extraordinary products," and that's precisely the goal of the new "Ultra Performance" QR series of amplifiers. Based on modern Class D technology, the $569.99 Cadence QR80.5 is a compact five-channel amplifier easily capable of being the only amplifier required in your system.
The QR80.5 is rated to provide 80 x4 into four ohms, or four channels at 125 watts each into two ohms. The subwoofer channel is rated for 400 watts into two ohms.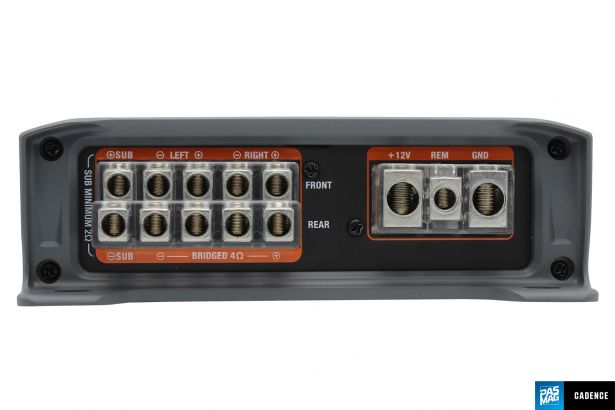 FEATURES
With a new smooth and sleek heatsink design and backlit logo, the QR80.5 looks like a high-end product. The end caps are injection molded plastic, with steel tabs to use for secure amplifier mounting. All of the controls and connections are made on the end panels of the amp, with heavy gauge power and speaker connectors on one end, and the signal inputs and controls on the opposite end. RCA connectors are a rugged panel mount style, but are not color coded. Crossover controls consist of variable 50-250Hz high pass filters for the full range channels, with the sub channel having the same frequency adjustments in low pass mode. An EQ section with variable boost as well as variable frequency allows tuning the bottom end to suit your system. The variable phase control also permits the bass to be adjusted to blend perfectly with the rest of the system. To tailor the amount of bass output for any given track, a wired remote level control is included to allow adjustments from the driver's seat.
Inside the QR80.5 you'll find a high quality PCB and surface mount parts. The two toroid power supply's energy is stored in eight 3300µF high speed capacitors, with four 5600µF caps used for the rails.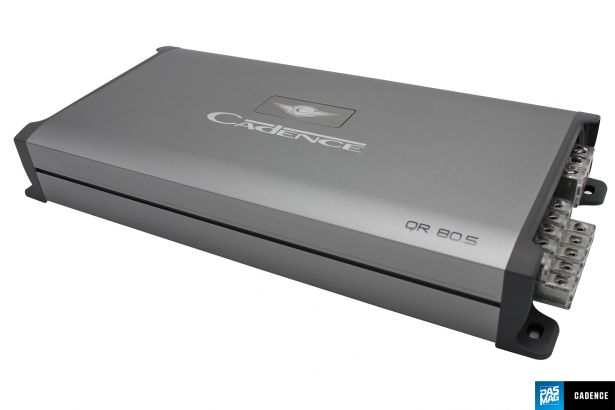 LISTENING
This is always my favorite part of the evaluation, because I get to sit back and just listen to my favorite music. Oh, and did I mention they pay me for this? (Stay in school!)
I hooked up the Cadence QR80.5 to my reference evaluation system. The signal came from a Denon DVD/SACD player, through a Hafler studio preamplifier, to the inputs of the QR80.5.
Because the crossovers are traditional second order type, I dialed in the sub channels low pass filter at about 80Hz, and left the full range channels in all pass mode to my Focal 908's. The front and rear channels were bridged to two channel mode, partly so I could drive the entire amp, and partly because my reference speakers were 8 ohms. I like to do the listening in my lab for several reasons, not the least of which is it eliminates other variables. I never have the same system in my car long enough to get really used to it. I also prefer it because it's quiet and comfortable, it's no fun trying to evaluate a system in the Arizona summer when you don't want to run the car because of noise, and the interior temp is 130 degrees! I'm sure those of you who have some sound Q judging experience can relate.
Sitting down to audition the QR80.5 proved to be quite a pleasant experience. I like to listen to a wide variety of music, and if you have a properly designed system there should be no need to have to make adjustments when changing genres. The system should sound the way the recording was intended, without corrections, regardless of the music type. And with the Cadence amplifier, that's just what happened. I could go from 50 Cent to Alan Jackson to Led Zeppelin without any issues. Low bass was loud, clean, and tight, while the amp still maintained smooth and detailed high frequencies, with no harshness or edginess.
During several hours of focused listening, the Cadence amplifier sounded very natural and uncolored regardless of the musical selection, and handled dynamics and my reference woofers' current demands with ease.
ON THE BENCH
On the unbiased Cogent test bench, the QR80.5 lived up to its published specifications. The distortion at rated 4 ohm power was 0.17%, and I found the amplifier's full power efficiency about average for a 5-channel design, at just over 85%.
With a very wide range of adjustment, the input sensitivity control allows the amp to be driven into clipping with any signal level between 225mV to over 7 volts. This kind of adjustment capability allows full compatibility with almost any source.
Frequency response measured flat within 3dB from below 10Hz to 38kHz. I did notice that because of tolerances in the ganged gain pots, there could be as much as 1dB of gain imbalance between channels, depending on where the pot was in its rotation. The signal to noise performance was pretty average at -67.8dBA referenced to 1 watt. (CEA-2006B) Referenced to full power as some others spec it, this amp would come in at better than -87dBA. Stereo separation was also very good at -64dB.
The QR80.5 showed no sign of turn-on or turn-off noises, and it protected properly when deliberately dead shorted on the test bench.
CONCLUSION
All in all the Cadence QR80.5 proved to be a good performer and shows great value in the five channel category. It looks good, sounds good, and is very affordable. What else do you need? Go audition one for yourself at a Cadence dealer near you. www.cadencesound.com
Twitter | Instagram | Facebook | YouTube
TECHNICAL DATA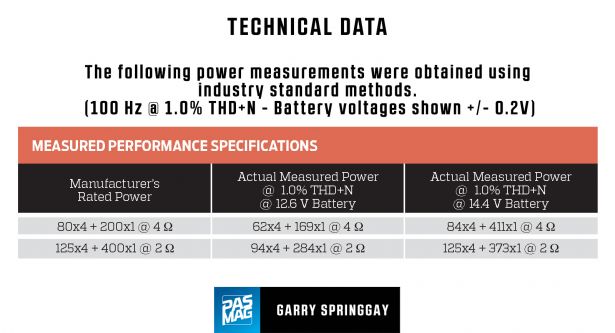 MEASURED PERFORMANCE SPECIFICATIONS
4 OHM POWER vs THD+N 100Hz 14.4V Batt
4 OHM POWER vs THD+N 100Hz 12.6V Batt
MAIN CH MAX FLAT - FREQUENCY RESPONSE
MAIN CH CROSSOVER RANGE - FREQUENCY RESPONSE
SUB CH CROSSOVER RANGE - FREQUENCY REPSONSE
SUB CH VARIABLE - FREQUENCY RESPONSE