Written by Garry Springgay | 06 September 2017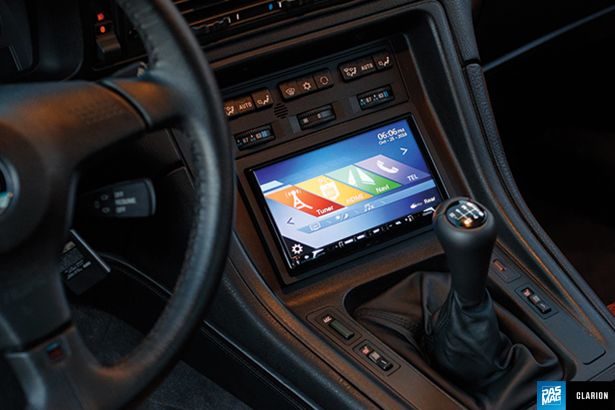 Smartphone users currently in the market for a new DVD/Navigation receiver would do well to take a close look at the new NX807 from Clarion. The new source unit combines a trifecta of premium navigation with 3D mapping, a great audio source with optical digital output, and iPhone fanatics will love the full integration of an iPhone via Apple Car Play. Dual zone entertainment and a full complement of available sources make it an excellent choice for anyone who spends time in the car. The double DIN sized chassis will fit a very wide variety of vehicles, and the built in amplifier, digital output, and three pairs of pre-outs allow for almost infinite system expansion in the future.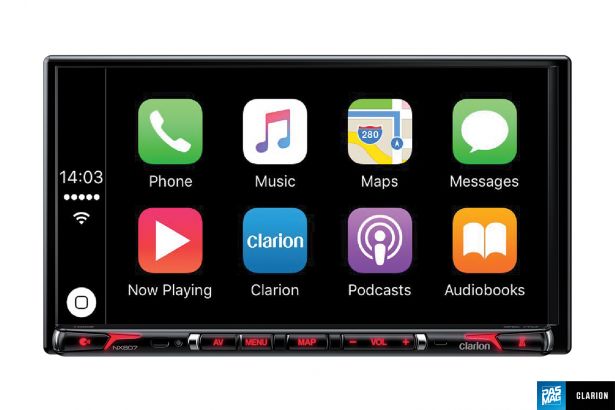 FEATURES AND FUNCTIONS
The NX807 is built around a very user friendly seven inch TFT touch screen LCD, with really large icons that are easy to use at a glance, allowing you to keep your eyes on the road. The screen is much more responsive than previous generation Clarion units, and can finally be customized to suit the preferences of the individual user. Various wallpapers are included, or you can import up to three of your own photos to use as a background. Another nice feature is the ability to turn off just the screen, which comes in handy on long night drives. DVD video playback is crystal clear, and the picture was excellent right out of the box. Button illumination color is also fully customizable, with 728 colors to choose from. Yeah, it will match your dash.
In addition to the Apple Car Play integration which also includes Siri voice functionality, the NX807 has Pandora, HDMI input, iPod audio, A/V input, USB audio, Sirius XM compatibility, Bluetooth audio streaming, and hands-free telephone operation. Android phone users can take advantage of MHL adaptor connectivity, and if your phone is compatible, Mirror-Link display functions. The NX807 is not Android Auto compatible, however.
The navigation section is powered by TomTom and includes maps for all 50 states, plus all of Canada and Puerto Rico. Also built in are over eleven million points of interest, plus a text to speech engine that announces upcoming street names, 3D lane guidance, and junction view.
An input for a camera is provided, as is a rear seat audio/video mode. Steering wheel control compatibility can be retained via a third party adaptor.
AUDIO
High definition audio enthusiasts will be thrilled with the NX807's optical digital port, perfect for interfacing to a full digital system like Clarion's Full Digital Sound system and accessories that we reviewed a few months back. And if you still have not heard high-res FLAC files (which can be played via the unit's USB port) you are missing out. Traditional analog users should also be pleased, as the NX807 includes a CEA-2006B rated internal amplifier, and pre-outs for front, rear, and subwoofer amplifiers. To provide tuning for the analog outputs, Clarion saw fit to include a fifteen band graphic equalizer, as well as high pass and low pass crossovers for the pre-outs. A phase switch is provided for the sub outputs, as well as an independent volume control. Another very nice feature is the ability to adjust the level of the sources independently so switching between them doesn't require constant volume adjustments.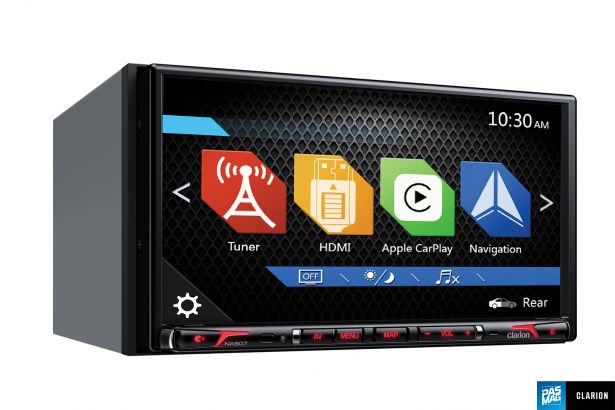 CONTROLS AND FUNCTIONALITY
Clarion has always been one of the better brands when it comes to ergonomics and ease of use, and the NX807 is more of the same. The hard buttons on the faceplate are well marked and placed to be easy to use with just a quick glance. As I mentioned, the touch screen is much more responsive, and the customizable large icons are easy to find and use. Same thing for audio adjustments and other settings, the interface is much improved and can pretty much be used without even looking at a manual, which is a great indicator of good design and ergonomics.
LISTENING
My listening evaluation of the NX807 went very well, and the unit sounded great with either my iPod or USB thumbdrive as the source. It should be noted here however, that to get great output with any player you need to have high quality input, so if you're ripping stuff at 96kbit/s it's still going to sound like it. With good quality 256kbit/s or lossless HD FLAC files, I noted a flat, accurate response with excellent detail and minimal background noise. Listening to the Cowboy Junkies "Trinity Sessions" I was absolutely transported to the church in Toronto where the recording was made. A tremendous sense of ambience and space, combined with very natural and detailed sonics are hallmarks of this amazing recoding, and the NX807 is one of the few car stereo players that can do it true justice. Vocals were natural and the timbre of instruments was easy to identify. The thing that kept coming to mind while playing with the NX807 was how sensible it is, and that translates to it just being a pleasure to use.
ON THE BENCH
As always, these evaluations end with a thorough bench testing and the meticulous measurement of all the important specifications. I found the measured performance of the new Clarion to be pretty much as advertised. Amplifier distortion was very low, and it even exceeded the CEA-2006B rated power. Preamp output voltage was average at 2.3V, and the frequency response was basically flat 20Hz to 20kHz. Measured output impedance was a bit higher than I'd like to see it at 490 ohms, so really good signal wiring practices and good twisted pair wires will pay dividends when installing the NX807.
4 OHM POWER vs THD+N PER CHANNEL BATT 14.4V
CD SOURCE - AMPLIFIER FREQUENCY RESPONSE
CD SOURCE - RCA FREQUENCY RESPONSE
SEPARATION or CROSSTALK vs FREQUENCY
SUB CROSSOVERS - RCA's - FREQUENCY RESPONSE
SUB CROSSOVERS - RCA's - FREQUENCY RESPONSE
MEASURED SPECIFICATIONS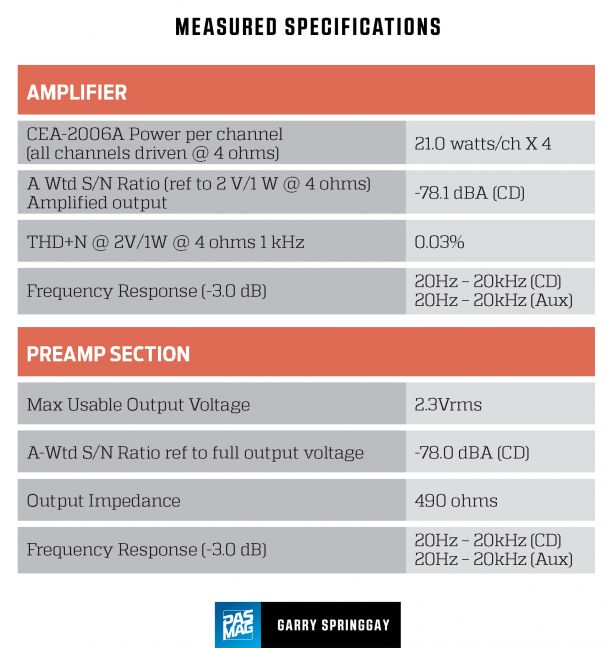 CONCLUSION
For an iPhone user looking for a DVD/navigation receiver that has virtually every feature one could ask for, the Clarion NX807 would be a terrific choice as the cornerstone of any great car system. From the vast array of sources and the ease of use, to the pure digital output or the quality analog equivalent, it really leaves very little to wish for. That is, unless you are a dyed-in-the-wool Android user like me. I only hope Clarion sees fit to add Android Auto as well, and then it'll be that much better! www.clarion.com