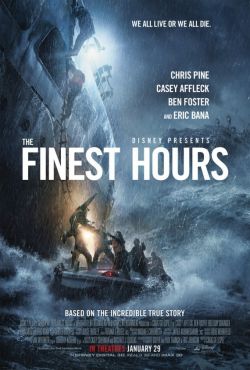 Do you have the winter blues? Is your show car in storage? Well, we may have something for you to help pass the time.
Our partner, Walt Disney Pictures, has provided us with 3D advance screening passes of the heroic action, thriller, The Finest Hours, starring Chris Pine, Casey Affleck, Ben Foster, Holliday Grainger, John Ortiz and Eric Bana, and directed by Craig Gillespie. Fill out the contest form below for a chance to win an ADMIT TWO pass!
AVAILABLE DATES/LOCATIONS
Thursday, January 14, 2016 @ 7:00 PM
Varsity Cinemas. 55 Bloor St W., Toronto, ON, Canada
Thursday, January 21, 2016 @ 7:00 PM
Cineplex Cinemas Mississauga. 309 Rathburn Rd W., Mississauga, ON, Canada
Thursday, Janyuary 21, 2016 @ 7:00 PM
Landmark Cinemas Whitby. 75 Consumers Dr., Whitby, ON, Canada
Thursday, January 21, 2016 @ 7:00 PM
SilverCity Richmond Hill Cinemas. 8725 Yonge St., Richmond Hill, ON, Canada
Rated: PG-13
STORY LINE
A heroic action-thriller, "The Finest Hours" is the remarkable true story of the greatest small boat rescue in Coast Guard history.Presented in Digital 3D™ and IMAX® 3D, the film will transport audiences to the heart of the action, creating a fully-immersive cinematic experience on an epic scale. On February 18, 1952, a massive nor'easter struck New England, pummeling towns along the Eastern seaboard and wreaking havoc on the ships caught in its deadly path, including the SS Pendleton, a T-2 oil tanker bound for Boston, which was literally ripped in half, trapping more than 30 sailors inside its rapidly-sinking stern. As the senior officer on board, first assistant engineer Ray Sybert (Casey Affleck) soon realizes it is up to him to take charge of the frightened crew and inspire the men to set aside their differences and work together to ride out one of the worst storms to ever hit the East Coast. Meanwhile, as word of the disaster reaches the U.S. Coast Guard station in Chatham, Massachusetts, Warrant Officer Daniel Cluff (Eric Bana) orders a daring operation to rescue the stranded men. Despite overwhelming odds, four men, led by Coast Guard Captain Bernie Webber (Chris Pine), set out in a wooden lifeboat with an ill-equipped engine and little, if any, means of navigation, facing frigid temperatures, 60-foot high waves and hurricane-force winds.
Disney's "The Finest Hours" is the unforgettable story of the Coast Guard's courageous mission, which is directed by Craig Gillespie and stars: Chris Pine; Academy Award® and Golden Globe® nominee Casey Affleck; Ben Foster; Holliday Grainger; John Ortiz; and Eric Bana. Produced by Jim Whitaker and Dorothy Aufiero, the screenplay is by Oscar® nominee Scott Silver and Oscar nominees Paul Tamasy & Eric Johnson based on the acclaimed non-fiction book of the same name by Michael J. Tougias and Casey Sherman. Doug Merrifield serves as executive producer. "The Finest Hours" storms into U.S. theaters on January 29, 2016 in Digital 3D™ and IMAX® 3D.
Like The Finest Hours On Facebook:
www.facebook.com/thefinesthoursmovie
Follow @DisneyStudios on Twitter
www.twitter.com/disneystudios

Please arrive early. Seating is first come, first seated. No one will be admitted late. The screening may be overbooked and seating is not guaranteed. WDSMP, theatre and promoter are not responsible for overbooking. We may refuse, revoke or limit admission in our sole discretion at any time. The ticket may be used for admission only by the person to who we issued it; it is not transferable. It has no cash value.