MadVette Madness Series
July 18, 2009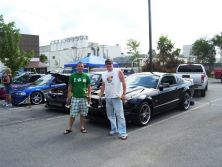 The 7th in MECA's MadVette Madness Series was held at the almost completed Lanes Trains & Automobile complex, where monthly events are planned for the future. LT&A is an up-scale bowling alley, with MECA Show & Shine car/truck/motorcyle shows are big part of the business plan.
Dave Hale, owner of MadVette Motorsports, a MECA Charter Member and 1999 MECAhead of the Year, set up these events to promote his business, focused on Corvette modifications, including audio and video systems.  Dave is an avid Competitor and also a certified Judge with passion and conviction in the MECA club and contests.
Jay Jackson (Team Audio One) from Clarksville, TN took the Show & Shine Best of Show trophy along with SPL Phat Car and Phat Install, and the Phat I.C.E medal. Joseph Harris (Team MadVette) took all the SQL honors, including Zapco SQL Best of Show, SQ Best of Show, Install Best of Show, SQL Phat Install, and earned the biggest trophy with best overall competition scores for the Best of the Best of Show.

Patrick Gambrell (Team WSF) posted a M2 score of 146.1 dB, at the headrest, and 121.2 dB in DB2 measured 6' from the passenger side, for the SPL Best of Show.  He earned the Phat 18 for best performance by a single 18" subwoofer. Gary Fletcher, a Tennessee member of Team Sundown, won the SP Best of Show with the high score of the day, 156.9 dB in Radical X1.  That's with the TermLab sensor placed on the passenger side on the windshield, and the vehicle sealed up.Team WSF founder, and MECA Charter Member Chris Gregory, took the Drive-by SPL Parade Best of Show with 126.4 dB in DB4.  He is also a member of Team Sundown.