SPEED World Challenge
Mid-Ohio Grand Prix
Lexington, OH
August 9, 2009
GT Class – Davis Dominates for World Challenge Win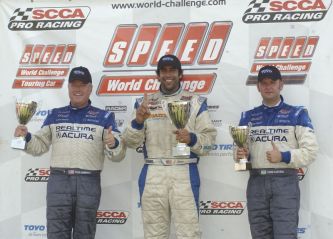 After five trips to the SCCA Pro Racing SPEED World Challenge GT podium this season, Brandon Davis, of Huntington Beach, CA finally made the climb to the top step, winning the Toyo Tires Mid-Ohio Grand Prix Presented by Dish Network. Tony Rivera, of Missouri City, TX and James Sofronas, of Newport Beach, CA completed the top three for Round Seven at Mid-Ohio Sports Car Course.
"From the start, I knew the conditions would be a challenge with the heat," Davis said. "On the start, I cranked the launch control up as much as I could so I wouldn't spin the tires too much. I focused on not slipping much coming out of the corners and being real smooth an real consistent."
With the win, Davis strengthened his lead over Sofronas in the Drivers' Championship with 733 points to Sofronas' 656. Rivera is third with 643, followed by Pilgrim (596) and teammate Pobst (568). Porsche continues to lead the SPEED World Challenge GT Manufacturers' Championship with 45 points. Ford is second with 41, followed by Volvo (30), Chevrolet (26) and Viper (16).
Touring Car - Saini Takes Third World Challenge Win
Ohio Native Jason Saini, now of Fort Worth, Texas, came from eighth on the grid to win his third SCCA Pro Racing SPEED World Challenge Touring Car race of 2009 at the Toyo Tires Mid-Ohio Grand Prix Presented by Dish Network. Peter Cunningham, of Milwaukee, Wis., and Pierre Kleinubing, of Coconut Creek, Fla., completed the top three.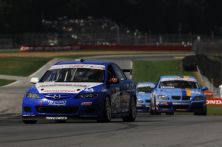 "Of the two races I"ve always wanted to win, one was Burke Lakefront Airport in Cleveland and the other was here," Saini said. "I had a poor qualifying. I never put a good lap together, even though I had a stellar car. I thought, starting eighth, 'this isn't going to be the day. We'll do what we can, come back and try to win next year. I never in my wildest dreams would have imagined ending up here on the top step today."
With his second-straight win, Saini extended his point lead to 63 over Cunningham (733 to 670). Kleinubing is third, with 649, followed by Thomas (614) and Wittmer (595). The win put Mazda into the World Challenge Touring Car Manufacturers' Championship lead with 53 to Acura's 50 and BMW's 27.