Waterfest 15
Raceway Park
Englishtown, NJ
July 18-19, 2009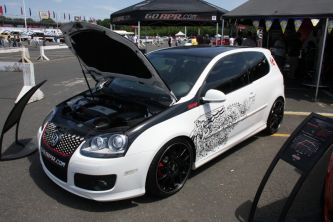 Being the premier show for everything VW and Audi related is no easy task, but the devoted team of Waterfest organizers makes it look easy. We are talking over 20,000 enthusiasts with some of the hottest whips from all over the country to result in the largest VW-based event in North America and second largest in the world.
For over 15 years, the annual Waterfest event has brought together the best Volkswagens, Porsches, Audi and even some other German-made stragglers looking to fit in. Fine German autos come in literally all shapes and sizes, as Waterfest showcases everything from clean European styling to rare limited models and outrageous race cars.
The success behind this event is the dedication and unrivaled enthusiasm every VW owner displays, as convoys of tuners organize annual road trips to Waterfest (including our annual www.waterfestkruize.com). This wild bunch descends upon the quiet and unsuspecting New Jersey area every year, leaving behind the usual trail of parking lot burnouts, unpaid traffic ticket violations and a jackpot of empty beer can returns.
Plus, Waterfest continues to attract over 100 vendors spread over a mile of floor space. So if you are looking for that rare part or some sweet VW / Audi gear, it is easily found at the Raceway Park mid-way.
Waterfest title sponsor, APR Tuned is known for their vast arsenal of European specific products and offer up great deals on go-fast goodies and on-site ECU tuning with their latest upgrades and trained technicians. Our friends at www.VWvortex.com and www.AudiWorld.com, arguably the largest online resources for any VW / Audi fan continue to support the scene and also rolled out a few hot rides we drooled over.
Beyond the lengthy list of vendors, there's so much more to see and do. The massive car show, auto-cross course, uber hot models, sound-off competition and king of all burnout contests are guaranteed to put a smile on every enthusiasts face. Plus the Unitronic sponsored drag race event and dyno challenge are where the most action can be found. There is even an autocross school for those looking to sharpen their skills and a very popular AWE Tuning Exhibition Event area for cars looking to show-off but not be officially judged.
If you seek a legendary weekend of non-stop tire smokin' fun and summer celebration, be sure to mark your calendars for next year. We'd like to extend a special thanks to the Waterfest team for all of their help and amazing organization, as this is one event we never miss. For complete class listings, results and full sponsor listing visit http://www.waterfest.net