Written by Dave Pankew | Photos By Dave Pankew | 12 July 2010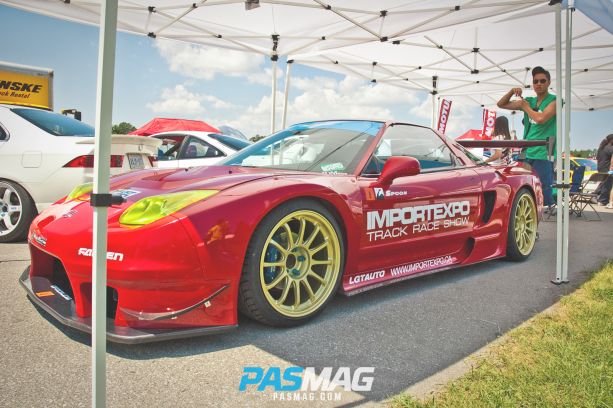 Import Expo | Mosport International Raceway | Bowmanville, ON | July 11, 2010
With the exception of the AMA Superbikes that were running on the main track at Mosport this past Sunday no other representation of the Honda nameplate was larger than what was present at Import Expo – I Love Honda! The weather was clear and hot and the lines to get into the gates were long, in fact another line had to be created as racers and spectators were backed up to the highway!
By the time the event got underway at noon officially the time attack track was buzzing with activity and the infield was full of car clubs and enthusiasts alike who came to socialize, show off their rides, and support the various vendors such as BFGoodrich, Sony, and Honda who had the new 2011 CR-Z on display in vendor alley.
In between lapping sessions spectators could have a look at some of best rides from the GTA, Golden Horseshoe, and Durham region were shined up and ready to be judged in hopes of bring home the hardware. At the end of the event the boys from Import Expo had a wet t-shirt, hard body contest that drove the crowd wild!
At the end of the day the event was a success, hardware was handed out and everyone seemed to have a positive experience. Keep your eyes peeled for the next Import Expo event, it looks like they definitely have some momentum to build on.
{yoogallery src=[/images/phocagallery/1206importexpo] title=[Import Expo 2010] width=[150]}