Written by PAS Staff | 26 May 2010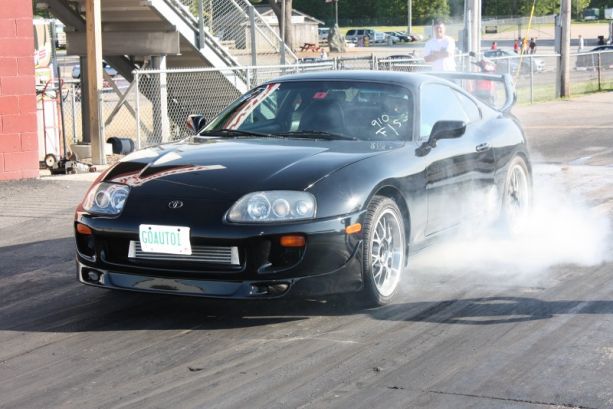 Photos by Cliff Wallace
1st annual New England IMPORT FACE-OFF May 23rd, 2010 at New England Dragway in Epping, NH.
After noticing no other national Import events were going back to New England this race season, Import Face-Off continued to fill the void by scheduling New England Dragway in 2010. The event was such a success, Joe Lombardo, New England Dragway manager, has already scheduled the 2nd annual New England IFO for the same weekend in 2011 and most likely a second one in the fall. The stands were packed (see pics) and car show score cards were sold out by 1pm prompting IFO staff to make extras copies. All together there were 400+ contestants (race and show) at this 1st annual event. Expect next year's attendance to increase considerably now that New England knows what IFO is all about!
Forced Induction Pro class number 1 qualifier, Shawn Cassady from Wilbraham, MA in his green Toyota Supra with license plate "NOCAGE" was banned from the class after running 9.786 @ 141.76 mph. Why was he banned? For having NO CAGE. The class winner ended up being Nick Stack from Farmington, NH with his caged, class legal DSM running 11.637 @ 137.09 mph.
Forced Induction Sport (FIS) number 1 qualifier, Andrew Solano, ran an 11.66 @ 121.23 mph in his daily driven Acura RSX during first round, but had to be Dqed from the class because of not having full interior. He was moved to Forced Induction Pro racing against 10 second and faster drag cars, yet still made it to semis. Other FIS class racers had to be Dqd for not being within the rules (missing bumpers and exhaust exiting the hood). The local racers better be more accustomed to the IFO rules for next year's event!
FWD class had a controversial start when number one qualifier, Grarry Eng (9.611 @ 159.53 mph) should have been timed out for staging late during first round of eliminations, but did not since the tree was set on manual start and the tree operator decided to wait on him. Adrian Rosario from Fall River, MA pulled the class upset by winning the entire class with a much slower, but more consistent 12.609 @ 117.75 mph. He was the absolute slowest and lowest qualifying car in the class! This just goes to show the faster cars do not always win.
The All Motor Sport class for daily driven, street cars was for the first time won by a HYUNDAI. Mike Brandt from Floral Park, NY running a modest 13.650 @ 103.63 mph in his 2010 Genesis beat out Bryan Espinal from Boston, MA who ran a 12.91 @ 104.71 mph but with a horrible .720 reaction time!
The Outlaw class was won by Pascal Forlty from Tennebone, QC in his 95' Hot Rod style (old NHRA SC class) Honda Civic running 9.033 @ 165.92 mph against Hector Colon from Lynn, MA in his 81' Toyota Starlet running 9.300 @ 141.80 mph.
Best of Show was won by local super star, Matt Heinecke with his Acura Integra 4dr (green Mercedes looking car in pic). The only Acura recognizable feature left on the car is the GSR engine.
{yoogallery src=[/images/phocagallery/ifonewengland] title=[Import Face-Off 2010] width=[150]}