Written by PAS Staff | 20 July 2010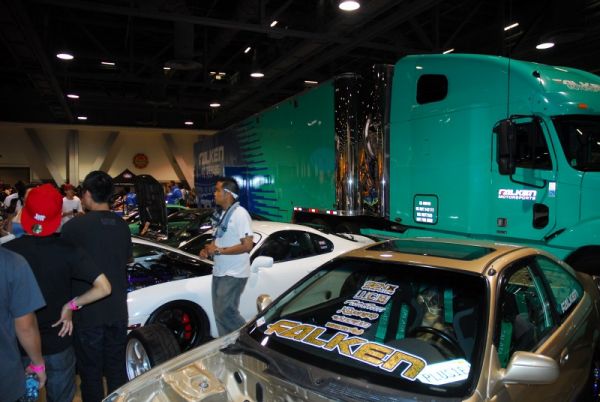 SPOCOM Super Show
Long Beach Convention Center
Long Beach, CA
July 18th, 2010
The 4th Annual SPOCOM Super Show played host to hundreds of stunning show cars and over 200 of the hottest models in the business. The brain-child of huge parts distributor Pro-Motion, the SPOCOM show almost guarantees the bests cars and vendors around because they are the leading brands that Pro-Motion works with. The fans are of course treated to a show that is a snapshot of the leading show cars from all over the country. No other show has this kind of support and out of SPOCOM's four event season, the Long Beach Supershow is the hub of all things tuner.
FREE Trial Issue
The Long Beach Convention Center is ideally situated for enthusiasts from all over the Greater Los Angeles area to attend. Halfway between the OC and Torrance, the venue was jam packed as SPOCOM recorded their largest ever attendance. And attendees were treated to a number of activities and attractions with some of the largest crowds gathering in front of the SPOCOM Model Lounge, PAS Mag booth and the Falken Tire booth to get a chance to meet some of the leading import models. Whether fans were looking for a signed autographed picture or just have your picture taken
with a hot model, the girls were more plentiful and more friendly than found anywhere.
As the largest tuner aftermarket trade and consumer event to happen in LA, the SPO-COM show attracted all of the top vendors too. Companies like: HKS, Skunk2, K&N, Falken and more came out with elaborate booths, hot new prodcuts and sponsored cars. There are many companies exhibiting at SPOCOM that you won't even find at SEMA! If you were there to pick up some parts, you came to the right venue, since many vendors has stock on hand at great SPOCOM show prices.
Then their were the stunning show cars. Many of which have never been gathered all in one place. You might have to attend half a dozen shows or more to all of this hardware in one place. Cars from Team Hybrid, Auto Concept Elite, TWCompetition and more came out in force. Since each and every car at the SPOCOM show is handpicked and meets all of the strict requirements, there is no junk and no rice at this show. SPOCOM has made it their mission not to derive revenue from just any show car that will pay the entry fee, owners are personally invited to this show!
Want to Read More?
Click Below for Full Digital Issue!
{yoogallery src=[/images/phocagallery/SPOCOM2] title=[Spo Com Show Long Beach 2010] width=[150]}
More images from Lucio Tapia of K&N Engineering
{yoogallery src=[/images/phocagallery/SPOCOM3] title=[Spo Com Show Long Beach 2010] width=[150]}