Written by PAS Staff | 20 August 2010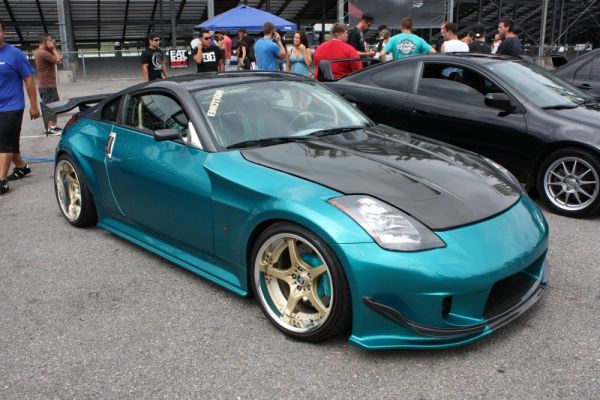 This Import Face-Off marked the first Import drag and show series to visit Virginia since 2007. Local contestants, especially racers, were extremely appreciative IFO came through. The tour will return to Virginia Motorsports Park in the Spring of 2011. IFO will continue to fill the void and provide quality, sportsman level events for the national Import community.
The FWD class was won by number 1 qualifier Shad Sawyer from Virginia Beach, VA in his 99' K series Honda Civic running 10.592 @ 147.44 mph against Ricky Lower from Buena Vista, VA also in a Honda Civic who red lighted in finals.
Justin Barnes from Chester, MD in his 92' Mitsubishi Eclipse pulled the upset win in the Forced Induction Pro finals running a 9.974 @ 142.07 mph against number 1 qualifier Richard Homer in his 1200+ rwhp Toyota Supra that only ran a 13.186 @ 67.34 mph. Richard was looking to take the easy win after running an 8.544 @ 175 mph on the second round of qualifying, but kill switch problems caused him to lose in finals. Justin redeemed himself with this win by making consistent runs down the track. He lost in the finals at the Maryland IFO one month earlier because, "I forgot to turn my nitrous on"!
The Forced Induction Sport class for daily driven street cars was doubled from a top 8 qualifier to a top 16 since there were 20+ entries. Bob Schneller from Keswick, VA in his 03 Mitsubishi Evo ran a 12.225 @ 114.32 mph in the finals to beat number one qualifier, Chris Carroll from Seeford, VA in his 92 Honda Civic that had problems and only ran a 13.875 @ 78.36 mph.
The All Motor Sport class for daily driven street cars was also moved up from a top 8 class to a top 16 since there were 20+ entries. After seeing that number one qualifier, Gray Milter from Portsmouth, VA in his 90' Honda CRX running 11.576 @ 118.92 mph had the entire field covered by 8/10ths of a second, IFO officials put a $100 bounty on his head the day of the race to "make things interesting". No one knocked him out and Gray took the easy win. The bounty on him has now gone up to $200 at the next event he competes at.
Best Club Representation was won by local car club, Team Absolute. Best of Show was won by Wes Banasan with his teal Nissan 350z. This marks the 3rd IFO entered and Best of Show won for Wes! www.importfaceoff.net