Written by PAS Staff | 02 August 2011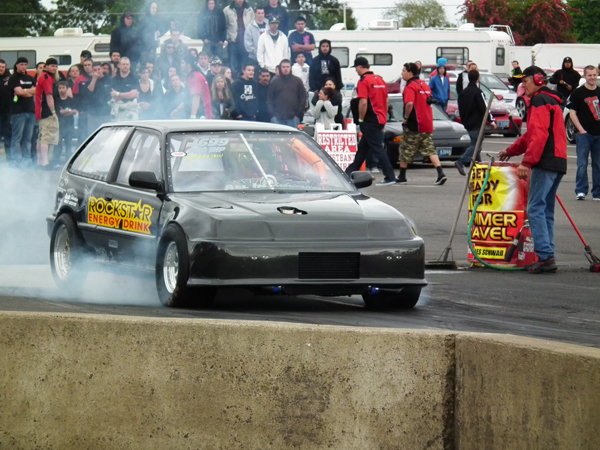 Text by Import Face-Off | Photos by Jerron Warren
This first time visit to Oregon for Import Face-Off definitely won't be a last! Even with the cold, gloomy weather, turnout was a success with all race classes full. The second annual Oregon IFO has already been scheduled for the same weekend in 2012.
Reid Lunde from Kennewick, Washington won the FWD class with his 8.9 second civic against Jeff Merdic from Federal Way, Washington. Kevin Kempf, also with an 8 second Civic, was looking to meet Reid in the finals, but had to drop out before eliminations due to a leaking head gasket.
Tim Roddra from Vancouver, Washington (red Toyota Supra) won the Forced Induction Pro class running an 8.62 @ 162.51 mph against fellow team mate Jeff Bush from Mosier, Oregon (Eagle Talon) who ran a 9.190 @ 161.46 mph.
Joel Sipes with Speed Factory Racing from Fircrest, Washington, won the All Motor Pro class running a blistering 10.582 @ 133.51 mph in his K-Series Honda Civic against Stefan Barbu from Auburn, Washington who ran an 11.336 @ 120.95 mph also in a Honda Civic. This is a back to back win as Joel won the class two weeks early at the Las Vegas Import Face-Off.
Best Club Representation was won by Team Menace from Washington and Best of Show was won by Jamarri Whiteside with his Subaru Sti. www.importfaceoff.net