Written by C17 Media Photos by: Ste Ho & Charles Spivak | 02 August 2011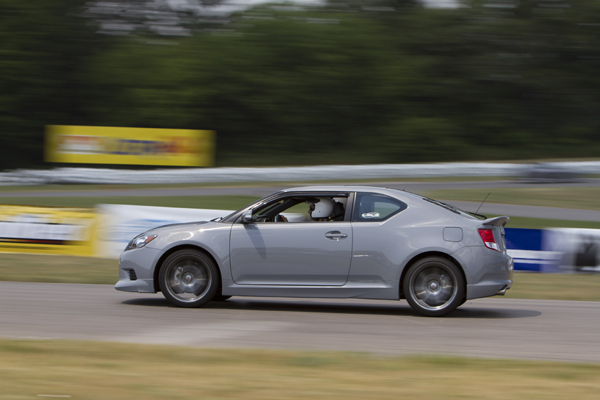 Canadian Sport Compact Series (CSCS) added Mosport International Raceway DDT track to their 2011 event schedule making it one of the most anticipated events of the season. With 9 years under their belt, this was the first CSCS event that did not include Drag Racing.
As the sun rose for what would be a scorching hot day racers lined the gates by 6 am. The CSCS Sailun Tires Drifting Championship had a sold out field and presented drivers with one of the most technical tracks to date. The Drift course included elevation changes and entry speeds exceeding 120km/h forcing many fan favourites to retire early. After countless tight battles and one more times Lucas Johnson was able to edge ahead of Cody Loughead for first place while Sailun Tires driver Ryan Stock rounded off the podium.
As the Time Attack teams rolled through tech inspection it was clear that Time Attack has taken off north of the border. CSCS lap record holder Sasha Anis piloted his Hyundai Genesis to claim another CSCS track record with a staggering 1:06.021 taking home 1st place in the URWD class. NextMod/APH debuted a widebody Evo 9 that kept every photographer busy but also proved itself on the track with the second fastest time of the day, an impressive 1.07.258 winning the UAWD class. The most competitive class of the day was UFWD where Marco Botelho from Defcon-Racing edged past Scott Nicol by under half a second for 1st place. Other notable drivers included James Houghton who set an impressive 1:08.580 in the Sailun Tires SFWD class.
The Show & Shine field and Vendor alley were also busy all day. Scion Canada was offering free rides in a brand new Scion tC on the road circuit. Presenting sponsor for the day JRP had an impressive booth showcasing the latest performance products and showing off both of Team JRP's Time Attack cars. Team JRP included Jeff Pippys Evo x (1:10.386, 1st SSAWD) and James Kutschke RX-7 (1:10.617, 3rd URWD). Hyundai Canada had many Hyundai Genesis's on display including Andrew McDonalds which took home 1st place in his class for the Show & Shine competition. With Andrew's crazy show car and Sasha setting the fastest time of the day it proves Hyundai's can do it all.
Make sure to catch CSCS Round 3 presented by Hyundai Canada on Aug. 21 at Toronto Motorsport Park, Cayuga.
For more info visit www.CSCS.ca or Facebook.com/CSCSRacing.