Written by and photos by Jeremy Glover | 18 August 2011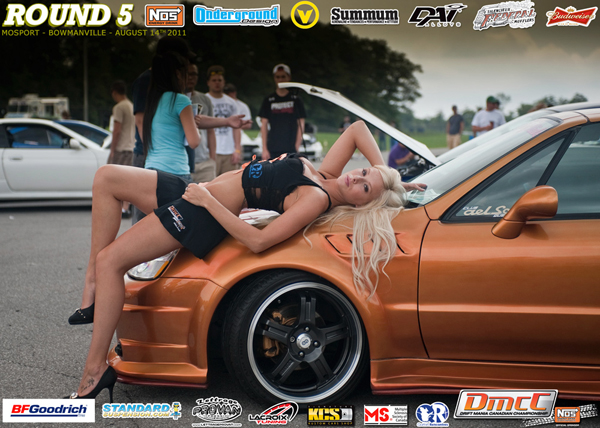 DMCC rd5 took place over the weekend at the Mosport International raceway that's about an hour from Toronto. It's the second time that the DMCC series comes to this racetrack but for this year they used a new layout that was more technical and a lot more exiting for the fans. Unlike the other rounds of DMCC this event was only a one day event so the entire day was jam packed with action.
The practice session went off great with all teams setting up the cars for this unique track. The layout had a real high speed entry that quickly became slower and a lot more technical. This layout proved to be great for tandem even during the practice session.
It was time for qualifications before we knew it and lot of the drivers were doing great. Marc Landreville came out and drove has hard as his always does and had the crowd on its feet. It secured him the number one qualification position. Eric Paradis is a pretty consistent driver but had some issues on both of his runs that sadly took him out of the main event. An other surprise was with Babu. Everybody thought his bad luck days were over but on his second qualification pass his clutch let go and even tho he did end up qualifying for the event his day was done.
Right before the Top 16 battle was about to start its started to rain abit.. We were lucky all day considering it was supposed to be raining and we thought that the main battles might be taking place in the wet. But right as the cars came out to pre grid the rain let up and even tho the skies were gray it let us have a dry main event.
The first battle of the Top 16 was a big one. Miro going up against Dave Briggs. Both drivers are 1 and 2 in the championship standings. Both drivers has bobbles during their chase runs that resulted in a One More Time. On the second pass both drivers did well but Dave was able to get the win. The battle of the event was in the great 8. When Marc Landreville and Dave Briggs go up against each other its always an exciting tandem. The tandem ended up going to a One more time when Marc parked it and Dave had no where to go and ended up running into him resulting in Dave breaking an axle.. Daves crew did a excellent job and got the axle replace in the 5 minutes allowed. During the OMT the action was insane but Dave put two wheels off and gave the win to Marc.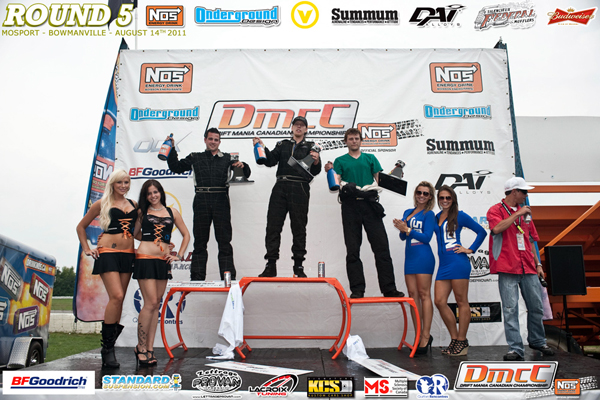 Top 4 was down to Pat Cyr, Brad Carlton, Marc Landreville and JF Chiasson. JF was having his best event of the season..he was doing great and he is always super aggressive when it comes to tandem but he was taken out by Marc Landreville. Drift Posse team mates Brad and Pat faced off. It was an easy win for Pat when Brad decided to go offroading when he entered way too fast and went right off track. For the main battle it came down to Pat Cyr and Marc Landreville, two drivers that are great to watch in tandems. Pats chase run was great and he stuck to Marc. Marc knew he had to be on him to force pat to make a mistake but Marc came in way to hot and basically threw his car right into Pats. As soon as both cars came to a stop after the contact both drivers went right into celebratory burn outs and donuts. It was Pat Cyrs first podium in his home province and was cool that he was on the podium with his Drift Posse/HSD team mate Brad Carlton.. Final standings were Pat Cyr in first, Marc Landreville in second, Brad Carlton in 3rd and JF Chiasson in 4th.
Rd5 was a great event and with the second to last event of the season coming up soon its going to be an exiting finish. Next round is at the Autodrome St-Eustache.
For more info check out www.dmccdrift.com