Written by KMS | 27 February 2012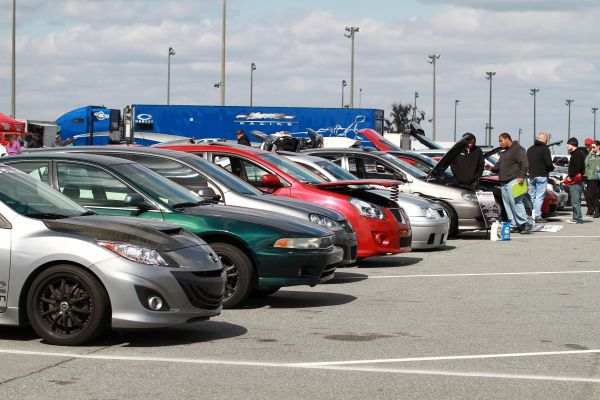 KMS stormed into Georgia on Feb. 11 to bring its first drift event of the 2012 KMS Drift Championship Series to South Georgia MotorSports Park. Spectators from all over endured the frigid and windy temperatures to watch drifters navigate through the challenging course and drag racers fly down the strip. Also adding to this spectacular event were the numerous car show and sound off competitors who used their rides to express their personal style by with both interior and exterior customization to bring life to their unique vision.
Special thanks to Domino's and Wing Stop who sponsored the pizza and wing eating contest – those boys can eat! This event definitely made a statement about the grassroots of this form of motorsport.
The KMS Drift Championship Series $5,000 (US) cash payout will include a series of events held throughout the southeast. Drivers must earn a minimum of 32 points to qualify for an invitation to the KMS Drift Championship Finals at Atlanta Motor Speedway on Nov. 24. Drivers will receive points for each driver day they attend and points for competition days. There will be a Street and Pro Am Division Grand Champions prizes and trophies in each group. All Drivers that place in the State, Region and Grand Champion will have an opportunity to win the cash payout and have their picture and name listed in Performance Auto & Sound Magazine as the KMS Drift Finals winner. Win the KMS Drift Championship and guarantee maximum exposure to your potential sponsors!!
Amanda Cowles aka Da1Grl, founder of SexySidewayZ, has taken the Southeast drift scene by storm. As a woman in a man's world, Amanda began drifting in 2009 and is successfully making moves to accomplish her ultimate goal of obtaining a Formula D license. Amanda is a crowd favorite and a true ambassador for the sport.