15 May 2012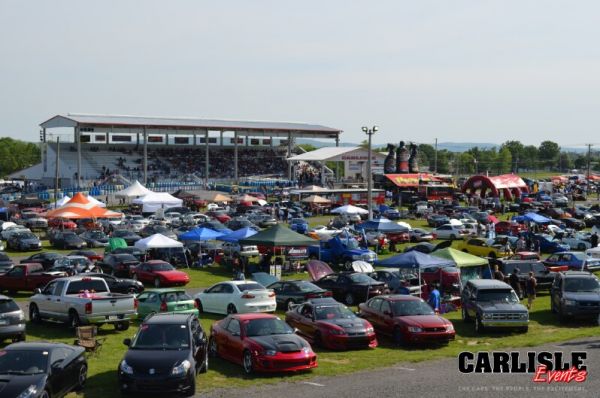 The Cars, the People, the Excitement - Carlisle's slogan was on full display as part of Carlisle Performance & Style.  The event saw over 1,500 cars on grounds and approximately 20,000 enthusiasts enjoy a weekend filled with sunny weather and great displays that had everyone asking for more!
For an event that is officially two days long, Carlisle Performance & Style actually launched on Friday with its annual kickoff party and first-ever partnership with McCann Business School.  The evening celebration saw nearly 100 cars cruise in and compete for trophies and prizes, with proceeds from the night benefiting Ronald McDonald House Charities of Central Pennsylvania.
As Friday transitioned into Saturday, the weekend rolled forward to a flood of like-minded enthusiasts.  The showfield was laced with cars of various makes and models, while throngs of adrenaline junkies flocked to the onsite autocross track for both autocross and drifting action presented by NICO (Nissan/Infinity Car Owners).  Also drawing crowds on Saturday were the ICE House, where the hottest in car entertainment was featured; the Kickin' it Old Skool display presented by Tuner Evolution; and the grandstand for a trio of events, the StarBoyz motorcycle stunt team and the ever-popular burnouts and beauty contests.  The setting sun also made way for the neon as LEDGlow presented a cool neon competition, allowing multiple car owners and LEDGlow to show their glow!
Sunday wrapped the two-day event with a continuation of events from Saturday, more action at the autocross track and the popular awards parade where hundreds of awards were handed out following the successful drive-through judging process on Saturday.  Additional audio competitions took place on the north side of the grounds, while some last-minute shopping and browsing took place in and around the swap meet and Manufacturers Midway area.
Though the event has concluded in 2012, it's never too early to begin thinking about 2013.  Showfield and vendor registration is available for the event, which will be held on May 11-12, 2013 at the Carlisle PA Fairgrounds.  For more information, contact Carlisle Events at 717-243-7855.