05 September 2012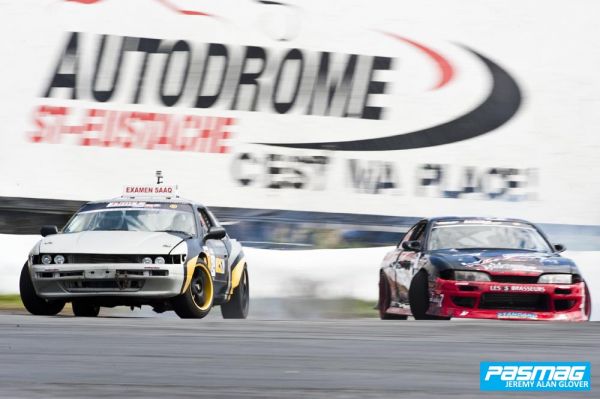 The sixth stop for the DMCC series took place at the Autodrome St Eustache, just north of Montreal, over Labour Day weekend. Two-time DMCC champion, Matt Waldin came out to the event to stir things up, but sadly, on Sunday, his engine let go ending it early. As bad as it was, it would have been nice to see him battling it out in the top 16. Matt was not the only one to suffer engine failures. Francis Tasse and "Paco" both had their engines blow during practice leaving the field already three drivers down.
Aside from the engine failures, practice went great as a lot of the drivers were putting in some really crazy runs. Before the end of the first day it was time for the qualification runs. Pat Cyr put down two solid runs and got the third spot. Mike "Magic" Pollard put down a really good first run; his second looking crazier however, as he was transitioning into the final turn, his car over rotated and spun backwards into the wall with what looked like a devastating blow. However, the car was fixable and his first pass was good enough solidify the second qualification spot. The number one spot went to Marc Landreville, the current championship race leader.
The next day after a quick practice session the top 16 started with the top placed drivers getting by runs. One epic battle in top 16 was Babu going against Simon Schaffner. On Babu's lead run he smacked the wall blowing a tire clean off his wheel, but that did not stop him and he finished on three tires! As crazy as that was, Simon was giving the win.
The Top 4 broke down to Marc Landreville, Pat Cyr, Mike Pollard and Tommy Boisvert Bellemare. Marc beat Tommy and Pat beat Mike, leaving Marc to face Pat for first place. Tommy faced Mike for the 3rd spot and despite his efforts, Mike pulled out the win snagging third on the podium. During the final battle, Pat pushed a bit too hard on his follow run and went off course. As good as his lead lap was, it was not enough to overcome his mistake giving the win to Marc. Marc is still in the lead for the championship, but with a second place finish, Pat has now moved up to the second place overall in the championship. Mike Pollard took home the NOS Energy Fastest Entry Award with a record speed in DMCC.
The next and final event is only a few weeks away and it should be a crazy one. For more info, check out www.dmccdrift.com.