Written by Eric Eikenberry | 29 January 2013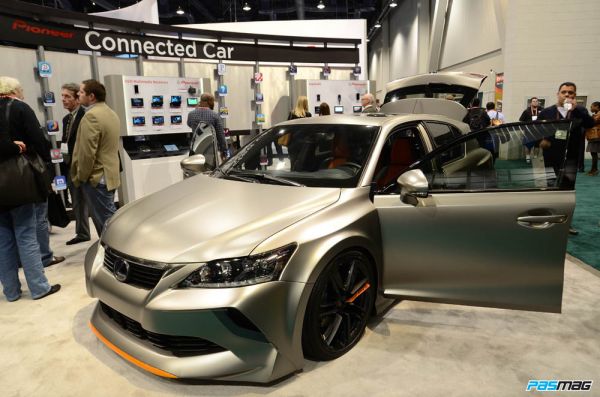 We came, we saw, we were amazed once more. The Consumer Electronics Show (CES) is a smorgasbord of everything we find delightful in today's technological universe. Here are a few innovations that caught our eye.
The elephant in the room at CES this year at Las Vegas Convention Center in Las Vegas NV on January 8-11; Apple. Apple products were everywhere. They have fully emerged as the dominant force in mobile audio and yet Apple doesn't even bother to display its wares at CES. It truly is the "elephant in the room" that everyone tries, unsuccessfully, to ignore. Well, not exactly "ignore" but you get the idea. Apple doesn't make a "car stereo" and yet we believe that every aftermarket manufacturer now offers at least one head unit that interfaces with an iPod, iPad or iPhone. We thought there must be more than a few major-brand aftermarket CEOs who are happy that Apple does not make a car stereo receiver.
Alpine snared a CES 2013 Innovations award for In-Vehicle Audio with its new TuneIt app for three new receivers. Available for iPhone or Android phones, TuneIt is designed to offer incredible control over a nine-band parametric equalizer, time correction, crossover points and Media Xpander. Settings can be custom created or pulled from three thousand pre-configured setups. There can be 100 different settings stored, useful for different types of music or, for the truly obsessed, customized for each musical artist. It does require the iPhone to be connected to the receiver via an USB cable in order to download the settings into the head unit – a small price to pay for such customizable convenience. These three CD head units can also stream music from Pandora Internet radio, in addition to offering Bluetooth Plus music streaming from a smartphone. Very capable single-DIN units at near-entry-level price points should make them quite popular.
Earthquake's tactile transducers are still amazing, and can not only work in your car, but with your home theater or gaming setup. Company president Joseph Sahyoun was gung-ho to demonstrate their prowess with two home-theater "rooms" in the Earthquake booth, allowing users to sit on couches being shaken by Michael Bay's "Transformers: Dark of the Moon" on BluRay. When Optimus Prime finally goes off and chops up the bad guys like the end of an old samurai movie, you feel each swing of his battle axe and sword like a punch to the gut, even though the volume levels in the demo room allowed normal conversation. With available audio component space in modern automobiles becoming ever more restrictive over time, tactile transducers offer an exciting way to improve the perceived bass response.
D-class amplifiers were out in droves. Today you can put 2,000 watts of power into a metal chassis smaller than your old high school chemistry book. Clarion offers a compact D-class in-the-dash amplifier that can add some real punch to any audio system. Alpine's V-series got a makeover for 2013 and every unit is both small and powerful. How small? Alpine says 40% smaller. Additionally, the acclaimed dual feedback modulation from the top-of-the-line PDX amps has migrated to the V-series line, giving them excellent damping factor and the lowest noise in their class.
Rockford Fosgate's Punch line of amplifiers received a similar treatment. The integrated high-level input now has an auto turn-on circuit, making the old "power on wire" a thing of the past. This increases the opportunity for the RF amps to adapt to OEM audio systems seamlessly. Another interesting addition was its Dynamic Thermal management. If an amplifier senses overheating, rather then powering down completely, the internal circuits are smart enough to scale back the wattage, keeping the music going, albeit at a lower volume. That's a useful touch.
Cobra's iRadar app updates real time radar traps to your smartphone! Wickedly cool, especially in States where radar detectors are forbidden. A 2013 CES design award winner, the radar detector installs in the engine bay, connects to phone via Bluetooth, and works with a free app to protect you. It can automatically share radar trap and camera enforcement locations in real-time with other users!
Logic 3 debuted its Ferrari Collection headphones styled by Ferrari. Very classy stuff, if not strictly car audio. There was a Ferrari in the booth, so we had to stop by.
Viper alarms from Directed have app-connected systems. The SmartStart app allows you to lock, unlock, pop the trunk or even remotely start your car from a smartphone. The version with built-in GPS can even mark where you've parked (at a stadium), and provide directions back to your car later. Still no alarm that electrocutes would-be thieves though, which is a crying shame.
Alpine also offers an oversize receivers with an eight-inch touch screen. It looks HUGE compared to seven-inch screens and requires the use of Alpine's Perfect F.I.T. Kit. Currently, 11 kits available with four more on the way, all matched to the color and texture of their respective vehicles and also include the steering wheel interface and BUS adapters if necessary. The top of the line INE-Z928HD works with Pandora Internet radio for iOS, Android and BlackBerry. It is also compatible with Alpine's Sirius/XM Satellite radio, is BT Plus Bluetooth wireless compatible, and even offers direct inputs for rear view cameras. It's being offered in two smaller screen sizes too – seven and 6.1 inches, respectively – but why bother when you can have eight?
Also new from Alpine is a new family of "BASSLINE" subs, speakers and amps developed in collaboration with the Asian-American hip-hop group "Far East Movement."
Cadence Acoustics brought out a trailer equipped with a Spinal Tap-sized pair of 23-inch aluminum cone subwoofers… for FUN! Powered by a 7,000-watt amp running at half power for reliability, it represented one manufacturer's attempt to inject some levity into very business-like surroundings.
Audi had its e-tron Quattro Le Mans-winning race car on display. Delicious! Dumb name, but a very fast car. Displayed as it was in a brightly lit white room, it looked a little bit like heaven, minus Morgan Freeman in a white suit.
RE Audio had a U.S.-built four-channel D-class amplifier with Bluetooth input direct from an iPhone! It was a prototype on display only, but it is something being developed for production. RE also showed us an innovative material it uses for forming fitted enclosures for subs that has the hardness of a rock, but the acoustic properties of MDF. Very clever! It uses a spin-molding technique where the mold is split open and a set amount of liquid material is poured in, then the mold is spun in a three-dimensional "shaker" that evenly distributes the material to the outside, forming the enclosure. This allows RE to rapidly design new enclosures.
Massive Audio had a wide-body Supra. That's still a great design.
Kicker had some sort of ancient Ford coupe painted up like a WWII Army bomber. Indescribable really… Built as a testament to our troops overseas, it was epic! The roof has a cut-away panel with a cloth sunroof folded all the way to the rear so you could see the bare-bones aluminum aircraft seats and triple "nuclear warhead" subwoofer enclosures where the rear seat should be. Completely epic!
Solowheel showed off a one-wheel portable gyroscope-powered personal transportation device! It will go 10 miles at 10 mph and weighs just 26 pounds with regenerative braking during downhill runs or when stopping. No airbags or iPhone interface, so watch where you are going at all times!
For gamers, Thrustmaster introduced its Ferrari F1 Wheel Integral T500 – a replica of a real Ferrari F1 steering wheel complete with massive force feedback capable of ripping the wheel out of your hands when you go off course and wreck! For the show, it was matched up with a VRX iMotion Z-55 chair, which is a full race seat paired with a carbon fiber motion-simulation platform, assembled in Canada using high-grade stainless steel and aluminum. If we had one of these back at PASMAG HQ, we'd never get any work done! For more event info visit: www.cesweb.org.