Written by PAS Staff | 10 April 2014
Page 1 of 3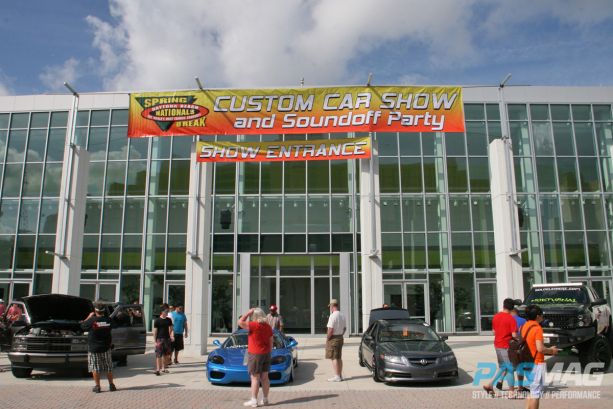 Written by Paul Papadeas | Photos by Michael Watson
For the first time in its 28 year history, SBNEXPO hosted more Distributor and Dealer participation than it's ever seen. Veteran SBNEXPO participating distributor Audio America offered show specials to Dealers and wrote orders in breakout room sessions as successfully as they have in the past. In a continuing trend at SBN, Audio America brands Pioneer, Cadence and JVC were featured among others on the show floor to help stimulate consumer awareness.
The SONY, Kenwood and Arc Audio brands were present on the floor as well as their distributor, DOW Electronics, lead the pack with an event function immensely important to Dealers. DOW held a full schedule of training sessions on Saturday and Sunday for its Dealers (and prospective Dealers). Dow trainers, factory execs and industry educators brought an abundance of knowledge to the Dealers in attendance.
Dave Elkin, VP Sales of DOW Electronics said, "We are committed to growing the industry, our retailers and SBN. Our onsite trainings were very well attended and we're still receiving rave reviews from all participants. We see Spring Break Nationals becoming more and more Dealer focused and DOW is proud to be part of that metamorphosis. Our intent is to help grow Dealer attendance by providing valuable training and bringing our key vendors to SBN. Dealers are looking for opportunities to learn more and earn more and we're happy to help them do just that! I think we successfully moved that needle".
DOW Electronics received the coveted Bruce Terrell Award for 2014 for their continued efforts to promote the industry for Dealers, Consumers and the SBN event itself. DOW was the first distributor to gain this honor. "Our 12V Team worked very hard all year long", cites Elkin "to push our vision forward and really challenge the independent dealer's perception of what a true distribution partner can do for them. Spring Break Nationals is a fantastic venue for our team with the support of our key vendors to showcase DOW's value".
Other distributors on the show floor were Atlanta area's Vickers AV representing (along with other brands) Image Dynamics. Chicago area's A-Trends, leaders in acoustic enclosures, brought their lineup along plus showing ZAPCO products on the show floor promoting their new distribution arrangement with the brand. Ultimate Marketing of South Carolina and their newest location in Jacksonville, Florida showcased Cerwin Vega and Diamond Audio, two brands that were very well represented in the early days of SBN. Steve Morrison of UAF Products said, "Having attended SBN for years as a spectator, then soundoff competitor and now as an exhibitor, we were overwhelmed with the great response we had to our products. Our ability to gain the contacts that we did was priceless".
Joining Autosound Dealer Audition Audio of Cumming, GA, exhibiting at SBN were Florida Dealers: All Pro Audio, Bimbo Customs, Hi Joe's Electronics, Power Audio, Ultimate Audio Design and the SBN presenting dealer, Daytona based Soundcrafters, Inc.
Plans for an even more effective industry focused event are in motion and slated for March 20 - 24, 2015. "It is our goal" says SBN founder, autosound retailer and IASCA President Paul Papadeas, "to satisfy all factions in the industry and stimulate growth in every way we can". Stay tuned to springbreaknationals.com for more to come on this movement. www.springbreaknationals.com