Written by George Dimitriadis. Photos by Michael "Big Oki" Muller | 29 July 2015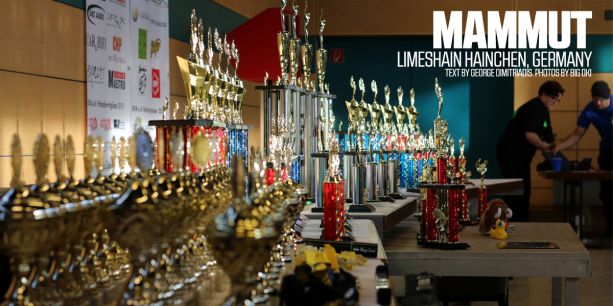 If there is a single audio event one must attend in their lifetime it is The Big Mammut Üüüühh!!!
You might ask yourself, "What is this 'Mammut Üüüühh!!!' you speak of?" Simply put, it's one of the largest car audio events in Europe and is the brainchild of Michael "Big Oki" Muller.
The event takes place in a small, unassuming town outside of Frankfurt, Germany, named Limeshain. On any given day, it's quiet and relatively uneventful, however, come the weekend of the Mammut, it all changes.
The event draws hundreds of competitors from Austria, Switzerland, Belgium, Netherlands, Czech Republic and, of course, Germany. It's a veritable who's who of Europe's audio competitors. The Mammut is a conglomeration of formats and events all rolled into one jam-packed show. There were no less than four competitor formats available at the event (dB Drag Racing, Bass Race, SPL Classics, AYA Sound Quality) and between them, there was over 200 competing participants.
Some of the loudest Extreme Class vehicles in Europe and the world were represented at the event: Superstany's Opel wagon from Belgium, Team SGK Holger's Volvo from Germany and Pezi Car Audio's Volvo from Germany as well. It was a battle for supremacy in the Extreme Class.
Also on hand was the Team GZ LPD Super Street 5+ Seat Terra and its shattering 170 db+ score.
Making sure everything ran smoothly in the lanes was done so in part by head judges Matze Dolny and Gerri "DeBurper" Douven.
What makes this event so unique are the various other aspects, such as the PS3 Racing Station competition, friendly poker tournament, vendor alley and, my personal favorite, the food vendors. Mr. Tasty, who happens to be an American residing in Germany, has some of the best BBQ this side of the Autobahn! Of course, an event like this is not possible without the support of many. Special thanks goes out to Epic Audio, Replay Audio, Audiophile-Carhifi , Atomic Germany, JBL/Infinity, ETON and FCA/DD/SPL Dynamics Germany.
It goes without saying the volunteers and manpower to pull this off is absolutely vital, and Oki would like to give a big shout out to Team Lauschgif and, most importantly, his mother, Mrs. Muller. We look forward to seeing what 2016 brings for The Big Mammut Üüüühh!!!
Contributors: George Dimitriadis, Michael "Big Oki" Muller