Written by Steve Koss. Photos by J.P Photography | 23 December 2016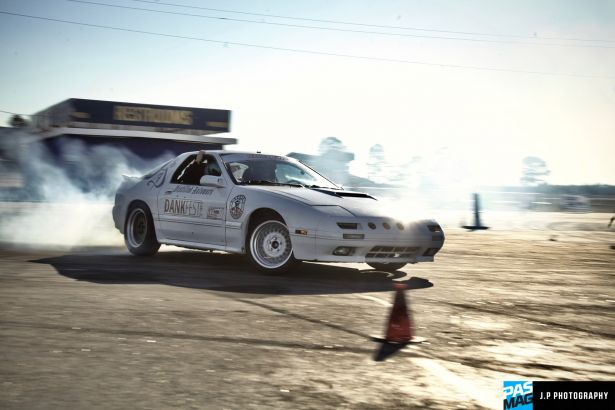 KMS Drift Season 6 is in the books, the winners have their prizes, and the 2017 starts soon.
Thank you to all that came out and enjoyed the KMS Drift Finals despite the cold weather (high of 48 degrees). Over 200 fans still came out to support the drivers they have followed all season long. We had a lot of fun in 2016, with a lot of new drivers coming to see what KMS is all about!
For the Finals, we had 38 drivers come out for end-of-season seat time and some friendly competition between peers. The driver meeting for the finals stayed the same as always: clipping points and line were the major factors be judged on. For this event, we had the top three drivers from each class in the judging booth giving their opinion and input on the scoring. This gives them the chance to see what it's all about and make them better informed over all.
With the top three Pro Class drivers in the judge booth, we were onto Street Class. Eric Miller won the Street Class series and led the points all season, making every event during this season. His new crew chief had him back on track, leading him to a victory. Eric now moves onto the Pro Class in 2017! Congratulations to Eric for showing that seat time pays off in this fine motorsport.
Now, down to the finals for Pro Class. As always, the Pro Class is full of serious competitors; no one wants to lose at this level. For this, we had the three Top Street drivers and a total of eight judges watching and recording. KMS Drift wanted to get it right. The battle for 1st and 2nd place took an OMT, six minutes of watching the runs on video over, and even counting the clipping points each driver won to get the winner. Paul Patrick was ruled by the panel of eight as winning two more clipping points than Trent did in OMT competition. If it was only one clipping point, we would have had an OMT again!
Seeing the drivers go hard at it and leave nothing on the track, but tire chunks and broke cars at the end of the day, was one hell of a way to keep a cold day warm. What a great way to end the season and get ready for 2017!
Congratulations to all! We look forward to seeing everyone back in 2017 as the KMS Drift Championship Series enters its seventh season as the leader of grassroots drifting in the South-East. #pasmag
Overall Event Winners:
KAAZ Pick: Darnell Beauge
Castrol Pick: Castrol Eric Johnson
Monster Pick: Joe Houck
Drift Life Mag Pick: Robert Houck
Rockingham Pick: Cody Karns
Bell Racing Development Pick: Eric Johnson
Heat Wave Visual Pick: Jake Powers
Exedy Clutch Pick: Keith Barton
RaceQuip Pick: Eric Miller
Husky Liners Pick: Tristen Risen
Carnage Graphics Pick: Darnell Beauge
RockAuto Pick: Ross Thompson
KMS Pick/Kiss Ass: Heather Benz
Most Improved: Castrol Anthony Edquist
Best 2 Car Tandem: Paul Patrick
Fastest Entry Speed: Cody Karns (52 mph)
Most Smoke: Paul Patrick
Hard Luck: Bobby Kahler
Best Ride Along: Paul Patrick
2016 End of Season Earned Awards:
BEST TEAM OF 2016: DISTILLED AUTOWORX
DRIFT AMBASSADOR OF 2016: Paul Patrick
DRIFT YOUNGSTER OF 2016: Jack Kutniewski
HARD LUCK OF 2016: Danny Athitang
NO CONTROL OF 2016: Eric Miller
MOST IMPRESSIVE OF 2016: Anthony Edquist
HIGH HOPES OF 2016: Bobby Kahler
MOST IMPROVED OF 2016: Cody Karns
WALL LOVER OF 2016: Mark Tillman
MOST ENERGETIC OF 2016: Mike Geo
Finals Street Comp Winners
1st: Eric Miller
2nd: Cody Karns
3rd: Robert Houck
Finals Pro Comp Winners
1st: Paul Patrick
2nd: Tristen Risen
3rd: Tyler Wilhelm
KMS Drift 2016 Finals is featured in the pages of PASMAG #141 Feb/Mar 2017. Click here to order.
Contributors: KMS Drift, J.P Photography