22 May 2013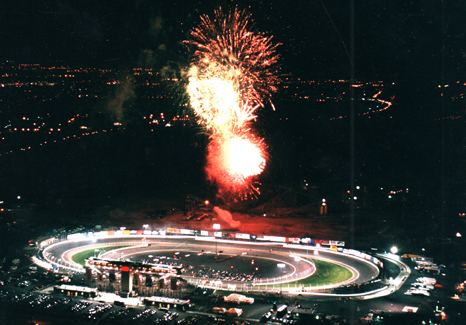 Irwindale Speedway will once again light up the night sky over the San Gabriel Valley in a special tribute to our Armed Forces both active and retired.
"We're really going to go all out to make Saturday night, May 25 something special at the race track this year," said track CEO Jim Cohan. The night will be presented by the Event Center's on-site stock car driving school: LA Racing Experience in association with Garden State Fireworks who will mount an aerial salute to the Armed Services at the close of the night's racing.
Cohan has asked his staff to invite veterans and their families from across the southland to be honored and to enjoy a great night of NASCAR-style Memorial day fun and festivities at everyone's favorite Home Track.
All Military (active and retired with ID) will be admitted on Saturday night for $5.00.
The special pre-race ceremonies will begin at 6:15 directly after the Speedway's very popular On-Track Autograph Session.
Members of the famous Patriot Guard Riders will circle the track on their motorcycles, and a number of the young ladies from the "Pinups for Patriots" organization will be on hand to pose with fans among a cadre of military vehicles which will be assembled on the track's infield.
In addition, representatives of the Hollywood Chapter of the Military Order of the Purple Heart, the Ladies Auxiliary, and the American Legion will be on hand and presented to the fans during the opening show. Irwindale Mayor Pro Tem H. Manuel Ortiz will be in attendance on Saturday night as well as Navy Reserve Lieutenant Uriel Macias of Azusa. A true "home town hero" Macias will be shipping out for duty in Kandahar, Afghanistan on May 31. Macias is a long time member of the Azusa city council and, like Mister Ortiz, he's been serving as that town's Mayor Pro Tem as well.
Well-known country and western star Josh Gracin will sing the national anthem. Gracin, who served in the United States Marine Corps, will be flying to Irwindale directly from our nation's capitol following an engagement at the Penfed Foundation Night of Heroes on Friday. The popular singer was an American Idol finalist the second season of that show while he was still serving in the Marine Corps.
NEXT UP AT IRWINDALE NASCAR: THE POINTS START TO MATTER
The 2013 NASCAR season at Irwindale is under way and the races set for Saturday night, May 25, will already be important parts of the annual points battles that will see track champions crowned in the fall. This is a rebuilding year at Irwindale Speedway and every division has a short, tight, challenging schedule that makes every point count more than ever.
Example: the big bore Super Late Models. Bakersfield's Ryan Reed ran a great race on opening night winning handily over Rip Michels and Toni McCray the points that night were 50, 48, 46 with Reed holding the winner's five-oh. But he was out of town for race two on April 27 and Rip and Toni were not. The gentleman from San Fernando and the lady from Highland were at the Speedway, and finished first and second.
That single race miss dropped Reed right out of the top five and gave us Michels at 98 and McCray at 94 followed by Billy Mitchell (Fullerton) and Joseph Altig (Imperial Beach) tied at 78, with La Quinta's Andre Prescott right behind at 74. This is an eight-race series for the 2013 track championship that means that we are 25% through SLM season ... every race, every place counts.
In the Progressive Painting Race Trucks, Ken Brown, by virtue of his very popular first-ever win in this series, leads the pick'em'up racers in for the twenty-fifth with a nice 50 points in this eight-race series. Veteran driver Darren Cheek from Redlands was close when the flag fell as was Simi Valley's Blake Dunkleberger; they have 48 and 46 points respectively. Series Champion Conner Cantrell finished fourth.
There will only be seven races for the Superior Automotive Super Stocks division this season and Zack Green from Long Beach leads the points chase by two coming into the third race of the series. With 96 points to Green's 98 points, Gary Read (La Verne) is second followed by Eric Sunness from Chatsworth with 84 in third.
Legends Cars points leader, young Danny St. Ours from Upland has lead after the first race in a relatively short five race 2013 season for the small, motorcycle engine-powered machines that take their looks from the earliest stock cars and that thrum around Irwindale's inner third-mile at amazing rates of speed. Alpine's Darren Amidon comes in to this race second in points at 48, with Chad Schug from Oak Hills in third at 46.
Close short track racing is always the deal at Irwindale, but this year and especially after a year away; the competition seems at least twice as strong. Every place on the racetrack is up for grabs every lap and the action often has the fans wondering why they had to pay for a "seat" since they're on their feet so much during the night's racing!
The fan gates open at 5pm and fans are invited (and very much encouraged!) to be at track early to take part in one of the great Irwindale traditions: The On-Track Autograph Session. More a party and a more than partly a race car show; every driver and every car that will race that night will be right on the front straightaway for fans to meet, greet, photograph, and hang out with prior to the night's NASCAR Home Track Action.
Ooops ... we almost forgot the clown princes and princesses of the circle track, the nutball Pick Your Part Skid Plate Racers. These front wheel drive, no rear wheels machines are set to spark their way around the Irwindale third mile like so many scalded skitterbugs. This seriously UN-serious division is great way to end a night of tight-jawed, hair-trigger short track competition ... These bottom-scraping bolides always offer hilarious hi-jinks and hairy close calls that, like a recurring bad dream, just seem to keep happening over and over again in slow motion.
Discount tickets for May 25's NASCAR salute to our Armed Forces are available on line right now at: www.irwindaleeventcenter.com.