Written by Jacob Leveton | 16 December 2016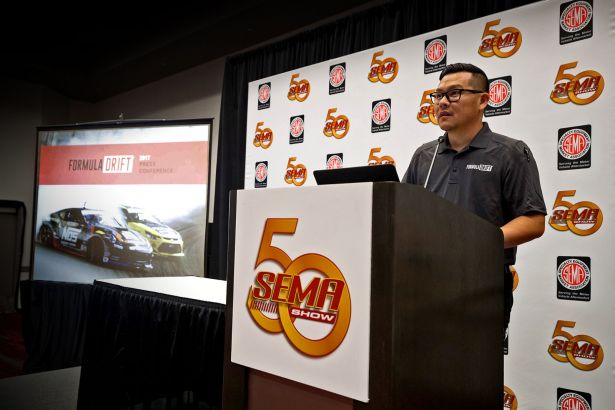 Each offseason, the drifting community anxiously awaits details ahead of the April season-opening event of the Formula Drift season in Long Beach, California. This year, we got a handful of details at both the SEMA Show in Las Vegas, as well as in the weeks following the show that we couldn't wait to share with you! Here's a quick look at some of the excitement that happened after the close of the 2016 Formula Drift season.
FORMULA DRIFT ANNOUNCES 2017 SCHEDULE
While there weren't any new locations on the 2017 schedule, there was a major change in the order of existing tracks. For the first time, Orlando Speedworld will precede Road Atlanta, moving the track that launched Formula Drift back in 2004 to the third stop on the list for the first time ever. Long Beach's earlier March 31st / April 1st date gives the teams enough time to haul to Orlando and still have a two-week break before the annual stop in Atlanta over Mother's Day weekend. Teams will continue to New Jersey, Montreal, Seattle, Texas, and Irwindale in the same order for stops four through eight similarly to the 2016 schedule. Here's a look at the complete rundown:
March 31st - April 1st: Streets of Long Beach. Long Beach, CA
April 28th - April 29th: Orlando Speedworld. Orlando, FL
May 12th - May 13th: Road Atlanta. Atlanta, GA
June 2nd - June 3rd: Wall Speedway. Wall, NJ
July 14th - July 15th: Autodrome. St. Eustache Montreal, QC
August 4th - August 5th: Evergreen Speedway. Monroe, WA
Sept 8th - Sept 9th: Texas Motor Speedway. Dallas, TX
Oct 13th - Oct 14th: Irwindale Speedway. Irwindale, CA
BLACK MAGIC SIGNS ON TO BECOME 2017 TITLE SPONSOR
Formula Drift also announced a new title sponsorship with Black Magic car care products at the 2016 SEMA show in Las Vegas. The title trophy will now be known as the "Black Magic Championship Cup Powered by Gumout," while the series will be referred to as the "Black Magic Formula Drift Championship presented by Blackvue Dash Cameras." Black Magic entered the series as a sponsor with Vaughn Gittin Jr. before stepping up as the title sponsor of Ryan Tuerck in 2016.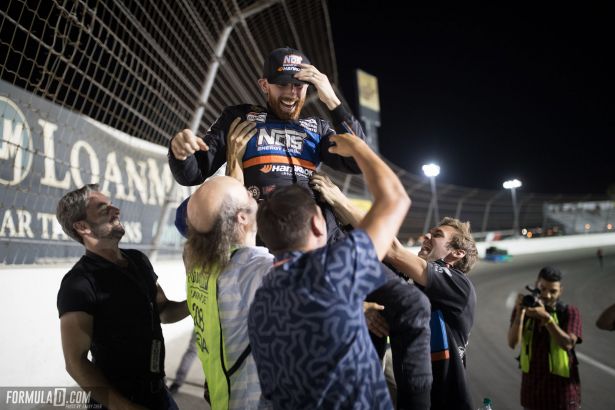 CHRIS FORSBERG SWITCHES FROM V8 POWER TO TURBOCHARGED POWERPLANT
Twenty-sixteen Formula Drift champion Chris Forsberg announced in the offseason that his Nissan 370z will no longer be powered by a V8 engine. Forsberg has used V8 engines in his competition car since 2006, but will be switching to a turbocharged V6 engine setup for the 2017 season. Forsberg told us "I am always down for a new challenge, and with the recent developments in the world of forced induction, I feel comfortable moving to a turbocharged Nissan VQ engine in my Formula Drift program." Forsberg last competed in a turbocharged car in 2005, when he piloted the Password JDM Nissan S15, which contained an SR20DET motor. He also had an SR20DET motor in his 350Z chassis that he drove in the inaugural 2004 season, the only 350Z chassis that utilized a four-cylinder motor in Formula Drift competition. As the only driver with three championships to his name, we're excited to see Forsberg prove the new powerplant heading into his 14th season of competition.
FORMER CHAMPION SAMUEL HUBINETTE DRIFTS LAMBORGHINI HURACAN IN VIRAL VIDEO
While Samuel Hubinette has been out of Formula Drift competition for a few seasons now, we are always keeping tabs on him as the inaugural Formula Drift champion and still the current leader in total event wins. Hubinette launched a viral video at the SEMA Show, drifting a Lamborghini Huracan around a dealership and racking up over a million views in the first 24 hours. While Hubinette doesn't have any plans to return to Formula Drift competition in the short term, we would never count it out of the realm of possibilities for the future. Most impressive about the car is that the only performance modification that was necessary for the shoot was a hydraulic handbrake, no steering modifications were needed to get the car sideways!
For more Fomula Drift news, go to www.formulad.com.
Contributor: Jacob Leveton