Written by www.redlinetimeattack.com | 08 July 2010
Redline Time Attack: Round 6
Willow Springs Raceway
Willow Springs, CA
July 3-4 2010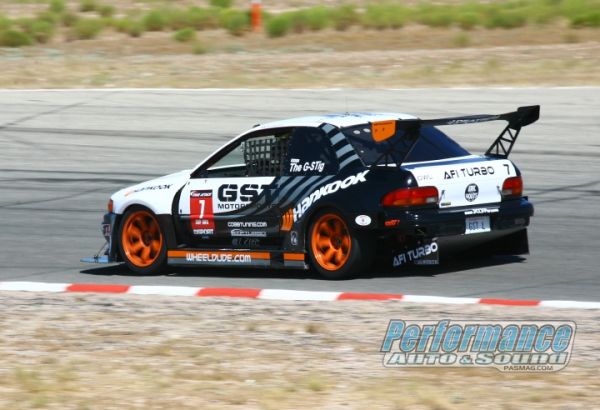 Another epic Redline Time Attack event is in the books, and the first "Liberty Grand Prix" was definitely one to remember. The event went off without a hitch and the crowd was treated to everything from broken records to massive fireworks shows, drag racing, autograph sessions, circuit battles, and endless entertainment over the course of the weekend. The time attack action was as intense as always and once again, the level of competition this season has gone up another notch. The air temperature peaked at 95° and track surface temperatures were well into the triple digits which posed an added challenge to the competitors trying to keep their cars cool.

FREE Trial Issue

We saw some seriously fast times being laid down, but at the end of the day nobody could touch the overall track record of 1:18.555 set last year by Billy Johnson and FX Motorsports Development. The mystery driver only known as the G-Stig drove the GST Motorsports Subaru Impreza L to another overall event victory running a 1:20.759 but talking with the team, the car had some issues and definitely has more in it, but they will have to wait another year to have another go at the current record. Second place overall went to the World Racing Scion tC, but with the regular driver Chris Rado out of the country, hot shoe Gary Sheehan hopped into the driver's seat and ran a 1:22.649, just hundredths of a second off of the record setting time the World Racing team set in the same car last year. Third place overall would go to Brian Lock and COBB Tuning with their Nissan R35 GTR with an impressive 1:23.488 in Modified class trim.

The Willow Springs "Liberty Grand Prix" was one for the books this past weekend and the event went off without a hitch. The competition was intense, the cars were fast, records fell, rivalries were sparked, and the crowd loved every minute of it. From fireworks to circuit battles, to say that the entire weekend was exciting would be an understatement. We are halfway through the 2010 Redline Time Attack season and it seems every event gets wilder.

The next stop is the legendary Sebring International Raceway in Sebring Florida August 14th and 15th. The Sebring event will be our last East Coast stop so expect the teams in attendance to be giving it everything they've got!

Want to Read More?
Click Below for Full Digital Issue!
{yoogallery src=[/images/phocagallery/1206RTArd4] title=[Redline Time Attack: Round 6 2010] width=[150]}