Written by PAS Staff | 13 June 2011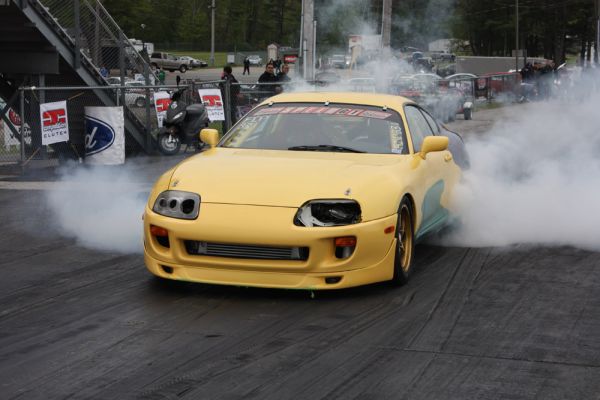 Text and Photos by Cliff Wallace - www.importfaceoff.net

STREET CAR BEATING RACE CARS: Joe Breton from Tiverton, RI in his street driven Acura Integra, to his own surprise, won the FWD class and $1000 bucks running consistent high 10s against much higher powered drag cars. Joe actually showed up to race in the Forced Induction Sport class (FIS) an entry level category for street cars, but was forced to step up and race in the "big boy" class since he forgot to keep his back seats in the car (all seats rqd for FIS). This just goes to show that consistent street cars can sometimes win over purpose built drag cars.
WORKING AROUND THE RULES: Nick Schiapp from Marlborough, MA with his R35 GTR won the Forced Induction Sport (Street car) class running a 7.238 @ 102.81 mph (1/8 mile) against James Read from Holliston, MA with his Eagle Talon who ran a 7.959 @ 96.58 mph (also 1/8). Before finals, both racers were warned by track officials to keep their times above 11.49 seconds since neither had a roll cage (NHRA requirement). Instead of "sand bagging" a final race, both racers agreed to race an all out 1/8 mile final which track officials deemed OK for both.
DOUBLE WINNER: Michael Baisly from Milford, MA with his Nissan 370z won both the All Motor Sport (street car) class AND Bracket class. Hot lapping his car to make rounds for both classes was no problem wit his bolt-on, naturally aspirated Z.
Best of Show was won by Kiet Hong with his Pink Acura RSX.
THE THRIVING IMPORT DRAG RACING SCENE: Even with the wet, gloomy weather, the tower side stands were packed to near capacity with over 3500 in attendance at this 2nd annual event. IFO will be back to New England Dragway for a second time in 2011 with hopefully better weather on September 25th.