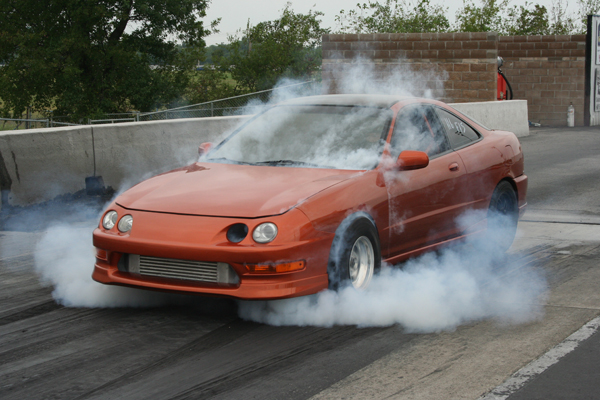 5th annual Tulsa, Oklahoma IMPORT FACE-OFF: September 18th, 2011
DIE HARD RACERS: Even with an 80% chance of rain, 2010 National points Champion, Aaron Lopez, from San Antonio, Texas made the 10 hour trek to this event hoping just to get in a few points before the rain arrived. Luckily the rain never came and Aaron ended up taking the $1000 win running a 9.6 second pass in the SPEC clutches and flywheels FWD class. He is now just 10 points behind the current points leader, Max Ramos, who did not travel to this event due to the high risk of a rain out. Lee Toscano, another San Antonio racer, took the $800 win running a 9.8 second pass with his RX7 in the Forced Induction Pro class against 2009 National points champion, Darren Thomas in his Mitsubishi Eclipse that broke on the line. Local racer, Alex Pagin took the Competition Clutch All Motor Pro win running a 10.8 second pass in his K-series hatch against Texas racer, Jason Lumpkin who ran an 11.0 second pass with his B20 Vtec CRX.
OVERWHELMING SHOW CAR SUPPORT: Even with the threat of rain, lightning, tornadoes, and hail, 150+ show cars (true numbers) were registered to compete for top honors in the car show portion of the event. For the second time this year, John and Sharon Jenkins with their red Honda civic hatch, took the Best of Show win which now ties them for the lead in 2011 Championship points. Very special thanks to IFO head judge, Richard "Dick" Wong, for stepping up and accurately judging all contestants by himself.