Written by PAS Staff | 05 October 2011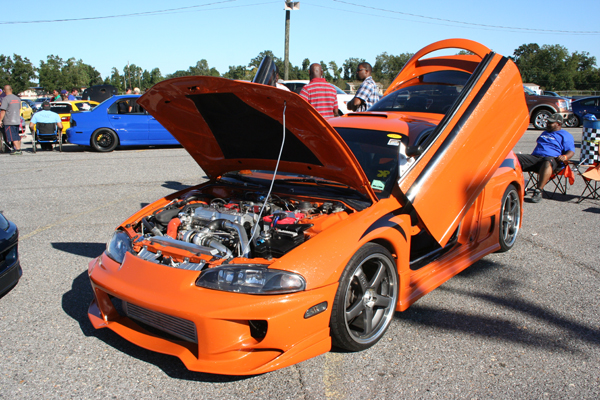 Photos by Cliff Wallace - www.importfaceoff.net
TRUE COMPETITORS: Just before FWD finals, IFO official had to call off the race due to Sunday curfew after an FIS car oiled down the entire track. Finalists Jose Jimenez from Houston, TX (Honda Civic) and Michael Howard from Abbeville, AL (Honda Civic) split payout to $700 each, but wanted to see who would take home the trophy and true win. Instead of just giving to fastest qualifier which would have been Jose (8.970 @ 165.71 mph) both agreed on a 330' foot race. Mike came out of the hole hard and seemed to be pulling away, but Jose's vtec cardio prevailed at about 250' where he passed Mike for the win.
BROKEN YET STILL WINNING: 2011 All Motor Pro points leader, Jason Lumpkin, from Fort Worth, TX with his lime green CRX won the AMP class running an 11.555 second pass @ 120.22 mph in the finals against Josh Chlystek from Mobile, AL who ran 11.569 @ 117.81. Jason, who normally runs high 10s, was only able to run mid 11s this day after breaking 3rd gear in the second round of qualifying (1/2/4 shifting).
GIVING BACK TO THE RACERS: The Forced Induction Sport class for street cars was won, for a second year in a row, by IFO race tech, Micah Peavy, who piloted IFO owner, Cliff Wallace's Nissan R35 GTR. In fairness to the other competitors, the FIS winner payout was given to runner up.
CAR SHOW BESTS: Best Overall Shop was won by CNR Performance who had 15 racers competing. Best Club Participation was won by VQ Krew, Best Club Rep was won by Low Weezy, and Best of Show was won by Ralph and his Chevelle.