Written by HIN | 23 February 2012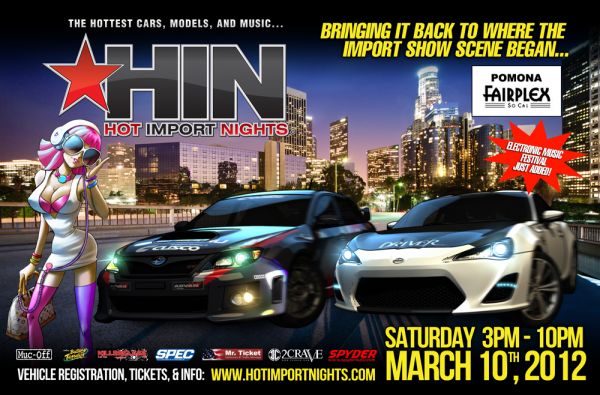 Fresh off its LA re-launch event, the largest, loudest, and most outrageous traveling car show and digital entertainment festival in the country will be coming to the Pomona Fairplex on Saturday, March 10th. HIN (Hot Import Nights) will host its first car show and digital entertainment festival of the 2012 tour at the Pomona Fairplex. For 2012 HIN Events include an enhanced and expanded new set production and introducing many new attractions including HIN's new
all electronic music festival featuring top international DJ's. Additionally, the Muc-Off Model Lounge will host the recently crowned 2011 Miss HIN LA Maya Michelle Rew and top industry models from across the country.
Some of the incredible cars that will be making an appearance at the show include: High-End Auto Concept Elite's GTR Skyline (WekFest SF 2012 Best of Show), Randy Riggs R-Rydes Infiniti G35 (AutoCon Best of Show), Jamari Whitside's Subaru WRX (HIN LA Best of Show). Plus HIN continues the tradition of attracting the best of the best cars at every show with more than 300 of the top tuners in the country and from around the Southern California area competing for cash prizes and most importantly bragging rights.
Along with the heart pumping music on the main stage along with the fashion shows by Kandy Shop and Pinkini Swimwear, HIN will host the 15th Annual In-Car-Entertainment and Technology Awards that will showcase the most innovative in-car apps developed by users themselves. Pioneering the movement of automotive entertainment, HIN will set the stage for manufacturers who are focused around the in-car-app platform such as what was witnessed at 2012 Consumer Electronic Show from Ford, Mercedes, and Kia. The HIN platform of monthly events in major cities nationwide showcases innovations in these rapidly developing sectors as they occur. For 15 years HIN has set the stage where innovators, corporations, and users meet on equal footing shaping the future of automobile innovation, in-car entertainment and in-car Apps.
The In-Car-Entertainment and Technology Awards include The Hottest Lighting Award presented by Sylvania with $2500 prize for 1st place and the Cleanest Car Award sponsored by Muc-Off. Additional award categories for In Car Entertainment, Technology, and Apps will be announced closer to show date.
The sponsor lineup includes: Sylvania, Muc-Off, Battery Tender, Sypder, Mr. Ticket, 2CRAVE, SonicElectronix.com, Killerglass, Stillen, Performance Auto & Sound, D Sport, Super Street, Import Tuner, Modified, and Auto a Fondo.
Discount tickets can be purchased for $25.00 now at www.hotimportnights.com while supplies last. The Gates open Saturday March 10th at 3PM.
2012 Event Schedule
March 10th, Pomona, CA (HIN)
March 24th / 25th, Manila, PI (HIN)
April 14th, Phoenix, AZ (HIN/XDC – Night Shift)
May 20th, Orlando, FL (HIN/XDC – Night Shift)
June 16th, Summit Point, WV (HIN/XDC – Night Shift)
June 30th, Philadelphia, PA (HIN)
July 7th, Los Angeles, CA (HIN)
July 21st, Buffalo, NY (HIN/XDC – Night Shift)
July 28th, Chicago, IL (HIN Night Shift)
August 18th, San Mateo, CA (HIN)
September 1st, Miami, FL (HIN)
September 2nd / 3rd, St. Eustache, QB (XDC)
September 22nd, Dallas, TX (HIN/XDC – Night Shift)
December 8th, Honolulu, HI (HIN)