02 April 2012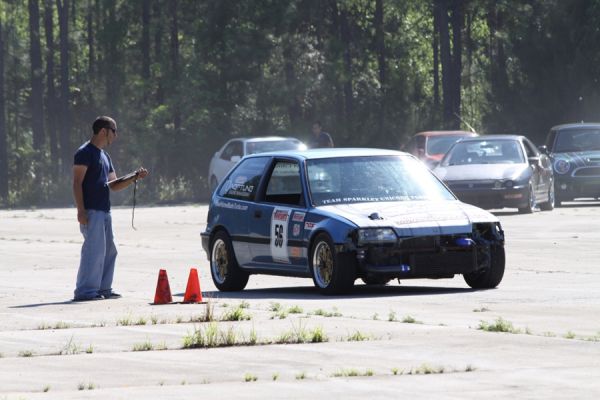 KMS Drift slid back to Green Cove Springs Florida on March 25, 2012 thanks to title sponsor SCION. Rustic raw metal and broken windows were the perfect back drop to this grassroots event.  Special thanks to all our volunteers who put in hundreds of hours to make this venue "driftable".  Over 40 competitive thrill seekers showed up to make smoke and fine tune their skills.  Winners of the event: Crowd Favorite-Tim Murphy, Driver Favorite-Logan Garcia, Most Smoke-Neil Stevens, Best Ride along-Aaron Messmer, Hard Luck-Steven Purcell, Most Improved-Sammy Shams, KMS Pick/Kiss Ass-Fred Cocklin, Location-Scott Neener, Best 2 Car Tamdem-Eric Cocklin, and Andrew Mensa. KMS also introduced its first Auto X event, thanks to Scott Evans, Adam Neylans and Brad Kilgore for their assistance in providing a safe, challenging and fun course layout for the 25 X drivers.  Hundreds of fans from all over swarmed to watch this growing sport and to support the Relief for Japan Effort.  Food sales were provided by Florida State University's Alpha Kappa Psi. MONSTER the official energy drink for KMS Drift kept everyone fueled up and cooled down under the hot Florida sun.
Driver Profile: Bama native, Leon Borden pushes himself and his car to the limit on every run. He has an aggressive style that keeps spectators and fellow drivers intrigued. Piloting a 1985 Toyota Cressida with a 2JZ swap, Leon spends most of his time fabricating and adapting parts for his ride. Watch for Leon in his brightly colored Cressida at tracks in Alabama and throughout the Southeast this year. Leon represents the true essence of this motorsport. With his passion, dedication and skills you can expect to see him rise to stardom.
Special Thanks to our sponsors Scion, Monster Energy Drink, Competition Clutch, Rock Auto, Meng Motorsports.
Visit www.kossmotorsports.com for more information.