03 July 2012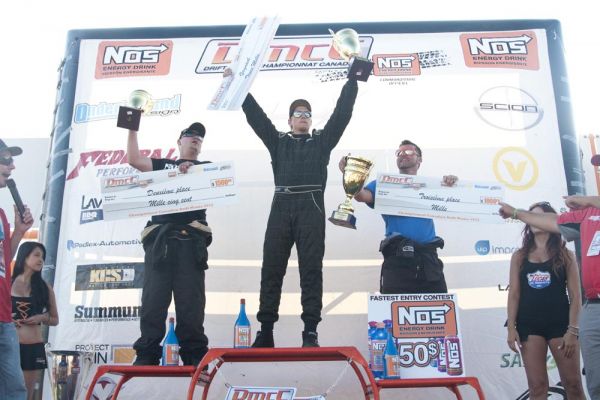 RD3 of the NOS Energy DMCC series powered by Lucas Oil took place at the Canadian Tire Motorsports Park formerly known as Mosport located just outside of Toronto. It was a beautiful day for a drift event and to top it all off it was Canada Day!
Rd3 was interesting since there were a lot of the usual drivers that did not make it out. The event itself was action packed thanks to the tight and technical layout of the track. Even tho this track did not have any actually walls, going off track was still very bad for the cars because of the rough rumble strips that would bend wheels and rip suspension parts apart. Practice went very well as the drivers were learning the track and practicing tandem runs as the judges made it clear they wanted door to door action right from the start. During practice Mike Pollard had a slight run in with Dany Bernier. The crash broke Pollards steering rack, luckily a willing DMCC fan was nice enough and volunteered his S13's steering rack that was parked in the Show N Shine area so Mike could finish the rest of the event.
It was crazy after the practice session during the track break just how many teams were fixing and changing parts on their cars. this track was really proving to be a car eater. With most of the cars ready to go it was time for qualifications. As usually Marc Landreville put down some crazy runs and got him the number one qualification spot. Home town hero Pat Cyr got 2nd and Francis Tasse 3rd..
The Top 16 battles were intense with some epic battles. Dave Briggs driving his new S14 chassis had a crazy battle against Peter C. It went to two one more time's where they made contact and a part on Dave's car broke but since the incident was ruled to be not his fault Dave did move on. An other crazy battle was of Bob Patinka against Alex Michaud.. Michaud was driving crazy all event and he was pushing hard in tandem. The battle went to a one more time and against there was contact between both cars..Very crazy action.. In the end Bob did move on to face Marc Landreville in the top 4..An other crazy outcome when Marc hit the rumble strip and broke a spindle forfeiting the battle. The other drivers in the final 4 were pat Cyr, and Francis Tasse. Top 2
was between Bob and Pat Cyr..Pat drove hard and secured the top podium spot. With Marc Landreville out the 3rd spot went automatically to Francis Tasse. Pat Cyr now has a pretty good lead in the championship.. Its going to be very exciting to see how the rest of the season plays out.
For more info check out www.dmccdrift.com