16 July 2012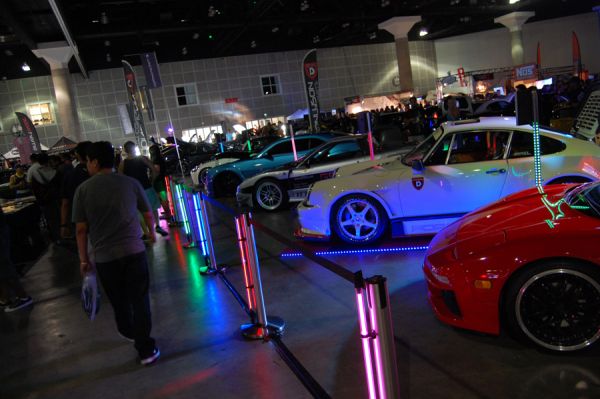 Yet another beautiful day in Los Angeles, CA. The sun is shining, the breeze glides through, and the traffic never fails us. The foot traffic that is, with the ESPY Awards being setup at the Staples Center, Popcon and Indonesia conventions happening in the opposite halls; people were everywhere. As we leave the sunny bright skies outside, we walk into the dark club atmosphere lit South Hall where Hot Import Nights took over.
They had their comeback, "The Return," last December in the exact location. we recall the event being very dark and extremely loud with a DJ at almost every booth and cars just cluttered throughout. This year they took a different and more organized approach. It was still dark, which makes for taking photos very difficult, but the cars were more structured and the DJ booths seemed to also be in better placement so we could actually enjoy some of the music that was being played.
The variety of cars was also shown immediately. A heavily modified Green Scion TC was at the entrance and next to it was the widely popular wide body matte orange Nissan GTR R35. An Audi R8 stood among other exotics, and then the next aisle over a Blue Subaru STI with 24 Karat Gold HRE wheels who won Best Subaru and Best Wild 4 Door.
We then made our way over to the Main Model Lounge. This was not hard to find as this is where all the strobes for the flashes of the cameras were and so was the raised stage with a stripper pole. Yes...A stripper pole where a few girls throughout the event jumped up and put on a show for some of the spectators. Interesting placement as I could see the distracted faces of a few models watching from the lounge. Many familiar faces of the show scene graced the lounge and a few up and coming as well. The vibrance of Marissa Hiroko stands out as she steps out of the lounge and every bit of media flock over to catch a glimpse before she returns to the safety behind the tables.
Hosted by the infamous Jeri Lee, the GoGo Competition was ongoing throughout the event, every half hour there were new sets of contestants as they winded down to the final winner. To the left of the stage, there was a wrestling ring setup, and further over taking center stage it seemed, was a huge crowd for the computer game tournament of Starcraft.
Overall, from the cars to the models, GoGo Competition, wrestling ring and the Starcraft tournament, the show has so much hype but lacks the excitement it brought years ago. When I think of Hot Import Nights, I think of a club-experience Import event with the cars lighting up the room with lasers flashing and fog machines. It was a good show, but I would like to see the Hot Import Nights of old come back and show that this icon can stand the test of time."