31 July 2012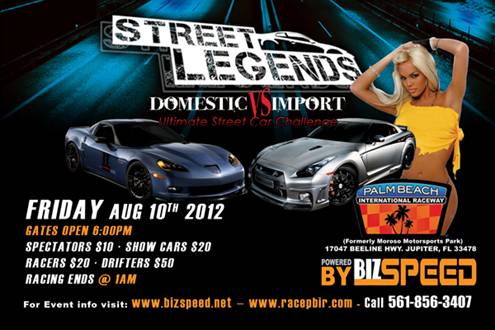 On August 10th BizSpeed is bringing their signature flair to Palm Beach International Raceway to present the long awaited return of Street Legends. Originated in 2010, BizSpeed is once again hosting the heated battle of Domestics vs. Imports for its dedicated fans.
At Street Legends, BizSpeed will showcase the most purpose built street machines ever to put rubber to pavement, be it a sleeper you'd never suspect or a flashy muscle car, they all will battle it out at Street Legends to race for top prizes, and more importantly, bragging rights.
Street Legends is where you have to put up or shut up, it's where all the trash talking gets settled and where the true legends are born.
Streets Legends is more than a racing event, it's a celebration of automotive culture with classes not just for wild cars made for go, but for show as well. Boasting a Car Show reaching out to 20 classes welcoming both import and domestics- there's sure to be a home for your wild street/show car.
Amongst the live entertainment, don't miss the bikini contest to take advantage of an array of opportunities to get those magazine shots you've been looking for. If you're not one to be sidelined by the action or head straight down the drag strip, check out drifting on the road course. Ter-Tech will be bringing the hottest drifters in South Florida sliding around the track nonstop until one in the morning.
Coming August 10th at Palm Beach International Raceway, BizSpeed is changing the face of car culture with an event made for everyone. Come check out the competition and show off what you've got, you might just go home with a trophy and the cash.
Car show classes listed on www.bizspeed.net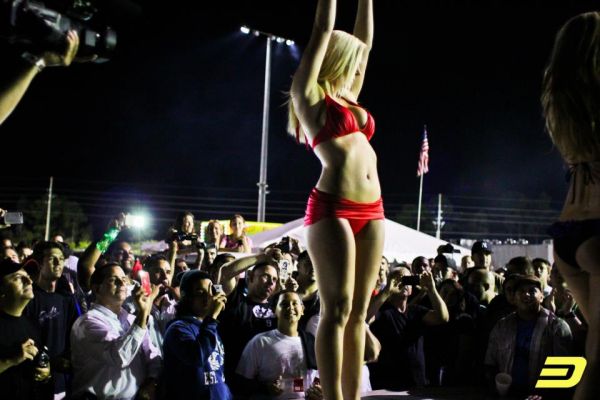 Racing rules are as follows:
All Cars: Must be a "Street Car" which requires all factory glass and current tags & registration
RWD: Drag Radials & Street Radials only.
FWD: Slicks, Bias Ply
& Drag/Street Radial Tires Allowed
AWD: Slicks, Bias Ply
& Drag/Street Radial Tires Allowed
We welcome you to the long awaited return of Street Legends. To accommodate everyone, both gates A and B will be open starting at 5pm for your convenience. Come early, stay late and enjoy your time with other car enthusiasts. See you then!