15 April 2013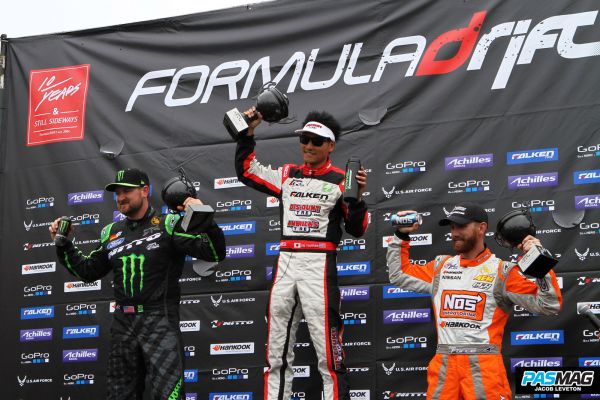 Formula Drift kicked off their 10th season of drifting in front of a sold-out crowd of more than 20,000 people in Long Beach, California. With several substantial changes to rules, sponsorships and cars in the off-season, fans and teams alike anxiously awaited to see how things would shake out at the only competitive course in North America. One of the biggest changes was the new qualifying format which determines the top 16 qualifying drivers after the first run and the second 16 drivers after the second run which lead to some of the familiar names near the top of the grid. A Falken Tire 1-2 punch led the qualifying, with Discount Tire driver, Dai Yoshihara, qualifying first and Falken Tire teammate, Darren McNamara, right behind him. Mike Essa pushed his E46 BMW into 3rd qualifying position, Chelsea Denofa's 4-door E46 earned 4th position, Norde Kenny Moen took 5th, and Vaughn Gittin Jr. pushed his Mustang to 6th qualifying position.
As the tandem brackets shaped up, one of the biggest battles was between Freddy Aasbo's Scion tC and Daigo Saito's Lexus SC430 in the round of 16. After two one-more-time battles, Aasbo's tC would narrowly earn the win. Aasbo had another huge battle with Yoshihara in the round of 8, but would not get the decision and Yoshihara would earn a final four appearance. In the other legs of the bracket, Denofa earned a final four birth when Kenny Moen crashed out, Chris Forsberg defeated his Drift Alliance teammate Ryan Tuerck to earn a spot, and Vaughn Gittin Jr. eliminated Scion Racing driver, Ken Gushi in his bracket.
In the final four, Yoshihara would take out Denofa's BMW, while JR's Mustang was too much for Forxberg's 370z. Forsberg would earn the final podium spot over Denofa, although Denofa was quite happy with a career-best finish. In the final, Yoshihara was too much for JR as he earned his eighth career victory; his first at the Long Beach track and third consecutive podium at the track. Vaughn Gittin Jr. earns his second career podium in Long Beach, avenging his exit in the top 32 in 2012 and failure to qualify at the track in 2011. For Forsberg, the podium was his second ever at the track winning in 2008.
The 2013 Formula D series turns to Atlanta for the second stop, and we will be there to bring you all the action!
Formula D 2013 Championship Standings:
1. Daijiro Yoshihara America's Tire / Falken Tire Nissan S13 112 Points
2. Vaughn Gittin Jr. Monster Energy / Nitto Tire Ford Mustang 92 Points
3. Chris Forsberg NOS Energy Drink / Hankook Nissan 370Z 79 Points
4. Chelsea DeNofa BC Racing BMW 3 Series 75 Points
5. Kenny Moen Falken Tire Nissan S14 65 Points
6. Ryan Tuerck Team Retaks Scion FR-S 64 Points
7. Ken Gushi Greddy / Hankook Scion FR-S 62 Points
8. Fredric Aasbo GSR Autosport / Yokohama BMW M3 62 Points
9. Kenneth Moen Nexen Tire Nissan 240SX 58 Points
10. Daigo Saito Achilles Tire / Bridges Racing Lexus SC430 57 Points
11. Fredric Aasbo Hankook Tire Scion Racing tC 56 Points
12. Aurimas"Odi" Bakchis Nexen Tire Nissan S14 56 Points
13. Ryan Kado DNA Motoring / Nexen Tire Nissan 350Z 55 Points
14. Matt Powers Nitto Tire / Fatlace Nissan S14 55 Points
15. Patrick Mordaunt Apexi / PM Racing / Diamon Lexus SX430 54.50 Points
16. Justin Pawlak Falken Tire Ford Mustang 54.50 Points
Tire Manufacturer Championship Standings:
1. Falken - 176 points
2. Nitto - 167 points
3. Hankook - 141 points
4. Yokohama - 116.5 points
5. Nexen - 111 points
6. Maxxis – 88.5 points
7. Achilles – 87 points
8. Kenda – 24.25 points
OEM Championship Standings:
1. Ford - 146.5 points
2. Nissan - 137 points
2. BMW- 137 points
4. Scion - 126 points
5. Lexus - 111 points
6. Toyota – 50.25 points
7. Mazda – 24.5 points
7. Subaru – 24.5 points
9. Chevy – 24.25 points
10. Hyundai – 24.25 points