05 June 2013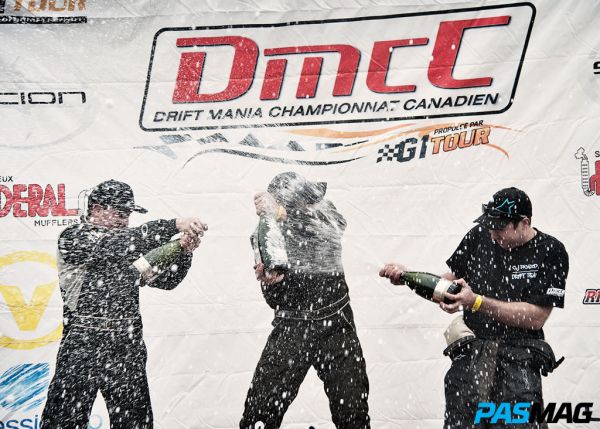 It almost seems as if every round 1 at the Autodrome Montmagny of every DMCC season will be a wet one and for this season it was no different.
Coming into day one the skies were dark and cloudy but no rain! Walking around the paddock area it is always fun to see the new cars and the new drivers. Maxim Lemoine was now in the Pro ranks with his S10 drift truck rocking a new livery and more power. Pat Cyr was set to be driving a FRS for this season but due to a lack of time the car was not ready in time for this round so he showed up with his trusty AE86 to give it one last battle before taking a much needed rest. Pat did tell me that the FRS will be ready for RD2. Another Rookie that stepped up from Pro Am is Seb Grandmaison who I think it rocking the coolest graphics in DMCC.
It was very cold as the first practice sessions started before qualifications. The practice sessions were going great for pretty much all drivers especially since it was not raining. There were no major incidents except for a few drivers having some major car issues. Dom Desrosier's Turbo V8 350z engine let go as well as the engine in Vincent Theberge's S13. American driver Mike Pollard made a crazy trip to come all the way to Quebec and sadly after only a few practice runs before qualifications his transmissions 3rd gear gave way. It was not going to stop him but not going to make it easy for him either. Last year's DMCC champ Marc Landreville's car was also suffering from mechanical issues.
For this year the qualification are going knock out style so if you make it into the top 8 on your first pass your locked in for the top 16 main event. In order to have a fighting chance Marc Landreville actually borrowed Pro-Am, Johnathan Guitard's Lexus in order to qualify since he did not trust the reliability of his car. It was a good move as he did manage to qualify in a decent position! Mike Pollards transmission issues ended up being the nail in the coffin as he only had 4th or 2nd and on this track it was just not workable. Top qualifying spot went to Jo Thifault in his Corolla. He was putting down some really crazy runs. In second spot was Francis Tasse in his new 950hp super charged V8 FD Rx7. Rounding out 3rd place was Pat Cyr, in his Corolla.
Day 2 did not start off so good, rain and more rain. But as luck would have it right before the top 16 was about to start the clouds parted just enough for the track to dry. It might have only been the first round of the year but the top 16 battles were crazy. Right out of the gate I was impressed with how aggressive Eric Paradis was driving his s13 convertible. After a bunch of good battles top 4 came down to Pat Cyr, Eric Paradis, Bob Patinka and Marc Landreville driving a borrowed car. Eric took 3rd place over Bob giving him his first DMCC podium. Battle for 1st was an almost familiar sit as Marc Landreville went up against Pat Cyr. The battle was intense as both drivers pushed hard. It was impressive how well Marc was driving a car he was really not used to driving but when the smoke settled Pat Cyr took the win and the 10 thousand dollars! It was nice to see Pat get one last win.
The action is already heating up and the season only just started. RD2 is coming up soon on June 29th at the Autodrome St-Eustache.
For more info check out www.dmccdrift.com.