24 June 2013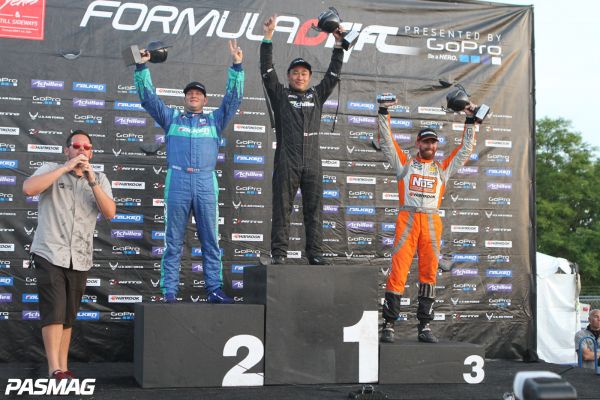 Formula D ripped into the Wall, NJ 1/8 mile oval course for the fourth stop on their 2013 10th anniversary tour. Although the speeds at wall are the slowest of the entire circuit, the transition off of the 30-degree banking makes the track one of the most technical to drive. This year's configuration was changed up slightly, eliminating the crossover through the middle that was often bumpy. Qualifying yielded several familiar names at the top including a Falken 1-2 sweep with top qualifier Justin Pawlak in his Falken Tire Ford Mustang and Darren McNamara close behind in his Falken Tire Nissan S14. Fredric Aasbo earned the third qualifier position in the Hankook Tire Scion Racing tC, with Chris Forsberg's NOS Energy Drink Hankook Nissan 370z sliding into fourth position, and Tyler McQuarrie piloting the GoPro Hankook Chevy Camaro into fifth. With the new knock-out qualifying system, top qualifier is determined solely off of the first qualifying run, with the remaining drivers vying for the bottom 16 positions in the grid. Ryan Kado had a stunning run in his DNA Motoring Nexen Tire 350Z that would have placed him first overall, but because the run came in the second round, he would only earn 17th position.
The first two rounds of tandem eliminations yielded a few surprising results. Despite Kado's amazing qualifying run, Danny George earned the victory over him in the round of 32, George's first tandem victory of his FD career. Rookie Marc Landreville also earned his first career tandem victory in just his first FD event, defeating Kyle Mohan who had mechanical issues in his Mazdatrix Nexen Tire RX8. Tyler McQuarrie narrowly defeated Jeff Jones, and also went on to narrowly defeat Landreville in the top 16. Championship contender Dai Yoshihara was knocked out in the top 32 for the second time this season, this time by Aasbo, dropping him substantially in the rankings and effectively eliminating his championship hopes.
Moving ahead to the final 4, Pawlak would face Forsberg, while McNamara would face Daigo Saito. In the first battle, Pawlak was able to outlast Forsberg, sending Forsberg into the consolation round. Saito was too much for McNamara, guaranteeing Saito his third consecutive podium finish. In the consolation round, Forsberg executed a pair of fantastic runs, earning him the final spot on the podium and only his second career podium finish in New Jersey. The final came down to Pawlak's Mustang vs Saito's Lexus, but would end relatively uneventfully when Pawlak over-rotated coming off of the infield transition, handing the win to Saito. Saito now takes a commanding 61 point lead into the fifth round in Seattle, WA. Stay tuned for more coverage on the rest of the Formula D season!
Round 4: The Gauntlet Event Results

1. Daigo Saito Achilles Tire / Bridges Racing Lexus SC430 Winner
2. Justin Pawlak Falken Tire Ford Mustang Second Place
3. Chris Forsberg NOS Energy Drink / Hankook Nissan 370Z Third Place
Championship Standings after 4 rounds:
Driver Car Point Total

1. Daigo Saito Achilles Tire / Bridges Racing Lexus SC430 361 Points
2. Vaughn Gittin Jr Monster Energy / Nitto Tire Ford Mustang RTR 300 Points
3. Michael Essa GSR Autosport / Yokohama BMW M3 296.50 Points
4. Chris Forsberg NOS Energy Drink / Hankook Nissan 370Z 286 Points
5. Justin Pawlak Falken Tire Ford Mustang 282.50 Points
6. Fredric Aasbo Hankook Tire Scion Racing tC 266.50 Points
7. Darren McNamara Falken Tire Nissan S14 259.50 Points
8. Aurimas "Odi" Bakchis Nexen Tire Nissan S14 221.00 Points
9. Daijiro Yoshihara Discount Tire / Falken Tire Nissan S13 219.25 Points
10. Kenneth Moen Lutz Performance / Nexen Tire Nissan 240SX 210 Points
11. Ryan Tuerck Team Retaks / Maxxis Scion Racing FR-S 205 Points
12. Matt Field CX Racing / Blacktrax Nissan 240SX 199.00 Points
13. Robbie Nishida Bridges Racing / Achilles Tire Lexus SC300 191.50 Points
14. Chelsea DeNofa BC Racing BMW 3 Series 186 Points
15. Conrad Grunewald Hankook Tire / Megan Racing Chevy Camaro SS 174.50 Points
16. Tyler McQuarrie Hankook Tire / GoPro / Mobil 1 Chevy Camaro SS 191.50 Points
16. Matt Powers Fatlace / Nitto Tire Nissan S14 191.50 Points
Manufacturers Championship Standings After Four Rounds

1. Ford 582.5 Points
1. Lexus 582.5 Points
3. Nissan 524.5 Points
4. Scion 502.5 Points
5. BMW 482.5 Points
6. Chevy 318 Points
7. Toyota 177.25 Points
8. Mazda 160.5 Points
9. Dodge 49.25 Points
10. Subaru 49 Points
11. Hyundai 24.25 Points
Tire Championship Standings After Four Rounds

1. Falken 640 Points
2. Achilles 585.5 Points
3. Hankook 552.5 Points
4. Nitto 520 Points
5. Maxxis 404 Points
6. Nexen 387.75 Points
7. Yokohama 375.5 Points
8. Kenda 24.25 Points