Written by Dave Pankew | 29 June 2010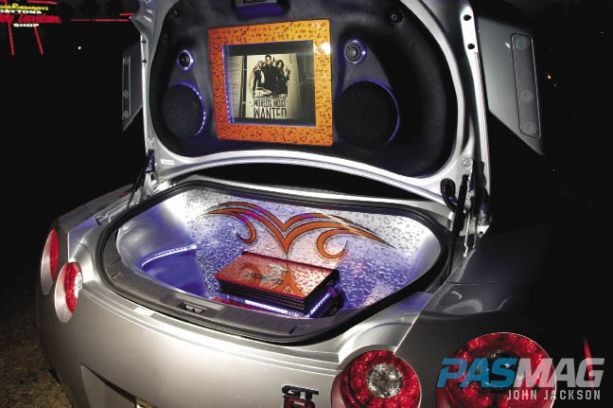 Written by Dave Pankew / Photography by John Jackson
Never mind the fact that the R35 GT-R can embarrass cars costing five times as much, Nissan has done the impossible by creating an everyday supercar. It's quiet, well mannered and has the DNA of legendary Nissan reliability. So, it came as no surprise to us here at PAS that female enthusiast Sherill Roberts of Tulsa, OK found the GT-R suited her every need, especially speed.
As the President and CEO of Altura Insurance company, Roberts required a comfortable car that seated four. Roberts searched for car with all of the luxuries like leather, navigation and air conditioning, where the GT-R scores top marks for. What the GT-R lacks in though is audio, even the optional premium system leaves much to be desired. With that, this middle-aged mom got to building a dream system and ramping up the looks and performance of the car in the process.
"I wanted a car that was unique and didn't look like everything else on the road," says Roberts. "I have always loved fast sports cars and the GT-R had a lot to offer for performance and looks. My son has Dodge Dakota truck that competes in sound quality competitions and we enjoy attending events together. Building our systems together and attending shows has been great since we share this common interest. We both take a lot of pride and joy in our custom vehicles."
Exterior wise, most people see a near stock GT-R and they would be correct. The wheels have been changed to Asanti AF154 chrome wheels with custom silver and liquid carbon accents wrapped in the factory Bridgestone tires. But crack the door or trunk and you will see where all of the effort has been focused.
The sound system was hand picked by Roberts right down to the cabling and battery to fulfill her dream of a fast audio showcase."When I decided to put the sound system in it, my main concern was to maintain the integrity of the engineering by not cutting into the car or the enclosed undercarriage and only utilizing space that was already there. I wanted it to look like it had come from the manufacturer as opposed to it looking aftermarket." Work began by using Factory leather to recover the enclosure that houses inverted subs in the stock locations and appears like it was done at Nissan.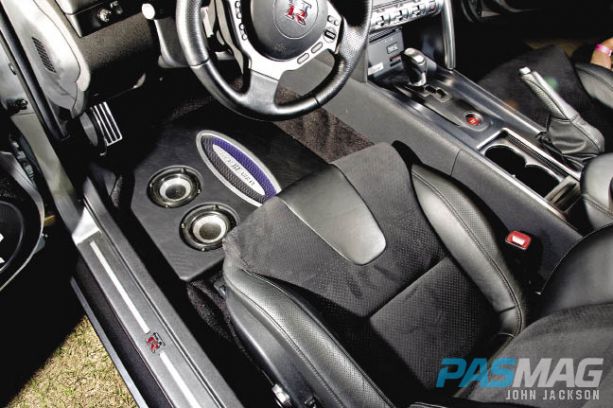 Focal Audio components were used throughout to amount to a stunning sounding system during the first installation. But Roberts claims the install didn't have the "wow" factor, so after the USACi World finals in Dallas, TX she took the car to Car Toys in Tulsa, OK. Installer Chris Pate would take care of the project since he is an expert in the field and even holds an engineering degree. Pate's idea was to create a fiberglass tub that could be lifted in and out of the vehicle to go back to stock. The mission was to not mess up the integrity of the GT-R and also not make the flashy design look like a girl's car. For looks, they ended up with some tasteful neon blue lighting and airbrushed water droplet accents.
The trunk was then fitted with some serious Focal Audio gear to power the system past competitors. Stacked in the center of the trunk area is a Focal FP 1.800 subwoofer amp driving twin Focal 21WX Utopia BE 12-inch subs. The mid-bass is driven by a Focal FP 2.150 powering up a quartet of Focal 13WS Utopia BE 6.5-inch speakers. For the midrange and the highs, a Focal dual monitor amp was delegated to drive the Focal 6 WS Utopia BE speakers in the doors, the Focal Utopia BE tweeters and a Focal 3 WS Utopia BE as a center channel. The rear fill was selected to be a Focal Polyglass IbsVSlim and the whole setup is orchestrated by a JL Audio Cleansweep unit. Although, the factory CD, DVD and navigation system was used, the multimedia factor has been pumped up by a hardwired Playstation for movies and games. The entire system is lit up by a Kinetik HC1800 battery connected with JL Audio speaker wire and Hooker distribution blocks.
Sound, style, performance, there isn't much more this GT-R really needs. Well, other than a good thrashing at the track but for now Roberts says it's just to pretty to abuse. She spends her down time detailing it and just gawking at it in her garage.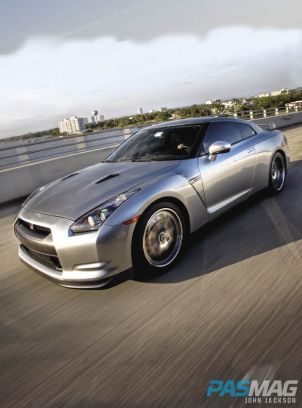 ESSENTIALS
Owner: Sherill Roberts
Location: Tulsa, OK
Vehicle: 2009 Nissan GT-R
WHEELS / TIRES
Asanti AF154 20-inch chrome wheels
AUDIO / MULTIMEDIA
Fiberglass enclosure by Chris Pate at Car Toys
Airbrushing by Care Free Paint in Tulsa, OK
Focal FP 1.800 subwoofer amplifier
Focal 21WX Utopia BE 12-inch subwoofer x2
Focal FP 2.150 mid-bass amp x2
Focal 13WS Utopia BE 6.5-inch speakers x4
Focal Dual Monitor mid-range amp
Focal 6 WS Utopia BE mid-range speakers
Focal Utopia BE tweeters
Focal 3 WS Utopia BE center channel
Focal Polyglass IbsVSlim
JL Audio Cleansweep
Sony Playstation 2
Kinetik HC1800 battery
JL Audio speaker & power wire
Hooker distribution blocks