Written by PAS Staff | 31 August 2007
It's no mystery that the hardest hit market in the days of this gas crisis is the SUV market. More specifically the luxury SUV market, which are used for nothing more than braving traffic on the 405 rather than anything with an incline or mud involved. The 'utility' in 'sport utility' is almost all but gone but those that still have the need for work, need to buy them. Those that don't are dumping them at an alarming rate. One of our affiliates recently bought an H3 and got rid of it within three months citing a gas bill that eclipsed the monthly lease payment! So the luxury SUV market is really creeping upscale and soon only those with all kinds of bank will be operating them daily.
But existing owners are the ones on the road still getting mack'ed out beyond belief. Need proof? Enter Maxxsonics who have taken the middle-child Hummer (the H2) to new levels of modification. After seeing this mean machine at CES, we had to get our hands on it. And just like every year we seem to chase some of these features for months as they are constantly being worked on or shipped from show to show. Finally, we bagged it and got a chance to see the method behind the madness that put this thing together.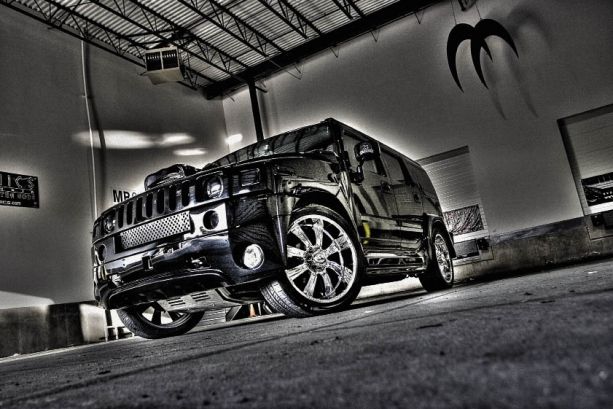 On the exterior, the H2 received a new bodykit from Xenon to beef up the lines of the boxy 4x4. The kit consisting of front and rear bumpers, sideskirts and lips really sets off the look from the factory GM styling. The chrome has all but been removed or covered and all of the lighting smoked out to give it that sinister appearance. All of the bodywork was performed by A&L Autobody in Palatine, IL.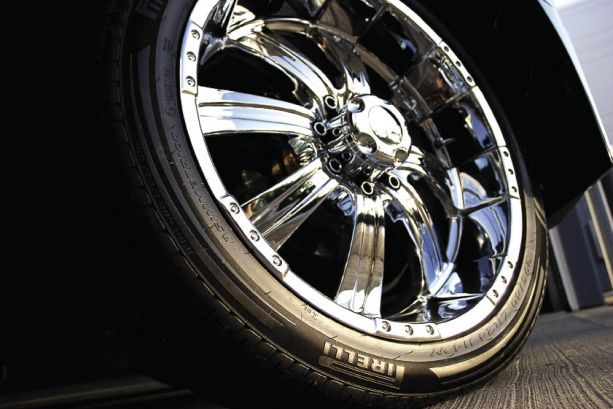 A set of Incubus 24x10-inch rollers wrapped with 285mm Pirelli Scoprions were added to keep the massive SUV in check and add some chrome to the stealth treatment.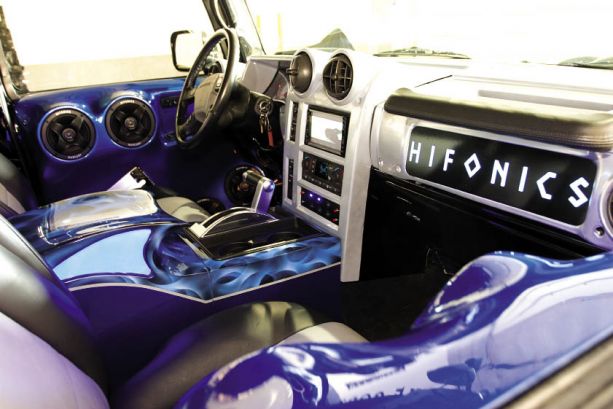 The interior was ramped up from the factory offering as well. A suede headliner was added and the seats were wrapped in two-tone leather. A comfortable upgrade for what kind of assault your ears are about to receive from the amount of Maxxsonics gear on board. The headunit is an Eclipse AVN 5495 LCD that incorporates the best of what a multimedia unit should do.
Playing CD, MP3 and DVD formats, behind the 6.5-inch screen lurks a HDD that stores thousands of MP3s and navigational information. This double DIN headunit has everything a user could ever want onboard and spits out a crisp signal ready for some amplification. In the trunk exists an abstract amp rack with four separate Hifonics BXi 2608D amps scattered about.
Each amp is pushing a Hifonics Olympus OLM2412 12-inch subwoofer with a striking blue light string around the circumference. Although they may look arbitrarily placed, make no mistake, this system pounds. Each of the doors houses its own illuminated Hifonics amps set into a custom fiber glassed skin. These individual amps are driving a quartet of Hifonics MX6 components in each of the doors, with more upfront amounting to 18 speakers in total. Supplying the juice are twin Kinetik 1800s mounted in a custom fiber glass rear console, with a matching battery under the hood. Hooker Audio supplied all of the 0 gauge wiring and distribution blocks fed by and Dual 250 Ohio alternator.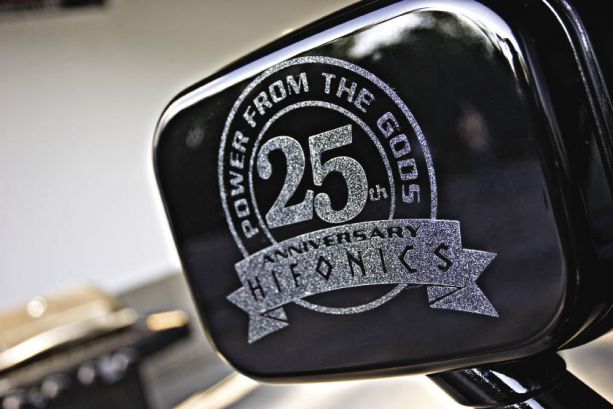 As a rolling showcase of everything Maxxsonics, we have to admit it was a raging success. At a cost of $50,000 over and above the purchase price, Market Development Specialist Mike Benz dedicated four months meticulously putting everything together on this bruiser. They give some credit to their sponsors for supplying some gear but the sweat was all Benz and the Maxxsonics team.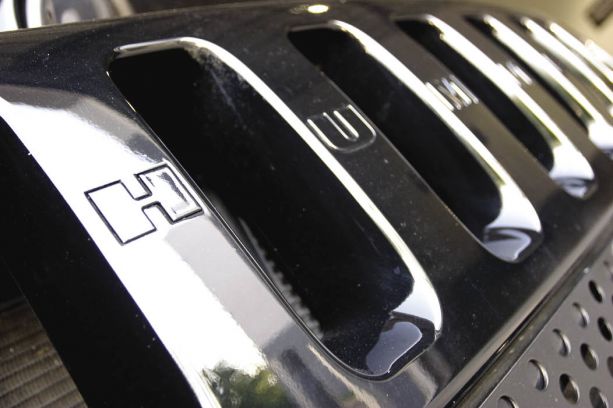 ESSENTIALS // Owner: Maxxsonics | Location: Lake Zurich, IL | Vehicle: 2003 Hummer H2
WHEELS, TIRES, BRAKES // Incubus 24x10-inch chrome wheels | Pirelli Scorpion 285/25R24
EXTERIOR // Xenon bodykit | Smoked tails | Smoked headlights | Body work by A&L Autobody
INTERIOR // Suede headliner | Custom two-tone leather seats | Custom fiberglass rear console
AUDIO / MULTIMEDIA // Eclipse AVN 5495 headunit | Hifonics BXi 2608D amps x4 | Hifonics Olympus OLM2412 12-inch subwoofers x4 | Hifonics Olympus ZXi6408 x4 | Hifonics MX6 6.5-inch speakers x18 | Kinetik 1800 batteries x3 | Hooker 0 gauge wiring | Hooker distribution blocks | Ohio Dual 250 alternator
SHOUTOUTS // Incubus | Fusion | KC Hilites | RazorLite | Kinetik | Hooker Audio | Xenon | Second Skin Audio | PAS Magazine