Written by Dave Pankew | Photos by RCH Designs | 31 August 2007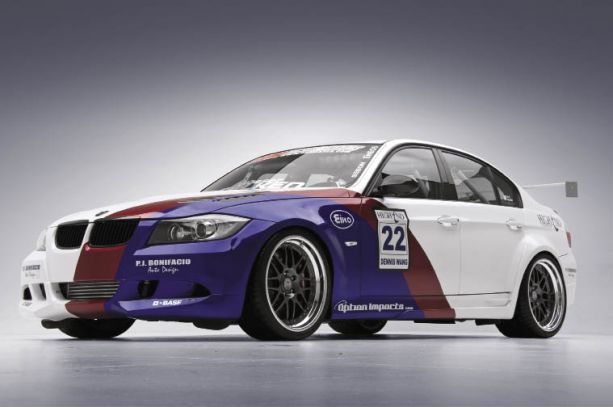 The debate between NA and forced induction is something that will never die. It's fair to say if you want power you go forced, if you want response you go NA. If you want big power with response you get some stupid displacement V8 or V10 but then again, they don't have an econo-mode like a turbo car does out of boost. Now, smaller bore turbos, twins or sequentials can be a bit of sweet spot where you get all the pull without the lag. But what if you try what the Japanese have been doing for many years? Going with the instant response of a supercharger and couple that with the overlap of a turbo to provide the rest of the boost? Now that's progress.
Admittedly I wasn't super familiar with this technology because North Americans weren't big on forced induction in production cars. But in the 80's the turbo technology hit the market like a roundhouse kick. And spawned all kinds of marketing catch phases and products that integrated the word 'Turbo' in them some capacity. But it wasn't until I went overseas that I realized there were hybrids using both turbos and superchargers and tiny 660cc engines to optimizes their inherent lack of torque and horsepower.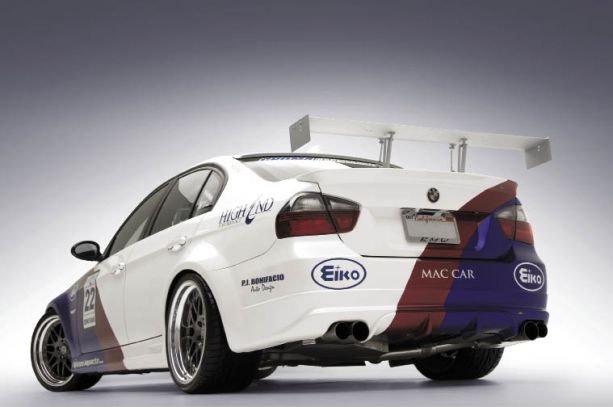 Dennis Wang of Fountain Valley, CA realized that his NA 3-series sedan needed more kick. Sure the 3.0L inline-6 lurking under the hood of the 330i is capable but a total boat anchor compared to what it has become. When it comes to building something that gets noticed in Los Angeles, Wang made a smart move and turned to Ben Abutin of High End Performance. High End is of course, killing it at the shows and in all of the magazines, showing no signs of slowing down with their bold moves in the sport compact world.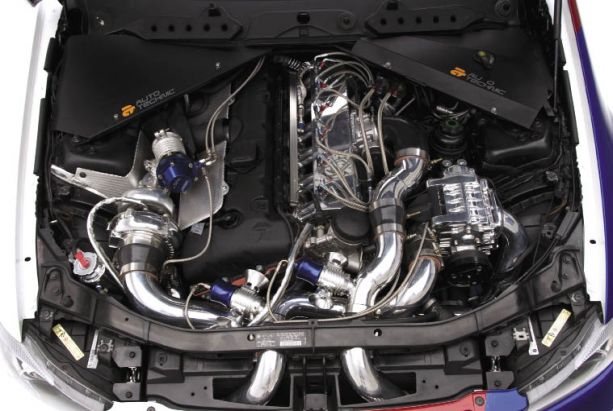 Abutin's crew fabbed-up a custom manifold to house the Garrett GT-30 ball bearing turbo now forcing the chamber with air. But further upstream is a custom centrifugal supercharger, high-polished and tuned to light the 6-shooter up immediately. A K&N conical filter draws in air into a maze of 2.5-inch polished intercooler piping eventually landing in the custom intake plenum. Dumping the spent gases is a TurboSmart 48mm wastegate while unneeded air is vented through twin TurboSmart blow-off valves. Post combustion, exhaust heads into a 2.5-inch downpipe and bumps up to a 3.5-inch midpipe and flows out twin exits. What the forced induction can't accomplish, the NOS fogger system will feeding the motor from twin 10-pound bottles. The whole setup was tuned by Split Second resulting in a combination pushing 400whp out of a stock motor running 7psi.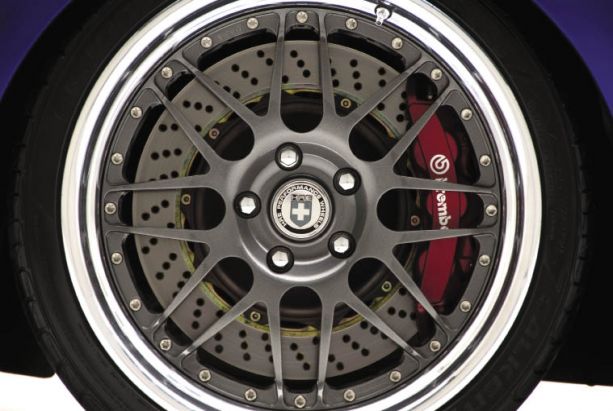 Under the chassis are all the right moves considering the Ultimate Driving Machine already has lots of right moves from the factory. The dampers were replaced with a set of KW's Variant 3 coilovers for high adjustability. The factory sway bars set to understeer were beefed up with some Eibach units for desired stiffness and tail-out driving. The stoppers are some Ferrari-caliber gear from Brembo ready for any conditions. In the rear are 4-pistons with 345mm cross-drilled 2-piece rotors but upfront are 6-pistons with massive 380mm brutes.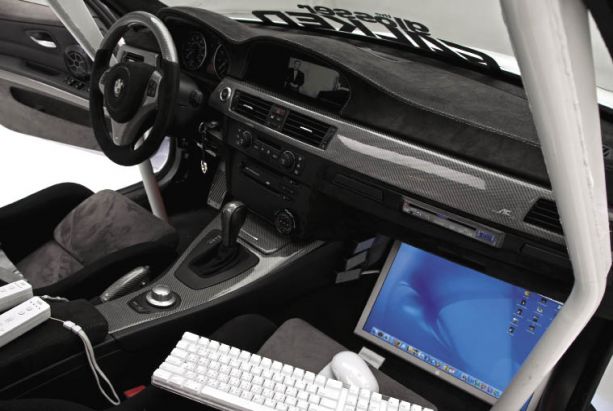 To accommodate the brakes, Wang needed some serious rollers. Wheels that would not only clear these brakes but fill out the wheel wheels for the flushness that is basically mandatory in a project of this magnitude. Wang chose the C20 from HRE, a charcoal wheel with a polished lip. The wheels are 19x9, and those are just the fronts! The rear rollers are 19x11-inches cloaked in Falken 452s measuring 315/25R19!
The widebody look of the car did not come easily. It is a combination of rare parts, custom parts and more labor than most enthusiasts could stomach paying for. The car is fitted with a full AC Schnitzer bodykit, modified to accept the custom widebody. The rear wing is custom as are the carbon fiber mirrors and kidney grilles. The carbon doesn't stop there with AC Autotechnic carbon fiber B-pillars, Fusion door sills and a Vorsteiner double-sided hood. Lighting got a boost with genuine Euro E90 tails and headlights fitted with Fusion HIDs and angel eyes. The project was resprayed in Artic White and given a custom triple stripe a la BMW Motorsports.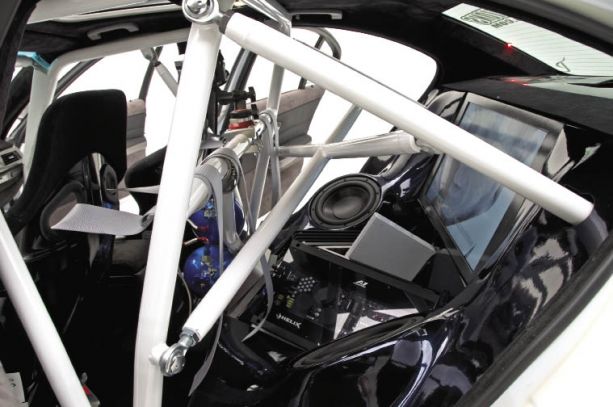 Inside the fiery 4-seater, is well, a cage that makes it only a 2-seater. A Chromoly 14-point cage weaves around the cabin protecting the occupants and making the car solid like a chunk of billet. The Recaro SPG buckets are drapped with Schroth 5-point harnesses (well 4-points for men). Fusion provided many of the interior carbon fiber accents including: steering wheel, wheel trim, e-brake, shift knob and various inserts. The balance of the interior got a custom suede treatment wrapping the: armrest, wheel, airbag flaps, door panels and headliner. The cage also doubles as a great mount for many accessories, the obvious being the harnesse but a camera, bottles and even the Defi gauges. Above the driver is a unique setup of the Defi gauges including: boost, EGT, oil pressure, water and oil temperature. Boost is regulated with a TurboSmart e-Boost2 and the AFRs are displayed with an Innovate wideband gauge.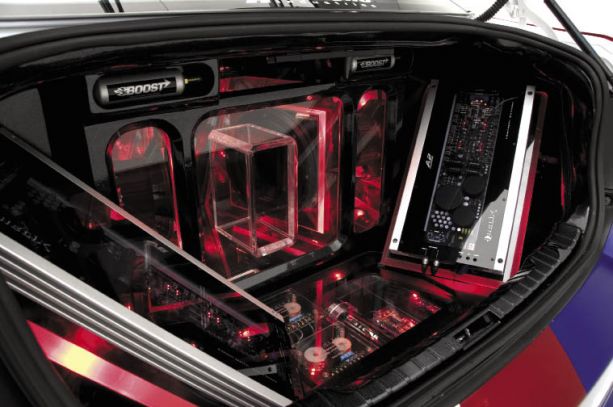 Since this E90 hits the show circuit in addition to being one hell of a SoCal cruiser, a load of audio and advanced multimedia was injected into the project. Probably the most striking upgrade was all of the Apple gear onboard. A fully functional Mini Mac is installed along with a 20-inch Apple cinema display as well as a wireless keyboard and mouse. The audio comes courtesy of Helix, where a full deployment of speakers, subs and amps is found throughout. Up front are 6-inch two ways with 5.5-inch 2-ways in the rear doors and another pair in the trunk. Power in the quartet of Helix 10-inch subs is a pair of 1300W Helix A1 amps. A single 6-channel 640W Helix A6 and A2 1300W runs the balance of the components. The flush mount DVD player is connected to the I-drive as is the rear backup camera for ease of toggling between sources, that also includes a Nintendo Wii.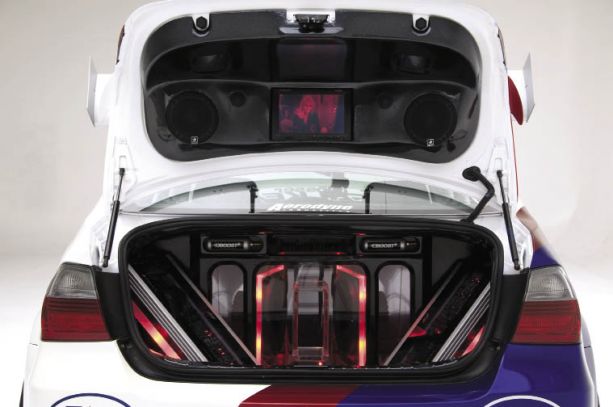 Lots of labor and plenty of innovation is paying off as this Bimmer is cleaning up at shows. The crowds at Bimmerfest '08 couldn't even wrap their heads around what they were looking at. The judges however did and gave Wong's creation top honors with Best of Show. And a High End Performance car yet again makes it into the mag, no bribes required.

ESSENTIALS
Owner: Dennis Wang
Location: Fountain Valley, CA
Vehicle: 2006 BMW 330i
Power: 400whp (est.)

ENGINE MODIFICATIONS
Groma Race Fabrications Motor Work
Garrett GT30R
Centrifugal Supercharger
K&N Cone Filter
Custom Polished 2.5-inch intercooler piping
Custom Polish Intake Manifold
Custom Polished Oil Cooler
Custom Polished Intercooler
Custom Polish Radiator
Custom Polish Coolant Tank
TurboSmart Pro Gate 48mm
TurboSmart Blow-Off Valves
NOS Fogger System
Custom Polish Headers
Custom Polish Downpipe
Custom Polish Mid-Pipe 3.5-inch
Custom Polish True-Dual Exhaust 3.5-inch
NOS Tank 10 Pound x2
Spilt Second piggyback ECU
WHEELS, TIRES & BRAKES
HRE C20 Charcoal w/ Polished Lip
Front: 19X9-inch
Back: 19X11-inch
Falken Tires FK452
Front: 265/30R19
Back: 315/25R19
Brembo 6-piston / 380mm
Brembo 4-piston /345mm
SUSPENSION
KW V3 Coilovers
Eibach sway bars
EXTERIOR
AC Schnitzer Aero Kit
Custom Wide Body
Custom Triple Striped Paint
Custom Aluminum GT Wing
Vorsteiner Double-Sided Carbon Fiber Hood
BMW E90 Euro Headlights / Tails
Fusion Angel Eyes (6500K)
Fusion D1S HID (6000K)
Custom Carbon Fiber Side Mirrors
Custom Carbon Fiber Grilles
AutoTechnic Carbon Fiber B-Pillar
Fusion Carbon Fiber Door Sill
INTERIOR
Recaro SPG Bucket Seats
Schroth 5-Point Racing Harnesses
Fusion Titanium Carbon Fiber Interior Trim
Fusion Titanium Carbon Fiber Steering Wheel Trim
Fusion Titanium Carbon Fiber E-Brake Handle
Fusion Titanium Carbon Fiber Shift Knob
Innovate Air/ Fuel Ratio Gauge
Turbosmart eBoost2 Controller
Custom Suede Dashboard/ Armrest
Custom Suede E-Brake Handle
Custom Suede Shift Knob
Custom Suede Steering Wheel
Custom Suede Steering Wheel Air Bag
Custom Suede Door Panels
Custom Suede Headliner
Custom 14-Point Roll Cage
Custom Mounted Defi Gauges on Roll Cage
Defi Water Temp. Gauge
Defi Oil Temp. Gauge
Defi Exhaust Temp. Gauge
Defi Boost Gauge
Defi Oil Pressure Gauge
Audio & Multimedia
Apple Mini Mac Computer
Apple 20-inch Monitor
Apple Wireless Keyboard
Apple Wireless Mouse
Nintendo Wii
Helix 6-inch 2-Way Front Speakers x2
Helix 5.5-inch 2-Way Rear Speakers x2
Helix 5.5-inch 2-Way Trunk Speakers x2
Helix 10-inch Subwoofers x4
Helix A1 Amplifier
Helix A2 Amplifier
Helix A6 Amplifier
Custom Acrylic Subwoofer Enclosure
Custom 10-inch Trunk Monitor
DVD Player Connected to OEM I-Drive
Back-Up Camera Connected to OEM I-Drive
26-inch LCD Monitor