Written by Dave Pankew // Photos by RCH Designs | 31 August 2007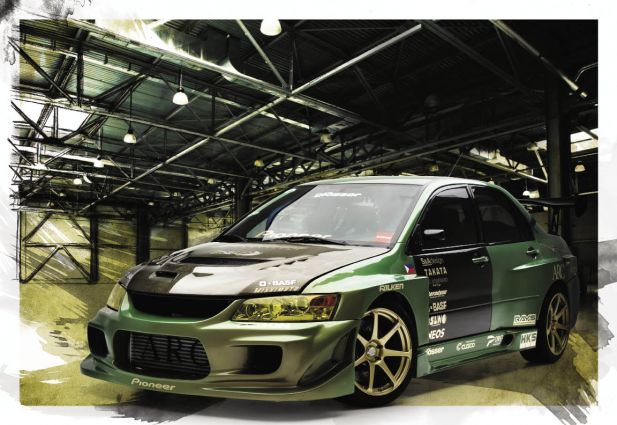 As with any project, it's the finishing moves that define how people will judge it. In the field of Architecture, you can design the most structurally sound and advanced framework but if you cut corners on the fit and finishing, the completed work will be criticized. If you are in it for the long haul, you have to pay attention to every move along the way. And the same holds true for a winning show car that by today's standards have become very exacting. The judges expect innovation, rare components and the kind of craftsmanship you would expect to find churned out of the monster OEM factories not some 1,000 sq. ft. shop with self-taught enthusiasts.
Enter Ben Abutin and his High End Performance shop in Ventura, CA. Here is a true enthusiast that expects a lot out of himself and his staff but it's paying off now. Fairly new to the national show car circuit, Abutin has really made a statement with his recent enterprise. "I only build cover cars," laughs Abutin "but seriously we just do our best, try and get into the judges heads and create cars that can be used everyday if the California Highway Patrol doesn't bother us." What Abutin is going off about is the outrageous treatment of car enthusiasts in Southern California who have been victimized to the point that they give up driving on the street. Not the High End clientele as their cars continue to push the limits.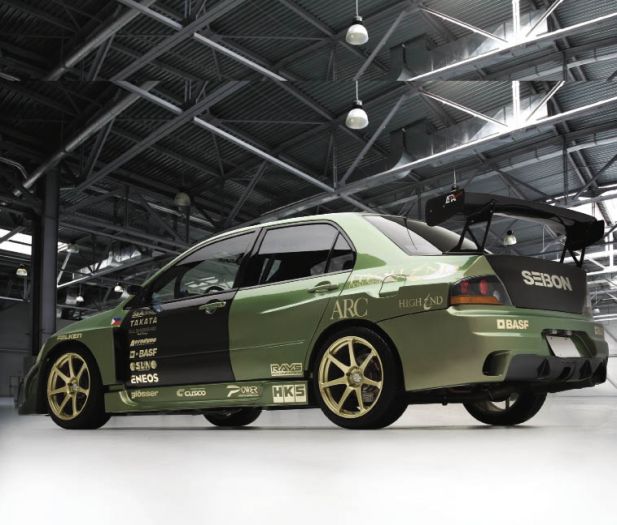 Abutin has always been about the Nissans but when his customer Raffy Bautista appeared with an EVO, a wad of cash and some high aspirations, Abutin was down for the cause. This EVO VIII was about to undergo some major surgery and in the process make gobs of power and snap some necks around the country at HIN events. At the core of the project is a Power Enterprise (PE) RX6R turbo matted to their striking Titanium turbo manifold. Venting the spent gases is a PE external wastegate and on the clean side an HKS SSQV dumps excess air. Fitted to the Ti manifold is a PE stainless steel downpipe flowing into a Tanabe Concept G stainless steel exhaust. Air is hauled into the equation with an ARC aluminum induction box and is chilled post-compression by and ARC front mount with custom Aerodyne piping. Fuel is delivered with a PE 255lph pump feeding a quartet of 700cc injectors also from Power Enterprise. To keep the package cooled, an aluminum Mishimoto radiator was added with some Samco hoses to connect it all. And rounding out the bling factor is an ARC Gradiation Valve cover with the trademark burned titanium.
Since the EVO is making some decent power, they needed to change the fuse. And by fuse, we mean the clutch, which taps out in EVOs at around 300whp. So Bautista selected the ARC 6-puch clutch for a bit of aggressive street application and the odd 6000rpm launch.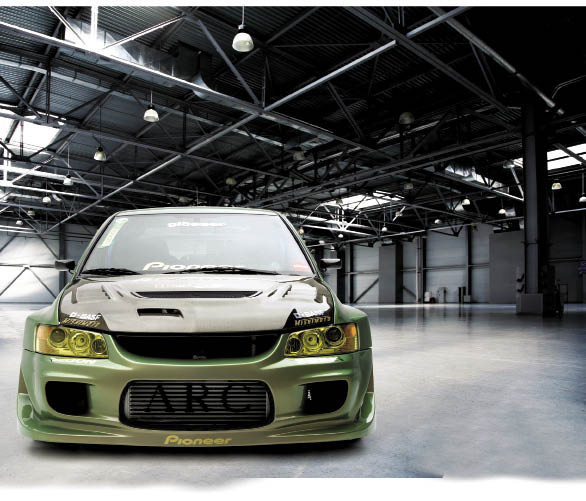 Any EVO can manhandle corners but to take it to the next level, you have to do your homework. Bautista wants to stay away from the crowd a bit and go with something premium and he finally ended up with Tanabe. Underneath all four corners are Tanabe's SUSTEC Pro S-OC coilovers featuring the dual chamber design and a helper spring. With this design, the SUSTEC boasts superior handling with all of the ride characteristics of the original car. The perfect blend of street and track performance as Tanabe describes it. The EVO also sports front and rear sway bars along with an elaborate Carbing 4-point chassis brace to keep it all stiff. Cusco front and rear strut tower bars only push the car harder as it is tightened up.
Rolling on Advan T7s in 18x9 all around, the EVO is adhered to the road with 245/40R18 Falken FK452s. Lurking behind the gold T7s are Brembo Gran Turismos big 6-pistons in the front with 14-inch drilled rotors and the factory setup in the backyard. The handling and braking are both on point with the gear Bautista has upgraded his EVO with.
Step inside the cabin and the basic EVO characteristics are almost unrecognizable. You first notice the exclusive High End Performance Kevlar bucket seats with Takata 4-point harnesses draped over them to strap down victims, er, passengers. A Project Mu shift knob and NRG steering wheel accept all of the driver inputs and the AEM serial gauges keep the driver informed of what is going down. A custom suede headliner has been added and a carbon fiber look floor pattern has been laid throughout. On the A/V tip, Bautistia added a PS2 slim a Sharp 19-inch LCD and the venerable Pioneer AVH-P4900DVD for the entertainment. Pioneer also hopped onboard as a sponsor and blessed the project with a trunk-load of their Premier gear. The Pioneer Premier Series TS-D1720C 6.5-inch components and TS-D1602R 6.5-inch fills take care of the mids driven by the Pioneer GM-6300F 600.4 amp. A pair of Pioneer Premier Series TS-SW2541D 10-inch subs belt out the sub-1000Hz signals motivated by Pioneer's GM-D7400M 1200.1 mono amp. The whole system has been installed in a custom enclosure done by High End themselves. The end result is a simple high quality ensemble that pounds and at the same time will grab the judges attention for some valued points.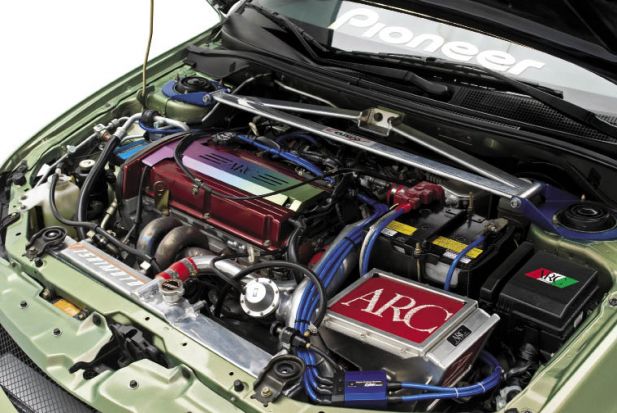 But Bautista and Abutin's vision here was all about the previous and mods and tweaks, it was about the exterior. They wanted to form a skin for this thing that would make the car appear like one of those never-to-see-the ground concepts from the Detroit Auto Show every January. The entire car was stripped down and prepared for a color change, one that was so extensive the only way you can figure out the factory color is by decoding the VIN. An INGs+1 widebody kit installed and modified by High End then prepped for paint. The car was trailered down to OG bodywork tactician PJ Bonifacio in La Fuente, CA. The car was shot in several coats of BASF Peridot Green and gallons of clear to achieve that liquid look. Then the carbon factor was added including: a Seibon hood with gold weave, a Seibon CF trunk and Seibon carbon fiber front doors. The APR CF is wing is a 67-inch wide GT300 model that matches the APR JGTC side-mirrors and APR canards. From there the sponsor vinyl was cut and added to the car and the outcome is like nothing we had seen in a while. Plus it had a heavy audio install, so it made the PAS cut.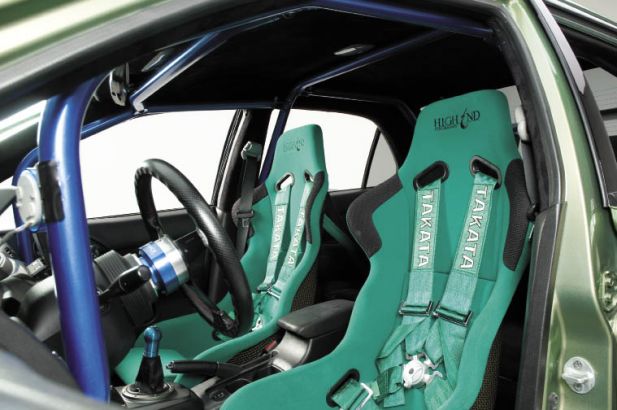 Bautista and Abutin have made quite a team here and it seems the High End Performance shop can do no wrong. In a time when modifications seem to be cooling off and gas prices continue to rise, Abutin and company are on a rampage. Also creating a rebirth of the whole scene in SoCal and for us here, were amped about seeing that happen and have their back. Every time we see them crank out a new creation, it reassures everyone that there are still some hardcore enthusiasts out there that will not quit for life. These guys are the new hot-rodders, the future white-haired dudes you see at SEMA that have been in the game for 40 years. We'll be there with them, how about you?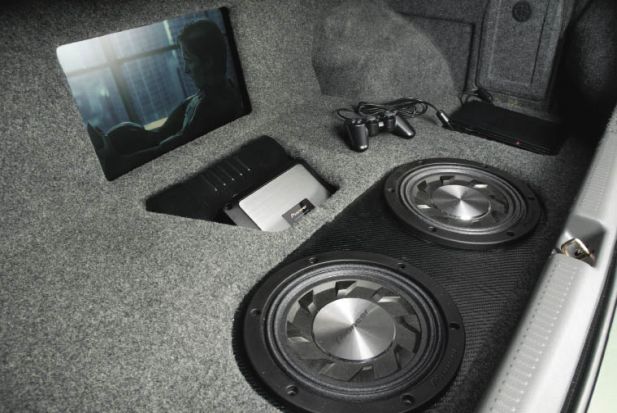 THE ESSENTIALS
Owner: Raffy Bautista
Location: San Diego, CA
Vehicle: 2004 Mitsubishi Lancer Evolution VIII
Power: 388whp @ 22psi

ENGINE MODIFICATIONS
Power Enterprise RX6R Turbo
Power Enterprise Titanium Turbo Manifold
Power Enterprise Stainless Steel Down Pipe
Power Enterprise Wastegate
Power Enterprise 255lph Fuel Pump
Power Enterprise 700cc Injectors
Power Enterprise Timing Belt
ARC Intercooler
Intercooler Piping by Aerodyne Industries
ARC Air Induction Box
ARC Gradation Valve Cover
ARC Oil Catch Can
Sun Automobile Hyper Force Systems
Sun Automobile Hyper Voltage Systems
Tanabe Concept G Exhaust
HKS SSQ Blow-Off Valve
Mishimoto Radiator
Mishimoto Radiator Cap

ENGINE MANAGEMENT
High End Performance ECU reflash

WHEELS, TIRES, BRAKES
18x9-inch Advan T7
Falken FK452 tires 245/40R18
Brembo GT 6-piston / 14-inch rotors

SUSPENSION
Tanabe SUSTEC Pro S-OC Coilovers
Tanabe front and rear sway bars
Carbing 4-Point Under Brace
Cusco 6-point roll cage
Cusco front strut tower bar

EXTERIOR
INGS+1 body kit modified by High End Performance
JDM Conversion Taillight
Seibon Carbon Fiber Hood with gold weaves
Seibon Carbon Fiber Trunk
Seibon Carbon Fiber Front Doors
APR rear wing (GT300) 67-inch
APR GT side mirrors
PJ Bonifacio bodywork and paint
BASF (Peridot Pearl Green)

INTERIOR
High End Performance Kevlar Bucket Seat
Takata 4-point Harness driver and passenger side
Project Mu shift knob
GReddy Boost Gauge
AEM UEGO 6-in-1 Gauge Type UEGO Controller
NRG Steering Quick Release
Nardi Steering Wheel
Custom Carbon Fiber Vinyl Floor
Custom Suede Head Liner

AUDIO / MULTIMEDIA
Pioneer AVH- P4900DVD - DVD Multimedia Receiver
Pioneer Premier Series TS-D1720C 6.5-inch
Rev Components
Pioneer Premier Series TS-D1602R 6.5-inch
Rev Series
Pioneer Premier Series TS-SW2541D
10-inch Subwoofers
Pioneer GM-D7400M 1200.1 Mono Amp
Pioneer GM-6300F 600.4 amp
High End Performance Enclosure
Sharp 19-inch Flat Screen
Sony PS2 Slim