Written by Dave Pankew | Photos by Jacob Leveton | 31 August 2007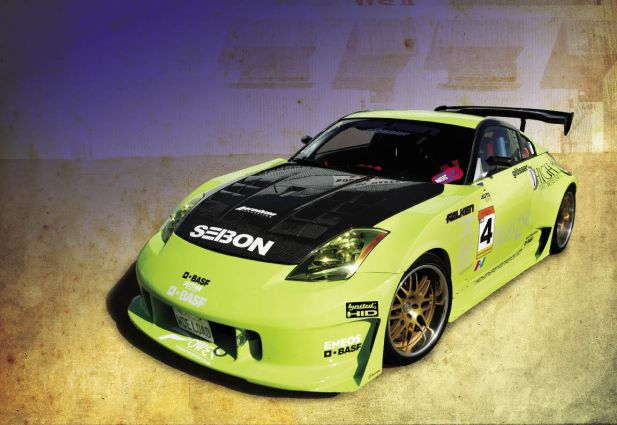 Southern California has really seen it all. As the hub of the automotive aftermarket over the last half century, they are anywhere from 18-24 months ahead of other urban megacities and anyones guess how far ahead of smalltown USA. So in the SoCal area it takes a lot to stand out, its all been done before. One tuner pushes the next guy to do something even more sick and so on it goes until they are broke or switch hobbies.
Years ago when I first tracked down this particular Z33, it looked nothing like this. The only recognizable part is really the shell since everything has been swapped for something new and improved more than once.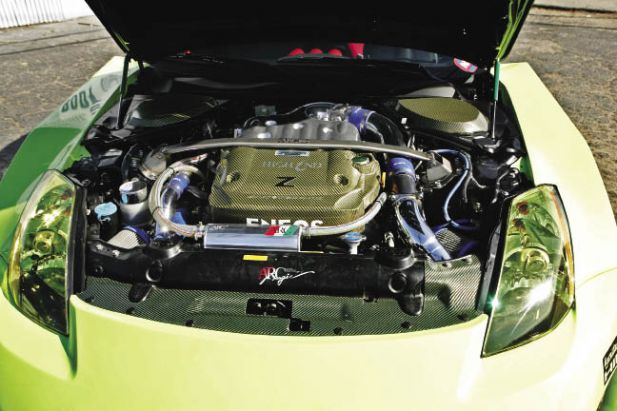 Back in the day, Ben Abutin's Z was fairly mundane. It was a straght up black Z that had a few mods filtering in until he was selected as a donor car for a Power Enterprise twin turbo kit. The kit was new and relatively unproven, many speculated with the compression of the Z, there wasn't much to be had. Abutin added a variety of more tricks and some vertical doors and earned himself a magazine cover.
But we all know that after a cover, the car is tainted and no other publication wants to touch it. Abutin wasn't having it and switched it all up including an outlandish two-tone paint scheme in trademark Power Enterprise colors. The highly-awarded car made several magazine appearances and was even trailered to Canada for the Grand Tuner show in 2005. Abutin bagged best of show and the lion's share of a $10,000 purse for his efforts.
But Abutin has turned the corner on his life and career to toss his hat into the ring of the crowded Sport Compact market. He set out to rethink how modifications were viewed and reach the level of craftsmanship he wanted on his own car for his customers. Every city could use one of those. And so High End Performance was born, a shop with locations in LA and San Diego specializing in all the hottest platforms.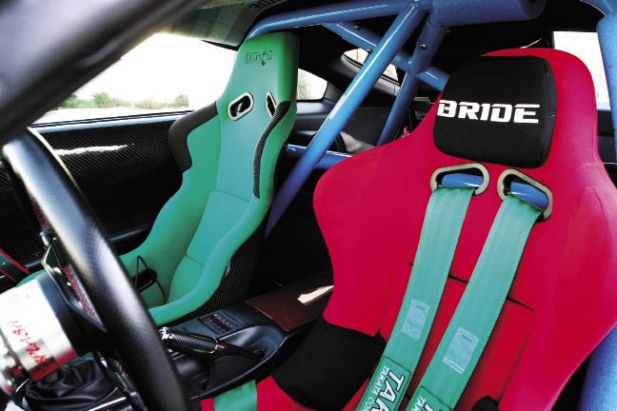 "To represent the shop I wanted to redo the Z," admits Abutin "It would be so altered that no one would recognize it and put High End on the map" And it definitely got attention debuting at the Spo-Com show in Long Beach to wow the crowds, PAS included. The brilliant Li-mon paint soaking the custom INGS widebody truly stands out and in a high-impact kinda way.
The outside has been completely reworked since the last version of Abutin's Z. This is a JGTC inspired widebody that was matched up with a carbon Cwest JGTC style rear wing. Under the massive rear valance sits a carbon fiber Top Secret rear diffuser that snakes around the titanium exhaust tips. Up front a Seibon carbon fiber hood is flanked by yellow tinted headlights. The Autotechnic carbon fibre side mirrors are complimented by Autotechnic CF A-pillars and RSW CF B-pillars. It has the appeal of one of those JGTC machines with the aerodynamic functionality you would expect from JDM brands like INGS and Top Secret
The last iteration of the interior was crazy enough but round three saw even more new gear. High Edn has release a Limted Edition seat with a Kevlar chassis and parked it right next to a Bride Zeta III with the carbon Kevlar back. The Bride them carried onto the headline and the rear bar panel cover. The occupants are strapped in with Takata points and held in place with option Bride seat supports. RSW of Japan supplied the carbon fiber center console and gauge cluster. There is a carbon weave on the A-pillars, boots and mats while there is more carbon fiber surrounding the rear hatch, lining the doorsills and the doors themselves. There is a bolt in 4-point cage for a bit more stiffness and a Nardi Sport Type B wheel with quick release for driver inputs.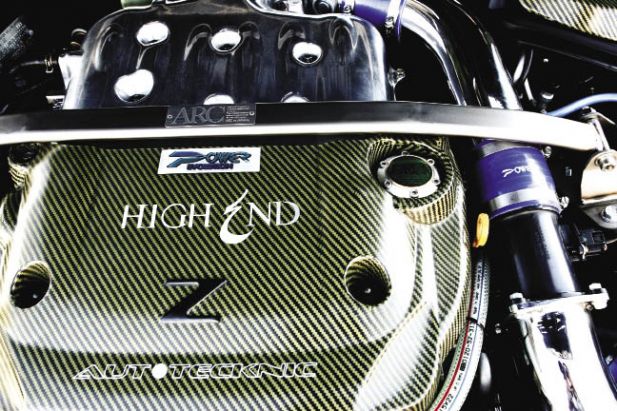 The VQ still sports some of the remnants of version past but the total package still looks fresh in this updated engine bay. Under the lid is the Power Enterprise (PE) twin turbo kit consisting of 1420 turbos hanging off each bank to drive the boost. The turbos are spun buy gases flowing from PE stainless headers and fed by PE polished intakes. Compressed air is fed into the PE front mounted intercooler and vented with PE blow-off valves. On the fuel side is a PE high capacity fuel pump feeding six PE injectors. Keeping the temps down is an aluminum racing radiator also from PE. The package is also wrapped up with high-strength Power Enterprise belts and silcone hoses to keep the VQ intact.
Although the Z can dance, Abutin admits he has been lugging it around shows and wants to get out on track when time allows. Under all four corners are Silk Road adjustable coilovers for handling and Tanabe sway bars to eradicate roll. Camber is dailed-in with Cusco adjustable arms and the chassis is cinched up with an ARC Ti strut bar and a Tanabe lower rear tie bar. On the stopping side, Abutin stuck with OEM supplier Brembo but in a decidedly more aggressive flavor. Up front are custom Brembo GTs that feature 8-piston calipers and disgusting 380mm cross-drilled 2-piece rotors.
The footwork is all, well 'high end' hear. The Z rolls on some HRE 840Rs with a silly 10.5-inch width up front and lucky 13-inchers on the drives. And if you think wheels like that could accommodate some serious rubber, you would be correct. Abutin turned to one of the few tire manufacturers who could fill the order for 295/30R19 front and 355/25R19 rear tires and that manufacturer is Pirelli. And for those paying attention, that it is enough contact patch for almost four Nissan Versas!
Abutin has definitely stepped it in the multimedia department as well. In the past his attempts seemed like an after thought but this time around, he knew that to get noticed it would have be done right. Starting with a Clarion VRX935DVD 7-inch LCD flip, Abution spec'ed out a matching Clarion CD/DVD changer for loads of media mayhem. Spreading sound throughout the cabin is a Boston Acoustics Pro 60 compenent set with mids, tweeters and highly sensitive crossovers. Abutin went a with a reduced weight Eclipse Alumapro 12-inch sub-anger in a custom carbon fiber enclusure driven by a 500W US AMP. For video display a pair of Fahrenheit 6-inch montors in the visors and a 13-inch trunk monitor with a Samsung 19-inch flat in between. Too many monitors? Well not when you factor in the fact Abutin slipped in an operation PS3 for the latest in 1080p lovin!
For whatever reason, some people in the scene just have the touch. The build project after project that demand attention, this one just happens to be not only the same platform but the same car! But the army of High End-mobiles is on a charge, they rolled in deep to SEMA and we are more than ready to bring all of their hard work just a bit closer to our readers.


THE ESSENTIALS
Owner: Ben Abutin
Location: Camarillo, CA
Vehicle: 2003 Nissan 350Z

ENGINE MODIFICATIONS
Power Enterprise Exhaust
Power Enterprise 1420 turbos
Power Enterprise exhaust manifolds
Power Enterprise front pipe
Power Enterprise front mount air-to-air intercooler
Power Enterprise high capacity aluminum oil pan
Power Enterprise high capacity fuel pump
Power Enterprise injectors
Power Enterprise Air Impulse II
Power Enterprise gaskets
Power Enterprise Aluminum Radiator
Polished Plenum
Custom Polished Turbo Piping
Power Enterprise Hoses
Power Enterprise boost gauge and controller
Power Enterprise Fan Switch/Controller
Power Enterprise radiator cap
Power Enterprise Belts
TEIN Hood Dampers
JIC Y-Pipe
ARC oil cap
ARC Oil Catch Can
SUSPENSION
ARC Titanium Tower Strut Bar
Silk Road Coilovers
Cusco Front Upper Camber Arm
Tanabe Front and Rear Sway Bars
Tanabe Under Brace
TCS Rear Camber Arm
WHEELS, TIRES, BRAKES
HRE 840R 19x10.5-inch front and 19x13-inch rear
Pirelli Pzero Rosso: 295/30R19 front and 355/25R19 rear
Custom Brembo Brake System 8-piston 380mm rotors
Project Kics Neo Chrome Lug Nuts
EXTERIOR
C-West carbon fiber GT wing
Custom JGTC widebody by INGS+1
Autotecknic Carbon Fiber radiator shroud
RSW Carbon Kevlar: engine, battery, and fluid covers
RSW Carbon Fiber B-pillar covers
AutoTecknic carbon fiber A-roof pillars
Autotecknic Side Mirrors
Seibon carbon fiber hood
Sparco hood pins
PIAA carbon fiber wipers
Yellow JGTC-style headlights
Top Secret Carbon Fiber Rear Diffuser
Nagisa Tow Hook
INTERIOR
Bride Zeta III Seat with Custom Carbon / Kevlar Back
Limited Edition High End Seat w/ Kevlar Back
Bride Head Liner
Bride Rear Bar Panel Cover
Takata Harnesses
RSW Carbon Fiber Center Console
RSW Carbon Fiber gauge cluster
Custom Carbon Fiber Fabric A-Pillars
Custom Carbon Fiber Hatch Panels
Carbon Fiber Fabric carpet and floor mats
EVO-R Carbon Fiber Door Sills
Custom Carbon Fiber Door Panels
Kirk Racing 4-point roll cage
Nismo JGTC Titanium Shift Knob
Nardi Sport Type B Steering Wheel
Splash Short Hub & Quick Release
Project Mu Pedals
AUDIO / MULTIMEDIA
Clarion VRX935DVD 7-inch LCD
Clarion 6-CD Changer
Boston Acoustics Pro60 Component System
Eclipse Alumapro 12-inch Sub
US Amps 500.1 and 400.4
Farenheit 6-inch Visor Monitors & 13-inch
Trunk Monitor
Carbon Fiber Sub Enclosure
Scosche wires & connectors
Samsung 19-inch 1080p LCD
Sony Playstation3