Written by George Dimitriadis // Photos by John Jackson | 01 September 2007
The last time I saw a Honda with a wall of four 15s was in 1998. Now who in their right mind would be insane enough to do something like that you say; it was yours truly.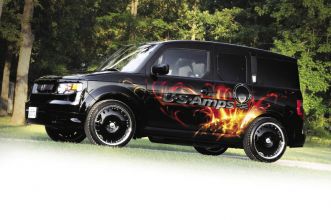 The look on people's faces when they saw it is priceless, that's what Greg Carolus with this 2008 Honda Element deals with on a daily basis. Of course fast forward ten years later to 2008 in sunny California where Greg is lucky enough to work at US AMPS / RE Audio in their respective technical departments. This guy is one of the first to get his hands on the straight goods from US AMPS and RE AUDIO before it ever sees the light of day, I'm so jealous I tell you.
Just saying those two names together can make a grown man cry, I myself have been a fan and user of US AMPS dating as far back as 1999 with their infamous 2000x model.
Okay enough about my reminiscing and down to the business at hand. It was the beginning of March '08 and the heads at the company were looking at building a new and fresh demo which was to debut at SBN (Spring Break Nationals). Only issue is that SBN was in less than three weeks and on the other side of the country so Greg certainly had his work cut out.
With years of experience building demo vehicles Greg was itching to get started. All work involved was done in house so that meant the pooling of various resources and people which aided in the build of the vehicle since time was at a minimum. The graphics which cover the exterior of the Element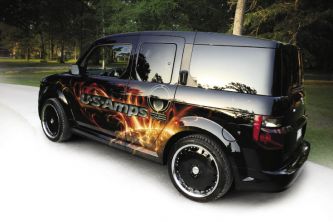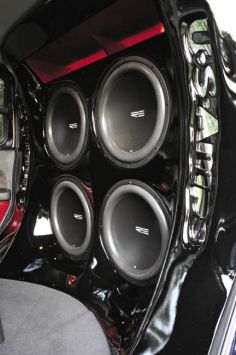 were all created by in house designer Isiah Diaz. The company logos are prominently displayed on the exterior thanks to the air brushing that was handled by the in house staff, talk about a multi-talented crew. Because rolling stock just doesn't cut it in California, Greg contacted the guys at Zenetti Wheels for the hook up. A hook up it was indeed with a set of 20-inch Heirs wrapped in 255mm Nitto 555 tires which fit right at home finishing off the Element exterior wise. Now to the fun stuff inside and where Greg gets to flex his creative muscle.
First thing to go inside the vehicle was the stock head unit and in its place a Kenwood DDX 512 double DIN was installed. The DDX has it all from touch screen capability to navigation and for processing a Bass Mekanik VLS-1 digital signal processor was installed. From there the next step were the door panels for all four doors. The rear doors which are suicide from factory play host to a pair of RE FR 6x9 speakers installed in custom door pods while the front doors are home to a quartet of RE FR 6.5inch speakers each. Before you even ask why so many mid-range speakers in this vehicle take a look at what resides a few feet behind the drivers head; a wall with a quartet of RE AUDIO SE 15-inch monsters. The four woofers are housed in a custom enclosure which is a combination of MDF, fiberglass and Plexi. The subs where mounted in the wall and from there a custom trim panel was fabricated along with side panels which have the companies logos airbrushed as well. Moving to the rear of the Honda you see the workmanship of Greg and the crew at US AMPS / RE AUDIO. First off the back end of the enclosure is all Plexiglass which allows us to look into the enclosure and where we see the back end of those SE 15s. Flanking the rear on each side is a pair of US AMP MD-2D amplifiers rated at 1500W@1ohm which run a pair of the RE AUDIO 15s a piece. In between these two behemoths you'll also find one of the two MD-42 4-channel amplifiers that handle the mid-range powering needs while the second one is flushed into the floor panel.
With this many amplifiers in the vehicles you have to make sure there is always an ample supply of voltage available. Making sure there is never a loss of voltage the guys at Kinetik were called upon to help and it was decided that four Kinetik HC1400 power cells were more than enough to handle all power supply needs.
I was able to audition the finished product in person at the 2008 Spring Break Nationals and I was left speechless. Makes me want to go down the path of the dark side and throw a wall up in my Honda again. I can only imagine what to expect if he had more than three weeks available.
Read on for Full Spec Sheet

THE ESSENTIALS
Owner: Greg Carolus
Location: City of Industry, CA
Vehicle: 2008 Honda Element

WHEELS & TIRES
Zenetti Heir 20-inch wheels
Nitto 555 255/40R20

AUDIO & MULTIMEDIA
Kenwood DDX 512
US AMPS VLS-1
RE AUDIO FR 6.5
RE AUDIO FR 69
RE AUDIO SE 15s
US AMPS MD-2D
US AMPS MD-42
Kinetik Powercells

SHOUTOUTS
Zenetti
Isiah Diaz
The crew at US AMPS
Kinetik
Kenwood