Written by Neal Jones | Photos by Jacob Leveton | 14 September 2007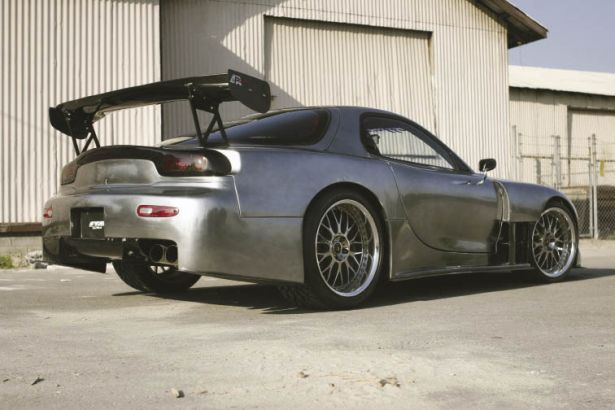 Orthopedic surgery entails the correction of skeletal problems within the human body, especially the spine. Surgeons in this branch of medicine try to repair the bodies of people who have been injured to give them relief from the pain and stress they endure while going about their everyday lives.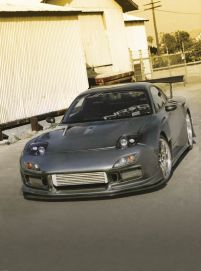 When you think of orthopedics in that light, it isn't hard to understand why Dr. Emory Chang decided to build a 1994 Mazda RX-7 into the sweet ride you see on these pages. He's spent his career bringing used and abused bodies back to life, and this RX-7 was an easy transfer – instead of helping people improve their daily lives, this car improves his daily life. And he definitely improved the style and substance of the RX-7.
The Arcadia, CA resident has always had a passion for the Mazda RX-7 and spent eight years and $100,000 creating this beautiful masterpiece. He loves the third-generation FD3S model and is especially proud of its racing pedigree. "It's my favourite car," Chang said, "always has been, always will be."
Bought in July of 1997, this RX-7 had been raced in SCCA competition so Chang knew it could withstand the demands he intended to put on it. It all starts under the hood with a 1,298cc 13B-REW two-rotor engine with an aluminum block. Thanks to C-Office, the engine was machined and received a data acquisition system. The intakes and exhaust ports were then street ported, while a turbo upgrade comes in the form of an A'PEXi IHI-RX6B model. A'PEXi also stepped in with a custom (C2 core) intercooler, wastegate, intake and Power FC ECU. GReddy handles the intercooler piping while CWC provides dual oil coolers to make sure everything runs at optimum temperatures along with a Mazdacomp aluminum radiator.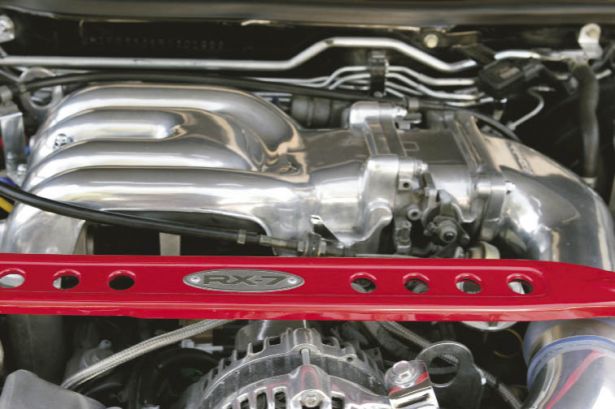 Feeding the engine begins with an RP Competition fuel pump that connects with a K2RD fuel rail and an NGR adjustable fuel pressure regulator. The primary injectors are 850cc versions while the secondary units are 1,200cc. Magnacore 10mm ignition wires tie things together nicely while Insanamine keeps everything grounded with its kit. Ianetti Advanced Carbon 3mm apex seals were added along with a six-puck ACT clutch and JUN chromoly flywheel. Chang turned to the experts at Mazdaspeed for a short shifter. Expunging the spent gases is an A'PEXi N1 dual exhaust which is connected to a three-inch AR&T mid-pipe, A'PEXi exhaust manifold and down-pipe. Completing the performance upgrades are a J&S knock retard system that keeps the engine from blowing up when stressed and RP Racing Triple Pulleys that free up some extra power for the RX-7 on the street.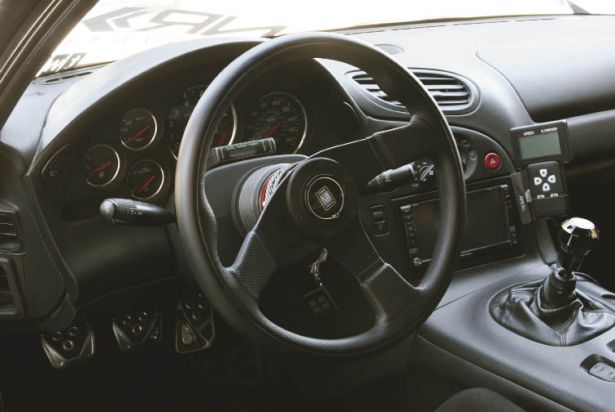 Of course, what's the point in adding all this performance if the car can't handle the stress? With that in mind, Chang upgraded the front and rear suspension with JIC FLT-A2 coilovers with the front and rear sway bars taken care of by Racing Beat's tubular versions. The RX-7 was further improved with updated end-links, CWC front sway bar mounts and Unobtainium Motorsportsports urethane bushings. Chang went with Mazda's OEM R2 version for the front strut brace and a Cusco for the rear. Other add-ons Chang chose include M2 Competition trailing arms and rear toe links, a Mazdaspeed Power Plant frame and two-way limited slip differential, and finally, an ACPT carbon fibre driveshaft.
Now that he knew the car could handle the added performance, attention turned to keeping his ride planted on the ground and bringing it down from speed. The latter was handled with 356mm metal matrix composite, two-piece drilled rotors matched with 6-piston AP Racing calipers up front. The rear is handled by 315mm metal matrix composite, two-piece cross-drilled rotors and 4-piston AP Racing calipers. The RX-7 rolls out of the garage on Work VS-XX wheels that are sized 19- x 9-inches up front and massive 19- x 12-inch versions in the rear. With wheels that big, Chang needed some extra help in the rubber department so he chose BFGoodrich gForce T/A KDW tires — 235/35ZR-19s up front and 295/35ZR-19s in the back.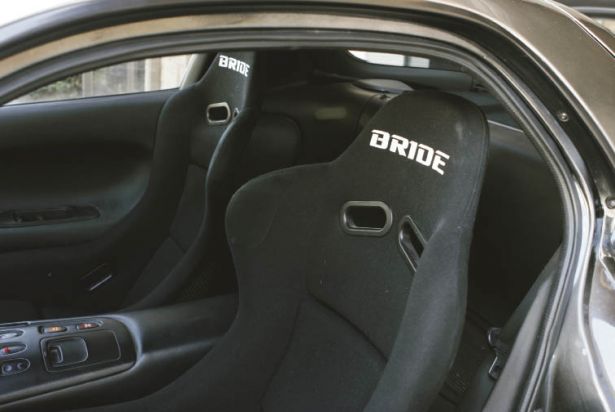 Once the performance side was completed, Chang took the Mazda to Three Brothers Racing to give it a run on the dyno. The result was 427 horsepower at 7,300rpm, with maximum torque set at 328ft/lbs at 6,200rpm. This has resulted in a claimed top speed of an incredible 183mph!
With Chang happy to see those numbers appear it was time to give this RX-7 some show with its go. A modified C-West / Feast wide body kit was mated with a C-West modified front bumper and a custom rear bumper to give the RX-7 an aggressive stance. The rear spoiler is an APR GT-3 wing while the headlights were swapped out in favour of C-West flush Generation I models. Anyone following the RX-7 is looking at 1999 Efini taillights. The hood was then replaced with a Mazdaspeed R-spec carbon fibre version. Inner Circle Autoworks then stepped in to add carbon fibre front and rear diffusers before the RX-7 was sent into the paint department for a generous helping of Gunmetal Chrome. Completing the exterior mods are C-West carbon fibre signal mirrors.
Chang wanted a performance car so when it came to the interior he kept everything simple and clean. He added a RAZO Drift-spec weighted shift knob and he keeps the RX-7 going in the right direction with a NARDI Twin steering wheel. Keeping Chang updated on the performance is a Blitz DUAL turbo timer / boost gauge. Keeping Chang and his passenger firmly in their BRIDE Artis III (carbon Kevlar) seats are Willans 6-point harnesses. Chang can also control the boost with an A'PEXi AVC-R electronic boost controller. The audio side was pretty much left alone with the exception of a Pioneer AVIC-D1 head unit. For power, Chang performed a Pettit Battery relocation along with a Hawker Genesis battery.
All these mods were made possible thanks to Chang's generous sponsors, which include Work Super Wheel, BFGoodrich, NR-G and RAZO. And that support has paid off on the show scene as Chang has taken home numerous awards, including Japanese Exotic at Import Showoff and Custom Showoff at the Drift Showoff.
As Chang cruises around California you can be sure he grabs attention even when the bikinis are out in full force at the beach. And it wouldn't surprise us if this Doctor decided to make house calls a regular part of his practice. I know I'd be making house calls if I had this beauty taking me there.