Written by Dave Pankew | Photos by Devin LeFevere | 14 September 2007

Written by Dave Pankew / Photography by Devin LeFevere
Ask anyone into the drag racing scene about leaders and icons out there and one name will crop up continually: Chris Rado. The Pennsylvania native has been putting fast front wheel drivers on the map for as long as most can remember. And he has since continued to set records and stay competitive. But what most people recognize Rado for is his innovation in motorsports. Rado doesn't seem to follow any set of rules or rely on what other pioneers have accomplished and hop onboard to be successful. He and his World Racing team are always on what seems to be the ragged edge of sanity in their races and the cars they build to race in them.
Rewind to the late nineties and Rado is out there making a statement in a uni-body Integra before Sport Compact drag racing was remotely popular. Later on, not only is he securing quickest and fastest records in the NHRA but also setting World records in the process. Then he pushes the car to be the first FWD in the 8s and resets the speed record yet again. His commitment to the FF configuration remained solid but he wasn't satisfied with his accomplishments and his drag cars became progressively more outrageous. Probably Rado's most aggressive creation was the NORAD Pro FWD Celica that was controversial from the time it was only a concept sketch. With huge, bulging fenders to accommodate 36-inch tall slicks, the car featured a Ford 9-inch rear end and a special V-drive to make it all work. The driversseat was a center-mounted position for maximum visibility to keep this 1,500hp animal in line.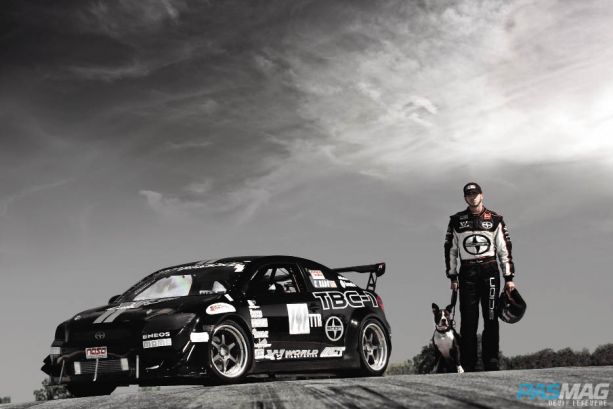 But ask Rado about any of this and he quickly changes the subject. Some of the most memorable conversations that I have had with Rado always start with "Dave, have you seen what I'm up to now?" followed by a captivating hour-long conversation about some of the most creative approaches to going fast. And in great detail, so much so that at certain points you can get left behind but to keep pace with Rado you better catch up. Then, if you get Rado to open up about what happens off-track, well, Hollywood couldn't write a better screenplay. Rado lives more in a year than some people accomplish or experience in a lifetime.
"How much do you know about this Time Attack Scion?" laughs Rado. "Because we have done some really crazy things with it. It's far more advanced than it looks; there is a lot of engineering under the skin," he adds.
I let Rado know that I'm not totally in the loop and embarrassed to admit that I have only been to three Time Attack events, none of which he was entered in. Rado takes that as a signal to start spilling secrets and he proceeds to release enough to produce an article. And not just any article: his is probably the most important Time Attack car to date. Why? Because this new and unproven FWD chassis that costs under $20 grand is running with the big dogs in the AWD and RWD territory.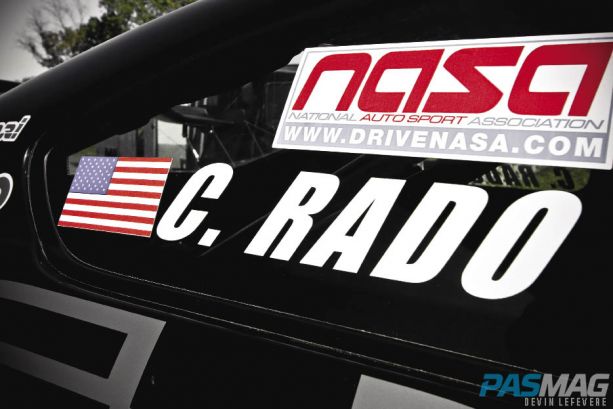 What began as a 2007 Scion tC has resulted in one World Racing project that will definitely be a future legend. Competing in the FWD Unlimited class, the entire shell was prepared by Steen Chassis, where is was stitch-welded and reinforced with a NASCAR-spec cage. There is also bracing at every possible angle to keep this once entry-level commuter car very stiff. The chassis is a unique design that benefits from some serious re-engineering. The entire rear subframe has been shaved to raise it one inch. This allows the suspension to maintain its geometry and full travel of the dampers, while lowering the centre of gravity in the process.
All of those structural considerations were vital when the team ran into problems at St. Louis this year. The team was running into suspension issues and as a result had to lock the rear suspension dampening. "I'm out there finding my line and I see the fastest car there, an Evo, and I decided to follow his line," says Rado. "But I was right on him until we hit a part where FWD probably shouldn't go. I turned the wheel about 10 degress, the back came out, I corrected and it came out again. Then I hit the wet grass and it was basically over." But since then the car has been repaired and Rado is aiming at putting down a big number at the Buttonwillow Time Attack just after SEMA.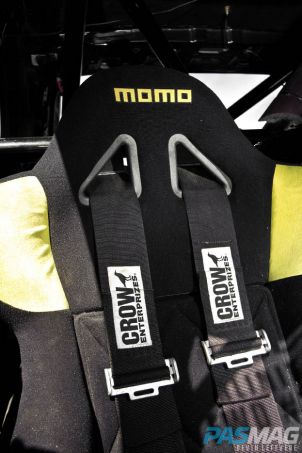 "We either win or the car gets destroyed somehow," laughs Rado. "We've gone through four motors in this thing and it has always been something insignificant that bit us in the end." But, as Rado explains, they learned a lot and are ready to move forward and be a major threat outside their class.
"I think running a 1:53 at Buttonwillow is reachable," states Rado. "Fastest FWD car there currently is 1:55, so we will be in a different class. We have sorted out past problems with the fuel, timing and the lubrication, and are now looking forward to showing off what our new modifications can do."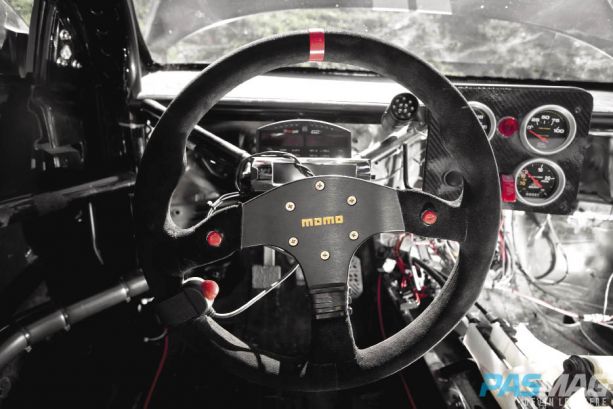 And the modifications will definitely turn a few heads with their exotic status. First and foremost is a bit more positive camber in the rear and an all-new coil-over suspension. Penske has custom fabricated a 3-way adjustable coil-over with an external reservoir for Rado's application. The systems features ride height, compression and rebound adjustments from a derivative of what you might find on an open-wheel race car at top-level competition. They are also going with a driveline change for the end of the season. That has always been Rado's forte (finding new ways to put extreme power down through the front wheels) and he turned to the experts at Weismann Traction Products in Costa Mesa, CA for a differential.
"Unlike other differentials which seek the path of least resistance, the Weismann Locker is a type that seeks the path of most resistance," explains Rado. The differential will allow for the power to be put to the wheels that already have traction and more throttle can be applied earlier. It's the edge Rado has been looking for to break more records in a class that is already owned by World Racing.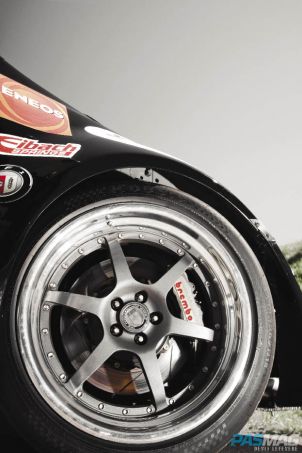 At these speeds, adhesion of the tire is critical. And a tire has to put down that one fast lap as opposed to multiples in a race with more endurance. Typically running the Hoosier R6 Road Race tire, Rado has been known to swap to the softer Hoosier A6 when the need arises. His entire collection of 295/30ZR18 race rubber is mounted on HRE 546R 2-piece wheels. These ultra lightweight forged wheels are sized 18x10.5-inches all around and finished in charcoal with polished lip.
The stoppers are beyond effective, both at reducing speed and making other teams very jealous. The entire Brembo GTR brake kit on the car had to be custom-built. Go figure: there was no application for the tC considering the car costs $16,000 and the brakes are almost as much! These forged 4-piston calipers are lighter, stronger and slimmer than the GT line and not powdercoated for superior heat dissipation. The calipers feature titanium pistons which are ventilated and have quick change brackets to swap the pads. The 2-piece rotors are made of materials far more pure than competitors and they can be heat-cycled more frequently without failing. Brembo's top-level GTR kit only ships with slotted rotors, cross-drilled are simply not available. And GTR kits are always made to order, few shops have any stock and during race season, they are in short supply so Rado stocks up on pads and rotors when he can.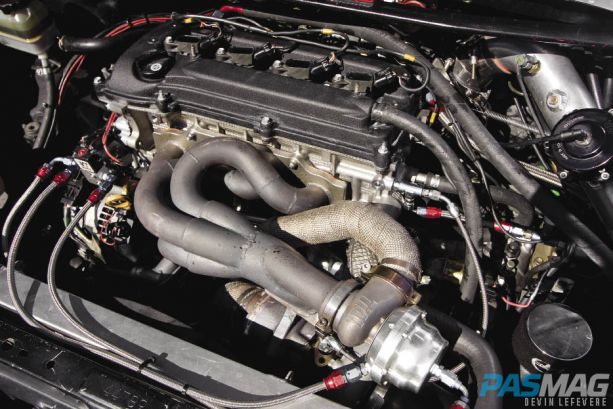 The powerplant is Toyota's torquey 2AZ-FE that has undergone a full World Racing rebuild using custom-spec JE Pistons. The forced induction is delivered from a World Racing-designed turbo kit. The kit uses a Bullseye Borg Warner turbo that hangs off a 4-into-1 header with a TiAL 44mm wastegate at the dump pipe and a TiAL BOV on the cool side. Eric and Marc at Twins Turbo were responsible for all of the intercooler piping and fabrication as well as adding the Setrab oil and power steering coolers. Fired by the stock coils, Rado is forcing a lot of air and fuel into the 4-cylinder motor. With plenty of fuel being sprayed by a Bosch in-line pump and 720cc injectors, the level of boost is rationed with Rado's own World Racing TBC-1 boost controller connected by a maze of stainless steel lines. This 50psi-capable unit has a unique boost setting for every gear which ranges from 12-19psi but on the straights, the boost hits 30psi at wide open throttle.
"Our tune is something I'm very content with," exclaims Rado. "There wasn't much choice other than MoTeC for our needs." And in conjunction with the TBC-1, a MoTeC M400 controls all of the engine operation. Data is relayed with a RacePak G2 cluster, which allows for up to 71 sensor inputs and also integrates GPS to measure g-forces, lap time, segment time, track mapping and speed. The accuracy of the RacePak was within 0.10mph and 0.05-seconds which is more than sufficient for the crew to determine if setup changes are beneficial. There is also a host of Auto Meter gauges displaying: oil pressure, water temp and boost.
The total package is a shockingly fast one. At this season's Willow Springs Time Attack event, Rado's Scion turned a 1:29.34 lap, winning the FWD Unlimited class and placing 5th overall. Rado explains FWD cars aren't supposed to be that fast in a field RWD and AWD racecars but he pulled it off. Rado isn't resting on his accomplishments (he never does), instead he is looking forward to that tail end of the season and putting a crazy number down to create some controversy. And true to form, Rado never credits himself but rather his team and the host of sponsors on board without which he would likely only be drag racing. But in Rado's world, doing both is well within reach.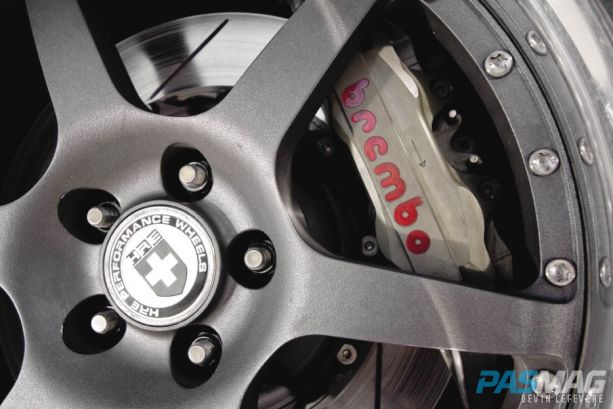 THE ESSENTIALS
Owner: Chris Rado
Location: Reading, PA
Vehicle: 2007 Scion tC
ENGINE MODIFICATIONS
World Racing built 2.4L 2AZ-FE
World Racing turbo kit w/ Bullseye Borg Warner S200
World Racing header
World Racing TBC-1 boost controller
JE pistons and Carrillo Rods
MoTeC M400 standalone
TiAL 44mm Wastegate
TiAL Blow-off valve
Bosch inline fuel pump
Bosch 720cc injectors
Golden Eagle Prototype fuel rail
Aeroquip FPR
Setrab oil cooler
C&R Racing radiator
EXTERIOR
Auto Explosions Fender kit
Kaminari CF hood & roof
APR carbon fibre rear wing
Stick-It vinyl graphics
Auto Explosion paint & body
WHEELS, TIRES & BRAKES
HRE 546R 18x10.5-inch wheels
Hoosier Road Race R6 295/30ZR18 tires
Brembo race-spec GTR 14-inch brakes w/ 4-piston forged calipers
SUSPENSION
Penske 3-way adjustable coil-overs with external reservoir
Progress Rear sway bar
RobiSpec suspension links
RobiSpec modified rear subframe
INTERIOR
Stripped w/ Steen-built NASCAR-spec cage
Momo Corse 280mm steering wheel
Momo race buckets
Momo race pedals
Crow 4-point harness
Auto Meter: (boost, oil pressure, water temp gauges)
SHOUT-OUTS
Everyone at Scion, especially Sheila Swanson and Steve Hatanaka, also WORLD Electronics, ACT Clutches, Eric and Marc Kozeluh, Twins Turbo, Bullseye Power, ENEOS Oil, JE Pistons, HRE Wheels, Eibach, Borg Warner, Kaminari, Brembo, MOMO, APR, Johnson's Alignment, Stick-It Graphics, RobiSpec, my dog Nitro and of course NASA for having great events.