08 August 2011
Honor, Courage, Commitment – the three most powerful words that every member of the US Navy adheres to. The thought of war is something that although a reality to Americans is still unsettling and Brian Neumann of Waldorf, Maryland is no stranger to it. Having served three tours as a Navyman in Iraq, this freedom fighter is also a proud tuner enthusiast with his muscled-out '03 Nissan 350Z.
What began as a mishap to his beautiful Z soon evolved into a five year journey to this point, as Neumann explains, "I hit a chair that had fallen off a truck… after inspecting the damage, the car needed a new front bumper, fender, side skirt and headlight." Like most projects, good comes from bad and it was not long before Neumann dove head first into the build. Replacing the damaged exterior went in way of a Sarona full aero kit matched to a set of Mike Bean one-off custom fenders and a 2007 350Z headlight swap. Thanks to Gary Best Kustumz, the coupe was shaved and prepped for the VIS carbon fiber vented hood, Stillen rear quart window louvers, VeilSide Version 3 rear spoiler and a re-spray in Daytona Blue with black-cherry ghost flames.
Next on the exterior mod list were the roller replacements. The OEM Nissan wheels were tossed aside for a set of 19-inch Stern ST1 wheels with custom center caps sized at 8.5-inches up front and 9.5-inches at rear. A sticky set of 245/35ZR and 275/35ZR Nitto NeoGen rubber wraps the two-toned wheels providing the much-needed traction. Thankfully, because Neumann's Z came with the factory "Touring Package" the brakes need not replacing as they are large 12-inch Brembo units.
Inside Neumann's Z cabin is complete new world. Ace Upholstery of Waldorf, Maryland re-wrapped the bland factory interior with a combination of blue suede and black leather, using gold stitching for accent. The center console, dash and glove box panels were all then treated to the exterior colour spray with a warm gold as the highlight around bezels. The factory audio setup was also given a tweak consisting of a Sony CDX M9905X head unit and Sony DVX100 DVD player. A set of MA Audio HK598 and HK898 amplifiers provide the power to the highs and subwoofers along with a Kicker KX400.1 unit. For noisemakers Neumann enlisted Audiobahn goods consisting of four 25mm tweeters for the highs, four 4-inch mid-woofers and another four 6.5-inch mid-bass woofers. Out back in a custom sealed enclosure are three Kicker subwoofers (two CVR 12-inch and one L7 10-inch) that provide the ground shaking bass. For visuals, there are a pair of Valor 7-inch LCD sun visor monitors up front and a Pyle 7-inch LCD screen built into the trunk enclosure.
Moving onto the reason Neumann loves his 350Z and what truly makes it stand out, the power plant! The Z came from factory with a soft 3.5-litre, V6 tagged as the VQ35DE, but Neumann wanted more. After contacting Sikky Manufacturing, the plans were in motion for a GM LS2 (6.0-litre, V8, 400hp) engine swap. As Neumann puts it, most would ask him "…what do you have in that thing" to which he would just smile. A Sikky 350Z LS2 billet mounting kit allowed for the new engine to sit properly while the aid of a new oil pan, oil filter relocation kit, Wilwood 7/8" master cylinder, power steering lines and a custom billet short shifter allowed for the complete swap. A T56 transmission from a Pontiac GTO then matted to the powerful LS2-engine allowing for proper gear clenching. With the additional power, the 350Z's fuel system also needed an upgrade and thus an Aeromotive -8 billet fuel rail, A1000-6 fuel pressure regulator and twin Walbro fuel pump assembly assured proper delivery.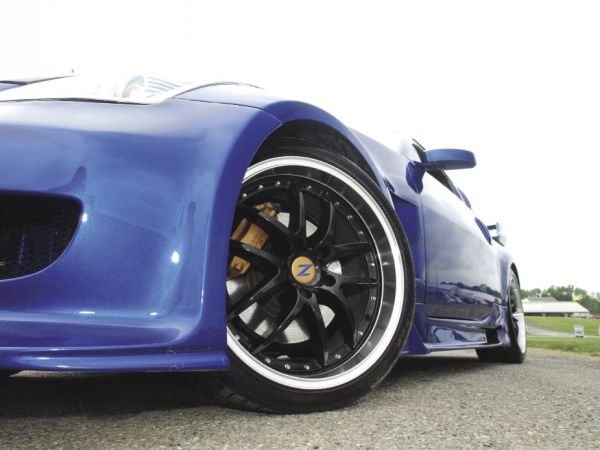 Despite the nay-sayers and Nissan purists hating on Brian Neumann for his unconventional approach to his Z, truth is, this Navyman has his bearings set right on course. Having built this project from the ground up solo and with friends, it is not doubt this Daytona Blue Z has taken top prizes on the show circuit. We commend Neumann for his unique vision and efforts in making his dream car a reality proving that "Honor, Courage, Commitment" is all that one needs to succeed – Hoo-Ah!
---
ESSENTIALS // Owner Brian Neumann • Location Waldorf, Maryland • Vehicle 2003 nissan 350z