13 September 2011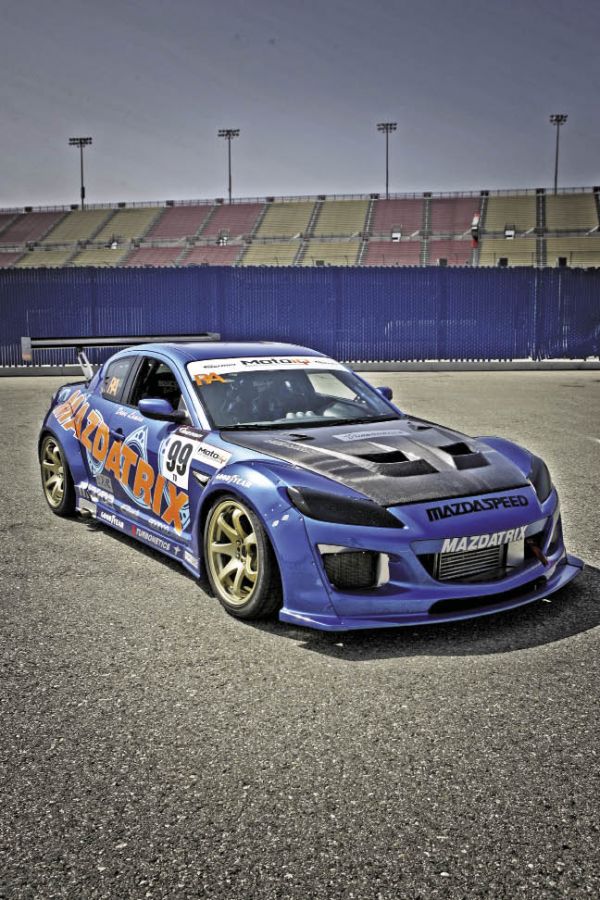 When life gives you lemons, you make lemonade. When life gives you Dave Lemon you make one of the baddest Mazda RX-8s on the planet. Dave Lemon is the owner of MazdaTrix.com in Signal Hill, California a race shop and online retail store specializing in Mazda performance and aftermarket parts. He is also the creator and driver of their Mazda RX-8 shop car. What started as a test bed for product development evolved into an apex carving road racer built to compete in time attack and road race series. As a long time racer and SCCA track record holder Dave knows how to build a quality race car and this stunning RX-8 is no exception.
MazdaTrix is still using their RX-8 race car primarily as a test bed to ensure that any MazdaTrix product you buy has been put through its paces on the race track. In fact, they are currently using the car to test their upcoming MazdaTrix turbo kit. Dave's RX-8 retains the 13B Renesis based rotary engine to develop the ultimate off-the-shelf turbo kit upgrade using a Turbonetics turbocharger to create a power band optimized for road racing. Spent exhaust gases are pushed out through a MazdaTrix custom exhaust manifold and a custom MazdaTrix side exit exhaust system. The intricate song and dance performed by the 13B rotary is ultimately controlled by a Haltech engine management system tuned by MazdaTrix, of course. Power is transferred through a lightweight multi-disc clutch and MazdaTrix lightweight flywheel that weighs a scant 4 lbs. Power is then transferred through an otherwise stock drivetrain using a Kaaz limited slip differential.
The lifeblood of any good road racing car lies within the suspension package, and Dave and the MazdaTrix team have been long searching for optimal performance in this department. After trials and tribulations, they have finally found perfection in a set of Eibach Multi-Pro R2 double-adjustable coilovers. These high quality coilovers feature separate adjustments for compression and rebound allowing the team to dial in the suspension for optimum performance while remote reservoirs can be mounted in a place that allows for quick and easy adjustments in pit lane. Custom alignment is set via Megan Racing adjustable suspension links and Drop Engineering bushings to ensure that the car is gaining maximum performance and life out of its tires. The chassis is tied together with a custom 6-point roll cage by Steen Fabrication.
All of the hard work in development of the engine and suspension package can be rendered useless without the right wheel and tire package to transfer power and g-forces to the pavement, which is why Dave opted for a set of lightweight 18" XXR 522 wheels. Dave's tire choice depends on the series he's running in; if he is competing in a street class time attack, he opts for the Goodyear Eagle F1 Supercar G ultra-high performance street tire, but if he's racing in the MotoIQ MPTCC road racing series you will find him rolling around on Goodyear's Eagle RS D.O.T. racing slicks. A StopTech Trophy big brake kit allows Dave to push his car deep into the braking zones with confidence.
| | |
| --- | --- |
| | |
The exterior and aerodynamic package on the MazdaTrix RX-8 is really what sets it apart from the competition. The first thing you will notice is the bulging fenders of the AIT Racing widebody kit including new front/rear fenders accompanied by aggressive and functional bumpers and side skirts. AIT Racing also came to the rescue with a lightweight and functional carbon fiber vented hood as well as a lightweight carbon fiber trunk lid modified by MazdaTrix to incorporate their Fuel Safe fuel cell. To cap it all off is the ultra-functional Kognition Design dry carbon fiber rear wing. The tremendous downforce is transferred from the wing through the trunk lid and directly to the chassis via custom wing uprights.
The interior of the MazdaTrix RX-8 is all business. Most of the stock pieces have been removed for weight savings leaving only the factory dash, center console, and door panels intact. The stock seats were replaced with much lighter Sparco Evo race seats that are complimented by Sparco 6-Point racing harnesses. A Sparco steering wheel mounts to the factory steering column while a custom gauge panel littered with AutoMeter gauges replaces the factory radio. Three more AutoMeter gauges sit atop the factory dash to provide Dave with vital information while on the track. A fire suppression system finishes off the minimalist interior while serving a vital task of protecting the driver.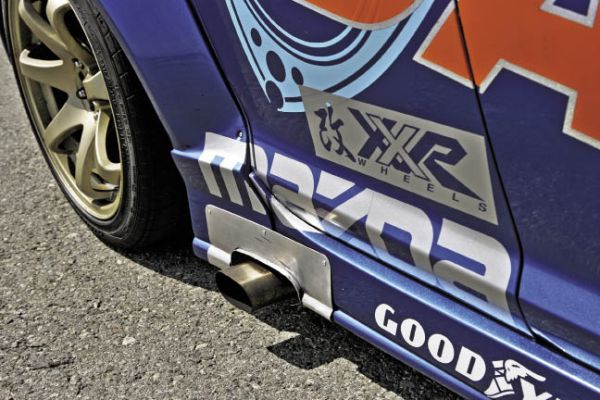 Mazda is one of the most recognized and successful brands in motorsports, and Dave Lemon and MazdaTrix are a major part of that heritage. Their Mazda RX-8 shop car is a fine example of function and form adding a large dose of credibility to any MazdaTrix product you may have on your rotary.
---
Essentials // Owner Dave Lemon • LOCATION Signal Hill, California, USA • engine Mazda 1.3L Renesis (13B) • Vehicle 2010 Mazda RX-8 • power 420whp
Exterior // AIT Widebody Kit • AIT Carbon Fiber Hood • AIT Trunk Lid • Kognition Design Rear Wing • MazdaTrix Headlight Deletes Wheels/Tires/Brakes // 18x9.5" XXR 522 Wheels • Goodyear Eagle F1 Supercar G Tires • Goodyear Eagle RS D.O.T. Racing Slicks • StopTech Trophy Big Brake Kit Suspension // Eibach Multi-Pro R2 coilovers • Megan Racing Adjustable Links • Drop Engineering Bushings
Engine Modifications // MazdaTrix Turbo Kit • MazdaTrix Custom Exhaust Manifold • MazdaTrix Side Exhaust System • Haltech EMS • Turbosmart Wastegate • Turbosmart Blow-Off Valve
Drivetrain // Quartermaster Clutch • MazdaTrix Lightweight Flywheel • Kaaz 1.5 Way Limited Slip Differential Interior // Sparco Evo seats • Sparco Harnesses • Sparco Steering Wheel • AutoMeter Gauges Safety // Fuel Safe Fuel Cell • 6 Point Roll Cage by Steen Fabrication