14 September 2011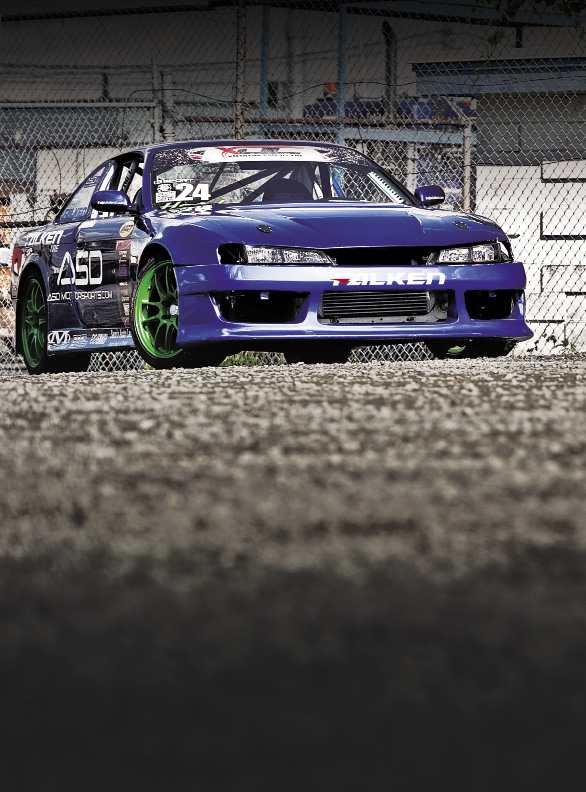 Dave Briggs' car is built for one main purpose: to be very competitive no matter what track or event it's at. It is a car that spends a lot of time in the trailer being transported back and forth going from Canada into the U.S. to compete in a handful of drift competitions. Dave competes in the DMCC East Series as well as many American pro-am series like XDC, Top Drift and Vegas drift. He has even used the car as a missile once or twice- this car gets used hard! Dave's car is set up by his crew chief Ardo at Avfab with the help of ASD since Dave is part of the elite ASD Mob. The car was built with one main aspect in mind: to be reliable as possible. With so many different events on the schedule, the last thing the team needs is a little mechanical failure to ruin the chances of a podium finish. Every drift car needs a great engine to be competitive, and in the case of this car, a V8 is not stuffed under the hood. Instead of going with the new popular setup, the power plant is a good ol' SR-20 that has been pumped up and tweaked by Mazworx into a 2.2 and mated with a Garrett GTX3071R turbo, Tomei 280 cams and a full race twinscroll exhaust manifold, to name a few of the go fast parts on this engine. With its custom exhaust, it's one of the best sounding cars in DMCC and since it's one of the only ones running race fuel, it's also the best smelling too!
Having a drive train that can take the abuse of constant competition is a key factor. A Mazworx Z32 transmission conversion was used along with a Osgiken TS2B clutch that sends the power to a two-way differential and driveshaft shop level 2.9 axles. With the help of his team, Dave got the drivetrain to be as bulletproof as possible. Besides having a good engine setup, one of the most important things is a good suspension setup. The car is on DG-5 coilovers with a whole list of SPL parts, along with MA Motorsports steering knuckles that really help the car be as fast with as much grip as possible while the car is at its maximum angle. Speaking of grip, tires make a huge difference when it comes to winning and losing, especially when you have a decent amount of power. The car runs on Enkei PF01 wheels with Falken tires that have been custom powered coated a nice bright green. During competition you can see how much of a difference the Falkens make compared to those used by the competition.
Dave is a rocket out on the track and his 240 is ready for battle. That notion has definitely been proven correct thanks to all of the podium results that he has racked up both Stateside and in DMCC. His car gets almost completely torn apart and put back together at AvFab after each event in order to be always ready for the next one.
Dave got his first career DMCC victory in Round 3 of the East Series, a fact that is a little surprising for a driver of his talents and one who is a DMCC veteran. With that said, no matter what series he competes in he is one to watch thanks to a car and a team that lets him push the limits with confidence to achieve those podium results.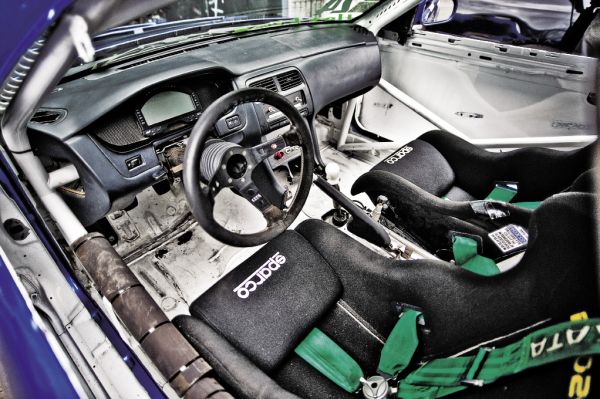 ---
Essenstials // Owner Dave BRIGGS • LOCATION Richmond Hill, ontario, Canada • engine mazworx sr22det engine • Vehicle 1997 Nissan 240SX • power 475 Whp
Engine Modifications // mazworx sr22det engine • tomei 280 cams • solid lifters • greddy intake manifold • full race twinscroll exhaust manifold • garrett gtx3071r turbo • tial 44 mm wastegate • ati dampner • hks 740 cc injectors • splitfire coil • koyo rad • flexalite dual fans • setrab oil cooler • setrab power steering cooler • tomei n1 block • vibrant intercooler with custom endtanks electronics // lifeline fire supression system • vipec v44 ecu • aim strada dash logger • painless wiring • drivetrain // osgiken ts2b clutch • mazworx z32 transmission conversion • ats 2 way differential • driveshaft shop level 2.9 axels brakes and wheels // custom stainless steel brake lines • z32 front and rear brakes • oem ebrake with project mu handbrake shoes • enkei pf01 wheels with custom green powdercoating suspension // dg-5 coilovers • tein inner tie rods • spl outer tie rods • spl tension rods • ma motorsports steering knuckles • spl rear camber arms • spl rear toe arms • spl rear traction arms fuel system // atl 12 gal fuel cell • faucet low pressure pump • custom surge tank • weldon 600a fuel pump • all stainless lines • sard fuel pressure regulator