14 September 2011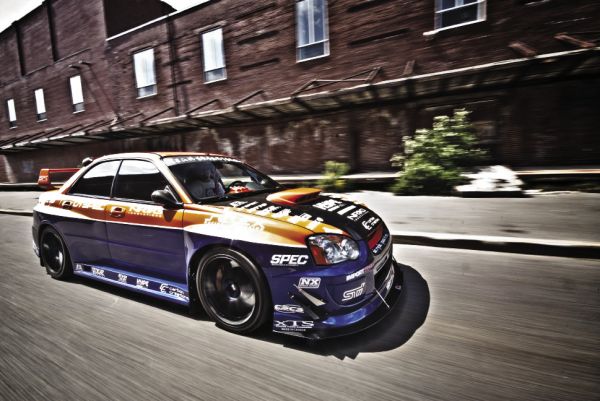 Do you think Subaru knew what they had on their hands when they decided to bring the WRX to North America in 2001? Sure, the car had won numerous World Rally Championships and had solid tuner followings in Asia, Australia and Europe. But did the big wigs at Subaru in North America have any inkling of its true potential? John Wakely of Ile Perrot, QC came up through the ranks of tuners, starting with a widebody 2002 Civic Coupe. This experience gave him the foresight to envision the 2004 Impreza STI you see here, even before the project started. As the Ontario sales representative for LFNC's performance products division, it's clear his connections helped make this orange and blue project come to fruition.
The mod list for a car like this could easily fill a dozen pages of PASMAG and Wakely's attention was evenly distributed between aesthetics and performance in the build. At the focus is a Crawford Performance stroked 2.785L EJ257 power plant. Force feeding this monster is a Garrett GT3076R turbo that breathes through a Perrin intercooler and silicone hoses into hand-ported and polished heads. Exhaust exits through a set of Borla headers into a Lachute Performance up-pipe and turbo-back exhaust system. Supporting the need for speed is a Nitrous Express wet kit jetted for a 150HP kick. With just shy of 650HP on tap, the STI would be a handful at any speed.
Power is sent through a Spec Clutch and flywheel, where Cusco 1.5-way LSD diffs front and rear help deliver it to the wheels via Driveshaft Shop axles. At the end of each driveshafts are XXR 527 18-inch matte black wheels wrapped in Nitto Invo 255/35 rubber. Wakely reports that these are the first of only 3 sets of these wheels imported into Canada. Underneath, Ksport 14" brakes help haul things back down to near-earth-orbit speeds. Handling has been equally reinforced with a plethora of GT Spec chassis stiffening products, Whiteline bushings and Selex Racing coil-overs. DME Performance control arms and trailing arms round out the handling bits.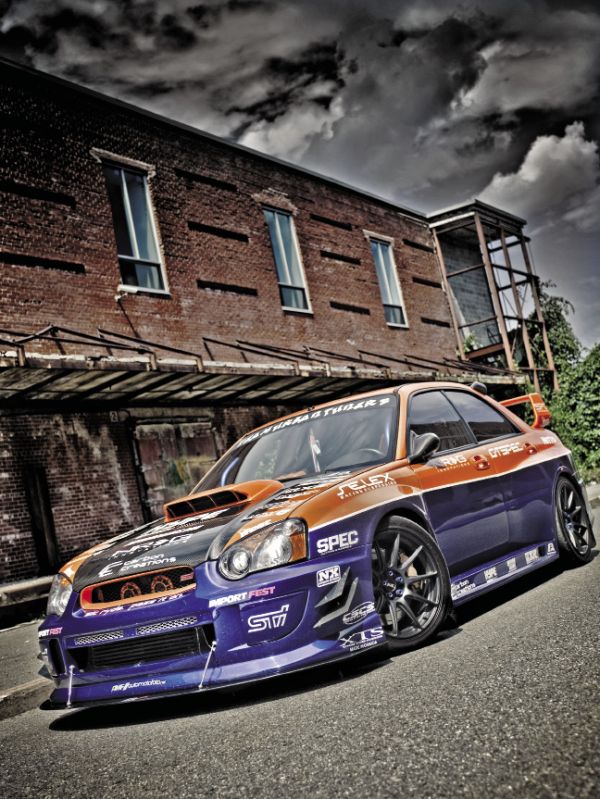 The body wears an APR Performance Super GT widebody kit that has been stretched to 4 inches in width. Front and rear diffusers, also from APR help with the look near the ground. The hood and trunk were replaced with units from Carbon Creations and NRG Innovations products including hood struts, rad cap, rad diverter and steering wheel hub and adapter add to the JGTC look. The car was painted with 3 coats of Mango Orange and 3 coats of Nightmare Blue from AutoAir Colours by Wakely and Autostemac.ca.
The audio system is headed up by a Pioneer AVH-P4100DVD double DIN multimedia receiver. Signals are set to the trunk via Kicker cabling to a trio of Kicker IX series amplifiers. An IX500.4 sends power to three pairs of Kicker QS components, while a pair of IX 1000.1 amps slams 1,000W each into a pair of Kicker L712 subwoofers. The subwoofers rise up out of the trunk floor from a sealed fibreglass enclosure. Four Clarion 7" headrest monitors provide images from the Pioneer deck or from an Xbox 360 that was also installed. Over 300 pounds of Dynamat sound deadening material was added to the car to maximize the audio performance by keep the noise out of the cabin. Also in the interior of the vehicle is a 6-point roll cage from Cusco and Ultrasuede finished door panels and roof liner.
Why a Subaru, you ask? Wakely owned a 1991 Loyale station wagon several years ago, and drove it as his winter vehicle. It was that experience that drew him to Subaru. The clincher was that the awesome STI is a four door car. His two young daughters can easily join him as he attends events all over Eastern Canada. Even though he spent more than a year researching the car and its potential, and another eight months trying to find a clean unmolested sample for the build, Wakely proudly claims that he isn't done yet. A big thanks to the guys at autostemac.ca
---
Essentials // Owner John Richard Wakely • LOCATION Ile Perrot, Quebec, Canada • engine 2.758l (EJ257) • Vehicle 2004 Subaru STi • power 648 Whp
Wheels / Brakes / Suspension // 18x 9.75 XXR 527 matte black first set in CANADA • Nitto Invo's 255/35/R18 • Ksport 14 inch 2 piece slotted Front & Rear Rotors • Ksport 8 pistons front calipers • Ksport 6 pistons rear calipers • Cuzco Braided Lines • Selex Racing Coliovers Custom Max type • White Line Sway Bars • Whiteline Urethane Bushings • GT SPEC Front & Rear Strut Bar • Front / Rear Control Arms: REAR DME Adj controle arms and trailing arms • GT Spec 4 point ladder bar, • GT Spec front strut brace, • GT Spec Rear Strut Brack, • GT Spec Trunk Cage, • GT Spec Front lower tie brace, • GT Spec Trunk Floor Reinforcement brace
Engine Modifications // Crawford Performance 2.785L Motor • Walbro High Flow Fuel Pump 255lph • Nismo 1000cc Injectors and Connectors • Unorthodox pulley kit • Injen Cold Air Intake • SPEC Race Clutch • SPEC Light weight flywheel • Greddy Oil cooler kit • Perrin Brake booster kit • Perrin Radiator Hose Kit • Perrin Fuel rails • Perrin Front mount Intercooler • Perrin Turbo Inlet • Perrin Motor/ Tranny Mount Set • Perrin Sub frame Lockdown System • Perrin Shifter Bushings STI/6-SPD • Perrin Diff Cover R180 High Capacity • Perrin Vortex Generator Roof Spoiler • Nitrous Express custom 4 fogger wet kit • JVTR Aluminum Radiator • Cuzco Turbo heat shield • NRG Innovations Diversion Panel • NRG Innovations Radiator cap • NRG Innovations Oil catch can • Cuzco Adj pitch mount • JDM STI oil cap • Turbosmart RacePort BOV • Turbosmart Eboost Street • Turbosmart FPR3000 • Garrett GT3076R Turbo • Hella Rally Horns
Exhaust // Lachute Performance Up Pipe • Lachute Performance Turbo Back with Cat • Borla Headers INTERIOR // Lachute Performance 6 speed Short Shifter EXTERIOR // APR Performance SS/GT wide body Custom to 4in • APR front/rear wind diffusers • APR front conards Custom • AutoAirColors Custom Paint • Carbon Creations Carbon Fiber Hood • Carbon Creations Carbon Fiber Trunk • Carbon Creations Carbon Fiber GT Wing • JDM 6000k HID Kit • 2006 STI tail lights Audio // Pionner P4100dvd • Kicker Crossovers • Kicker IX 1000.1 Sub Amps (2) • Kick IX 500.4 High Freq. Amps • Xbox 360 • Clairon (x4) 7" Trunk Monitors • almost 300LBS of Dynamate in the whole car front to back • Kicker L712 2ohms Dual voice coil Subwoofers (X2) • Sealed Subwoofer Enclosure • Kicker QS Mid Bass (x6) • kicker QS Tweeters (x6) • Vmax CT 800 Extra Batteries: • 2 in the trunk Vmax CT800 • ALL KICK WIRES (power, RCA, Grounding, Audio)